or
I like big hips and I cannot lie…
Finally, I appreciate big hips!
Apparently Google does not appreciate wit and innuendo. As such, I try to clarify the post content in the title and use the subtitle for my own fun. I do this for you, darling, just because I want to make it easier for you to find this information that you so desperately need. I am always thinking of how to make it easier for you, dearest reader. I suspect that in this relationship, I like you better than you like me. I'm okay with that.
Let us glorify big hips!!! Yes, rose hips. Those glorious late fall to winter last bits of free food you can forage. They are found almost everywhere except Antarctica (sorry, you poor scientists and adventurers) and you can even grow your own. Best part, they show up just for doing nothing! If you have a rose bush and do not cut the roses then once the bloom is off the rose, so to speak, the rose hips arrive. They supposedly are best after a frost. I cannot validate that at this time because we had a freak snow in September up here in my new home of the Northwest which interrupted my experiment of trying rose hips before and after frost. Oh well, there is always next year.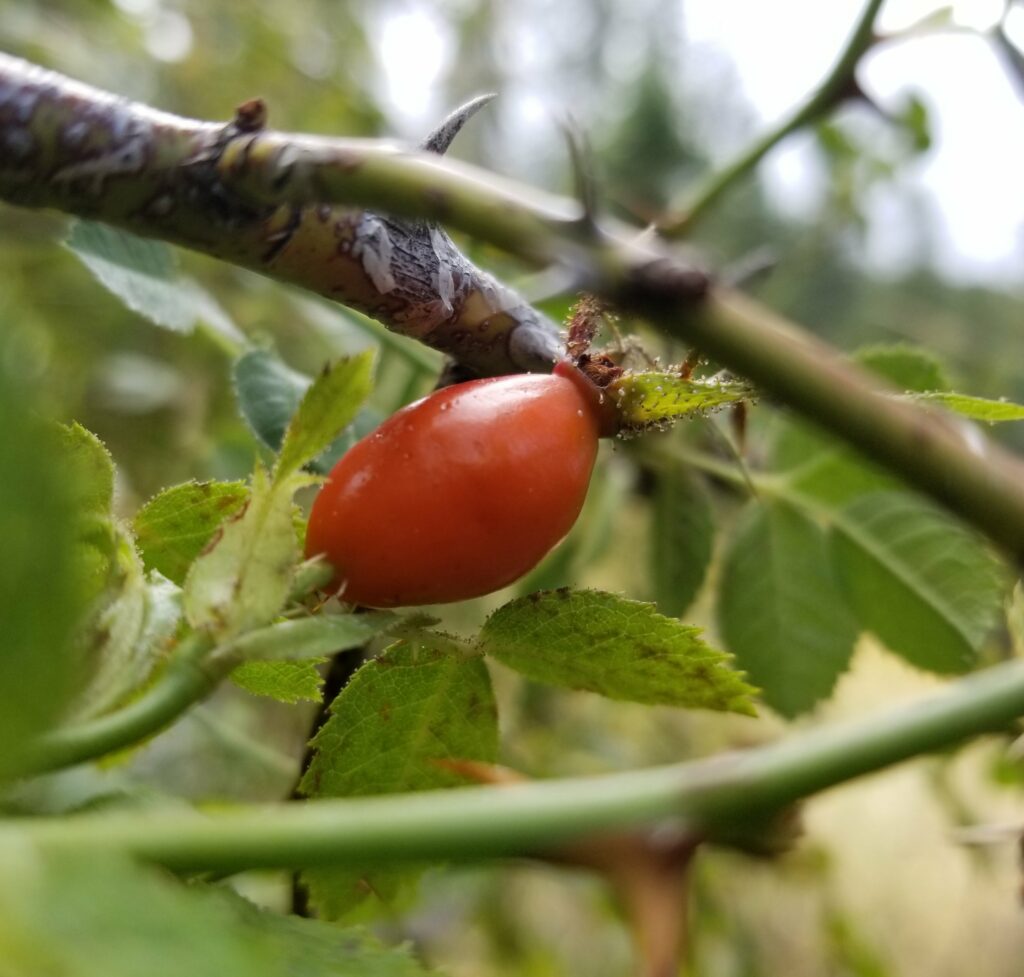 In my former southern home I always cut my flowers. In part to bring in for enjoyment and in part to prune the rose bush and encourage more growth. This cutting prevented the formation of the hips to grow but, down on the southern coast hip foraging would have occurred around February rather than the October to December up here. Whatever the timeframe in your area, try going au naturel with your flowers this season. By that I mean do not spray them with any pesticides or fungicides and let the flowers bloom, then die on the plant. After those lovely petals are finished (and you should harvest them for potpourri and tea, by the way), the hips will form.
Why should you care about rose hips? Lordy! So many reasons! The first being that they taste good! Next, they have oodles more vitamin C than an orange and then they add in all those bioflavonoids that are super-uber good for you! Finally, they might be able to enhance skin tone and lessen stretch marks. (initially there was an exclamation point but it seemed a little too manic and I do not want to be the Richard Simmons of rose hips) Interestingly, rose hips don't taste like roses. To me they have more of a melon taste that is quite refreshing for so late in the year. It is like a little vacation to Mexico in the winter. And when you concentrate the flavor in a rose hip syrup it just might make your eyeballs roll up in your head a little bit.
Now, I know what you are thinking. "Hello, I am not some hippie foraging queen or Martha Stewart who grows my own wheat just to make pizza." And I am here to tell you that actually it is Karen Bertelson who grows her own wheat for pizza. Also, you do not have to be that "into the wild" in order to enjoy the fullness of rose hips. Plenty of people make tons of stuff from them that you can buy if you just don't have it in you to make your own rose hip face oil or rose hip tea. So no excuses. Treat yo-self!
Written here, though, is how to forage and also how to use rose hips. Find them, grow them, buy them. It no mattah how you get them (but don't steal them, for God's sake) just begin to incorporate these powerhouse fruits into your daily life.
Firstly, if you are going to grow or forage for hips, wear gloves. Remember the thorns. If only one or two rose hips were sufficient, I'd forgo the gloves in a heartbeat. The truth is that you will need quite a few of these little guys and if you do not wear protective gloves you will get so scratched up you will be able to count your heartbeats as it pumps blood out of your hands and wrists. The rose hip oil can heal many wounds but why test it this way?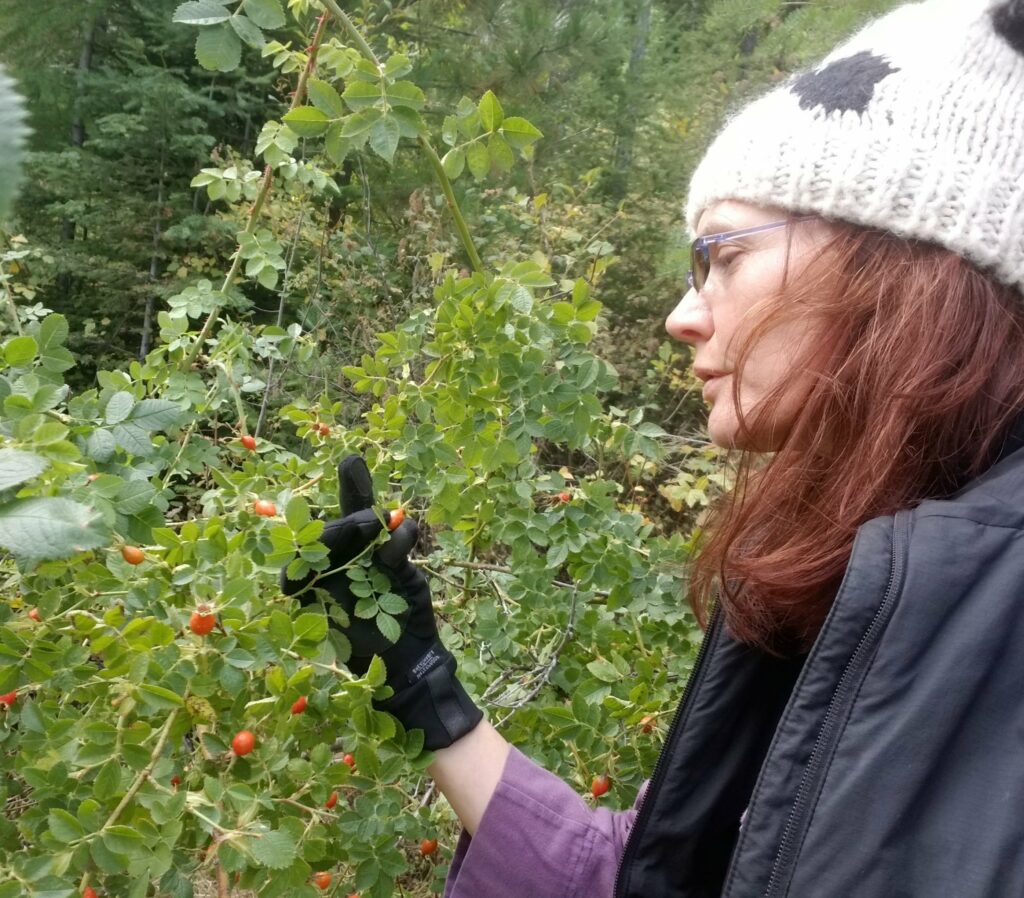 Next, wait until a really cold spell hits the hips for a night. Preferably something below freezing according to all the old people who tell tales on such things. Maybe I will do some research to see if anything has been published on vitamin content of rose hips pre and post freezing but let us not tarry on such at this time. Once you have had a cold spell, don those gloves and grab a container of some sort. I have used my jacket and also my hat as containers when out for a walk in the woods and stumbling on a bush with very large hips on it. Just can't pass that by! But it is better to have something like a little bucket or bag that is impervious to rosebush thorns. Just pick the rose hips and put them in the bag.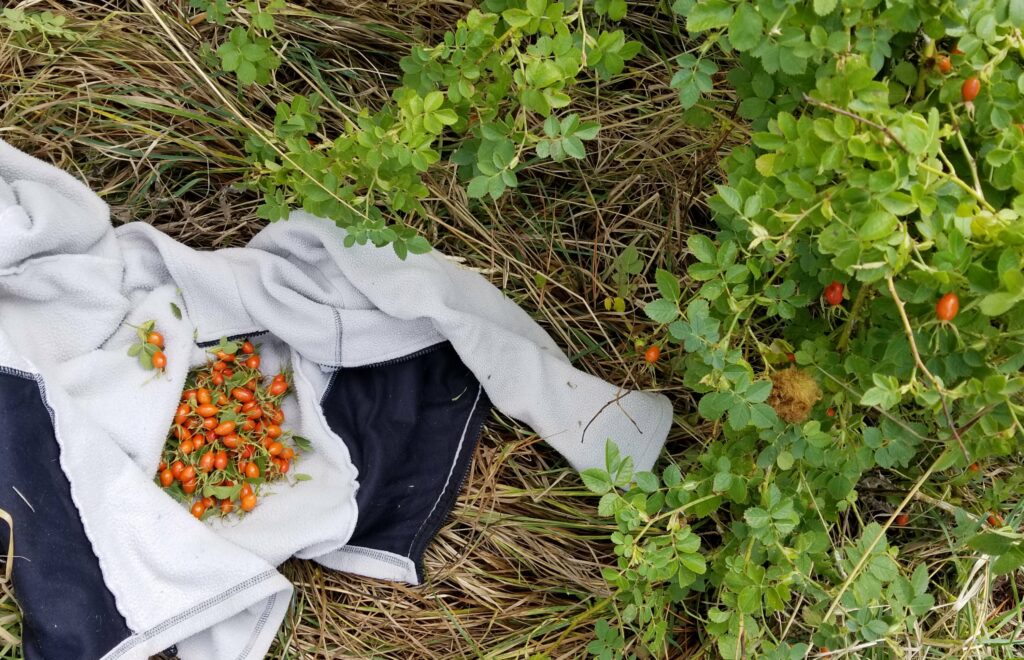 Avoid any that are rotten-looking or are a pale pink. Ripe rose hips should be red, for the most part anyway. Sometimes a bush will make orange-ish hips and you can tell if they are ripe by picking and giving a squeeze. They shouldn't be absolutely rock-hard. Maybe they will have a tiny bit of give or maybe they will be totally ripe and squish out a smidgen of sweet goodness like this. Do not over-squish or the hairs and seeds will come out. You don't want those hairs, they are the key ingredient in itching powder.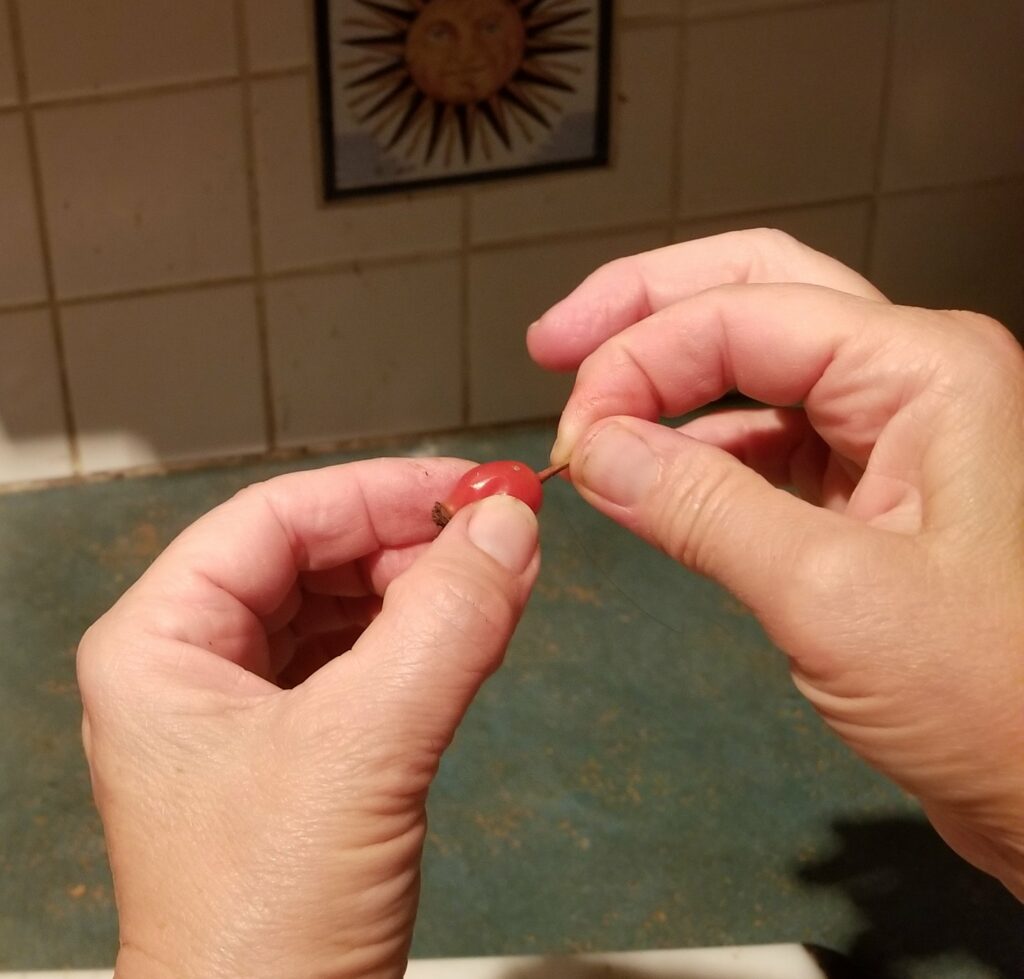 Once they are home, you have to decide how many will become tea, how many will become an amazing skin oil, and how many will become a delicious syrup. I can't help you in this department because I love all of them. All I can say is try a bit of each and see what calls to you.
For a quick and easy shopping if you already cut all your roses and can't wait til next year, here are links to the items I recommend for tea, syrup, and oil so you can buy them. If you follow these links and make a purchase on Amazon, I will get a small commission yet it will not cost you anything extra. This way you can enjoy all the benefits of rose hips without waiting . Also, you should plan next year's garden to allow for rose hip collection.
For tea you must dry the rose hips completely and then remove the fine hairs inside of them. Those hairs, by the way, are the main ingredient in that stupid practical joke itching powder. I recommend avoiding these hairs. I have dealt with them in two ways. First I sliced each hip in half and used a tiny spoon to scrape out all the hairs and seeds. Then I dried the remaining hips and crushed to make tea and syrup. Getting impatient with this process, I tried a new method which sped things up dramatically by using my Vitamix to crush the dried hips. Then I went outside and sifted the hips through a fine sieve to remove the ichy hairs. This technique was my favorite and made a lovely tea as well. Below is the picto-recipe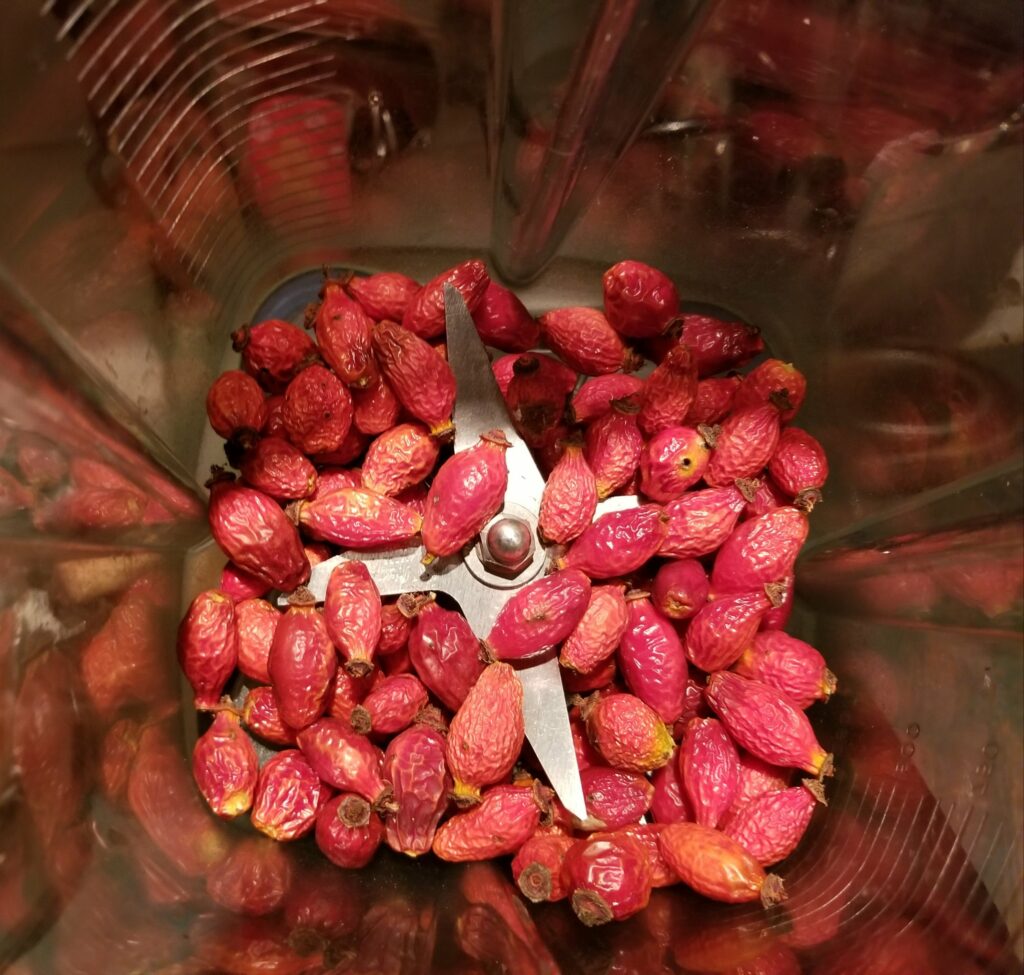 For the delicious rose hip syrup you need to cook the rose hips in water and then add sugar or honey at the end. Again, I did this in two ways, first by removing all the seeds and hairs and then second by filtering the hips through a paper towel or coffee filter. This syrup is outrageous, concentrating all the superb yumminess of the hips into a thick and delicious melon syrup full of healthy vitamins. I use this syrup to sweeten tea, as a flavoring agent in sparkling water, and cocktails. This is not rose water like used in some Indian foods, this is rose hip syrup. Both are delish but only one tastes like roses.
And if you want to get really fancy, you can make your own rose hip oil. This oil is purported to have amazing rejuvenating properties for skin. What I notice is that my skin is brighter when I use it. The Vitamin C in rose hip oil is reported to encourage cellular turnover in a manner more gentle but similar to those retinoic acid creams and without the redness and peeling. You can buy rose hip oil online here but making your own is pretty easy. It is recommended to keep the oil in a dark glass container. I couldn't find one so I used clear glass. Since my oil is kept in a dark cabinet in a dark room, I am not too concerned with light degrading the Vitamin C. You make your own call on this. As a person working towards minimalism I must learn to make do with what I have on hand and educate myself about what I really and truly need versus what I want. (By the way, I want everything, especially if it is purple.)
Making the syrup and the oil use similar steps. The only difference is that you will put the rose hips into water when making syrup and into oil when making oil. You can use any oil you like but my favorite is avocado oil. Yep, the kind you use for cooking. It is great for hair, skin, and sauteed veggies. Okay, one other difference in making rose hip oil versus rose hip syrup is that for the oil you will soak the hips in the oil overnight at a very low temperature to preserve the Vitamin C. For making rose hip syrup you can overight soak or heat the hips in water at a simmer for about 10 minutes, then strain, return to heat and add sugar or honey and simmer until the sugar is dissolved. I've done 1/2 to 1 part sugar to 2 parts rose hip water.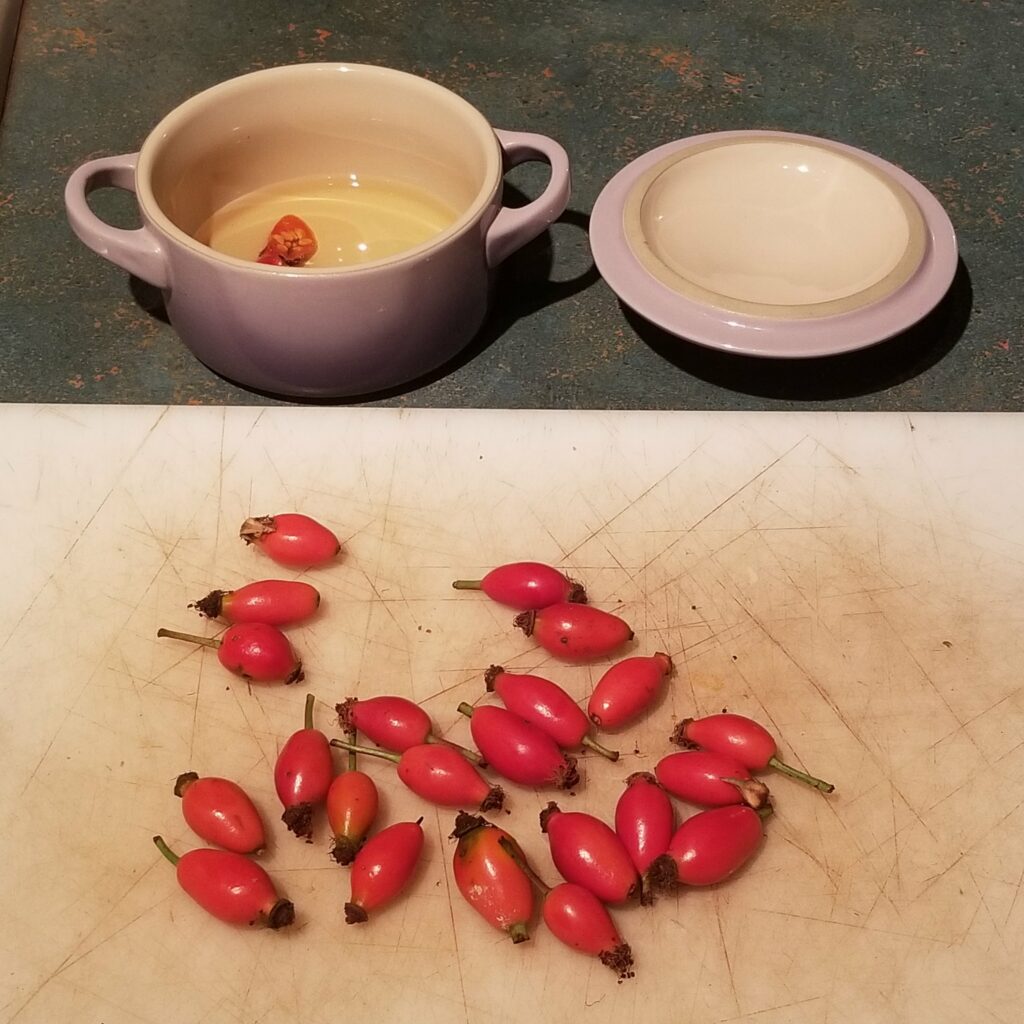 I sure hope you will give rose hips a try in one or all of their many forms! There are even more things you can do, like make jelly or wine. If you have done that, let me know! And let's continue to see the world through rose-hip-colored glasses.