I've Been Framed!
In the late spring of 2021, May to be precise, two brothers headed back to the clearing in the rainforest to begin framing the little fishing cottage named Winter's Hope.
Have you wondered why it is named that? Winter's Hope is the name of a type of Steelhead fishing lure that is quite colorful and was designed, as the story goes, by a fella who wasn't catching any fish on his regular ol' fishing lures. He created this lure by throwing together everything he thought might entice a "Chromer." Steelhead are a very shiny silver and are nicknamed for their chrome-like reflection. Anyway, the fella trudged out into the dreary winter morning with his bright, rainbow-colored lure and it worked! Since Chris is an avid fisher of steelhead, the fishing shack is aptly named for the lovely lure.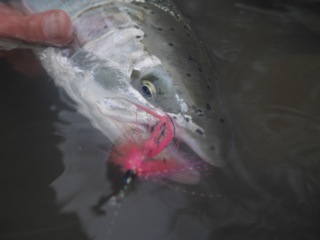 Which I don't think he actually even fishes with, come to think of it. He prefers one he created that is quite lovely and predominantly black and purple. He named it the Bogie Bruiser after one of the rivers he likes to fish, the Bogachiel.
Susan waited a couple of weeks to come out and brought Camille along. The guys already had the first-floor deck down and were starting on the walls!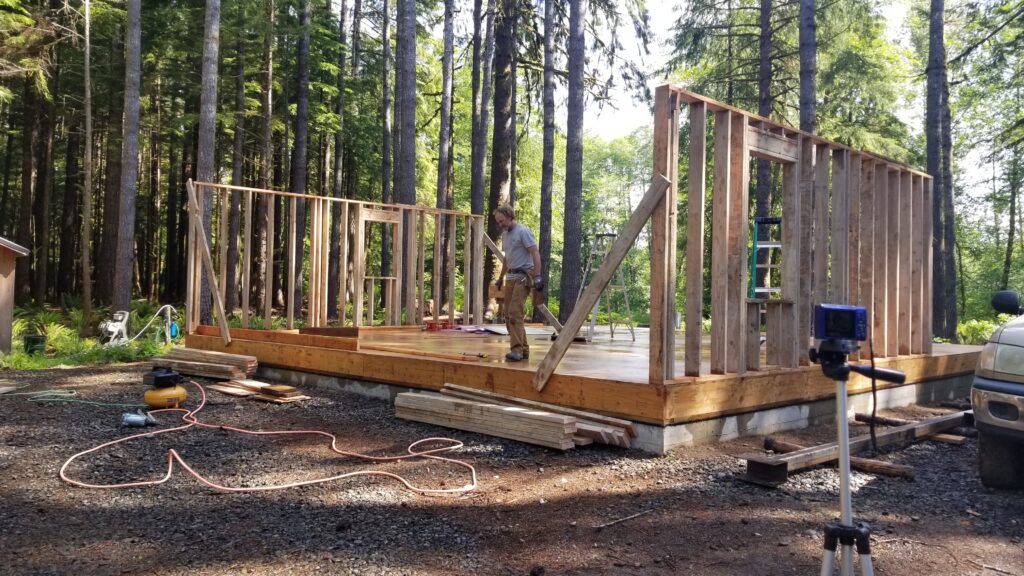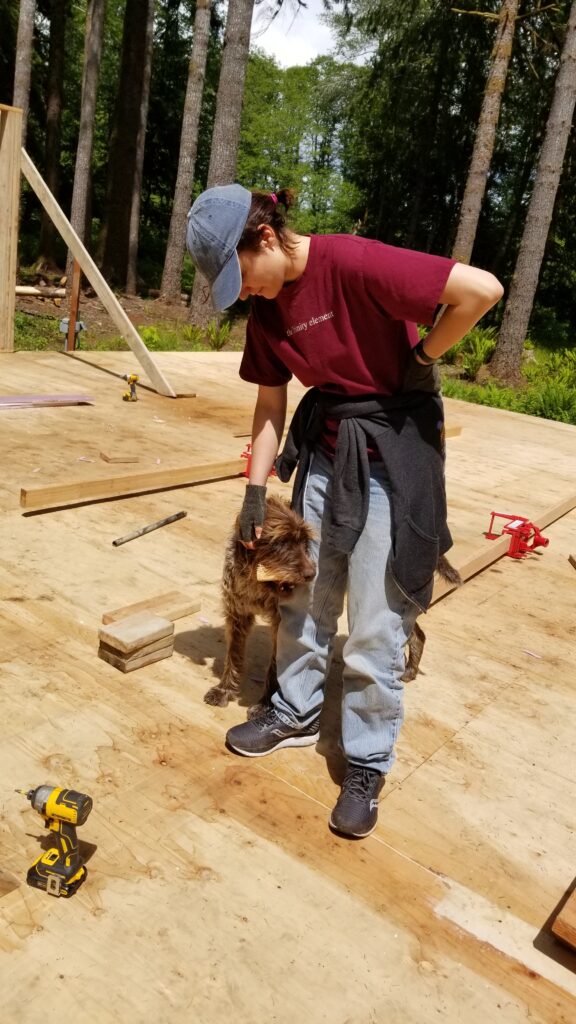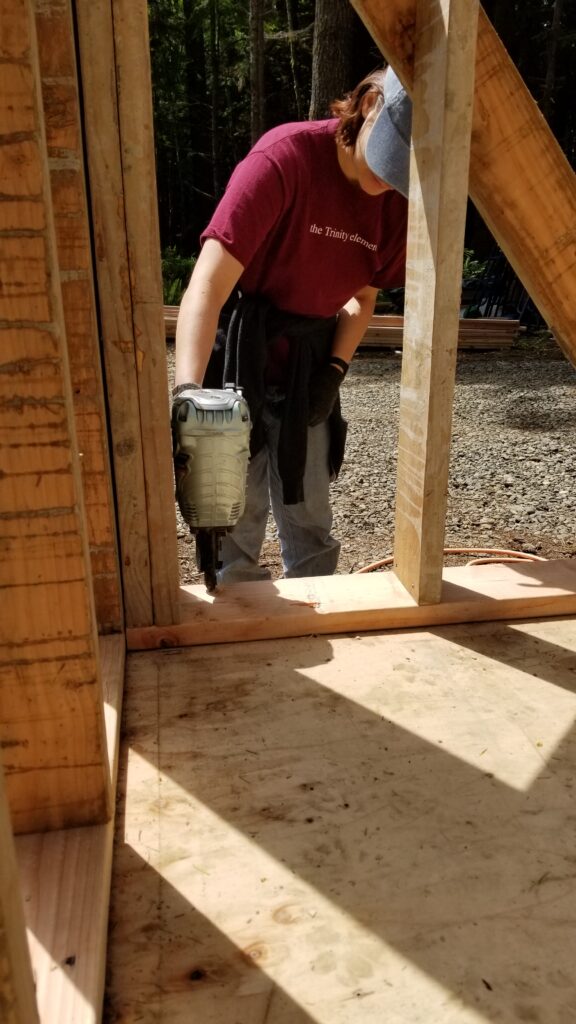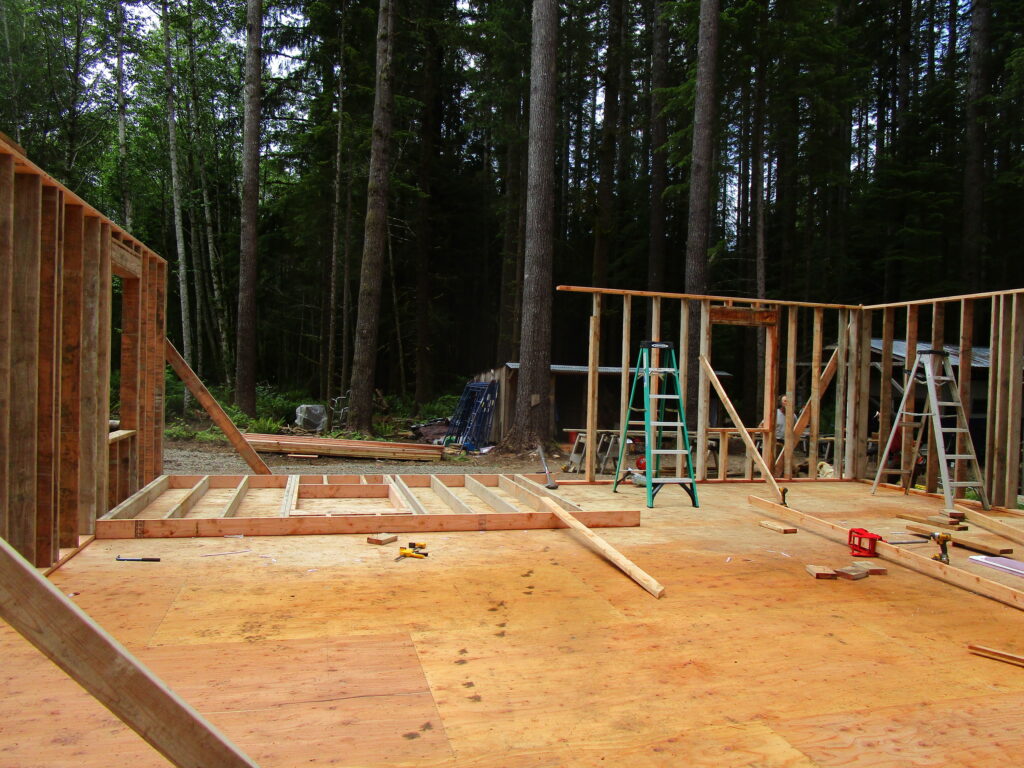 Because the house is a loft-style, it needed a post in the center to hold up a cross beam. It also holds up the upstairs edge of the loft. Chris found someone to fabricate this to specific specifications. This is when you really know you have a one-of-a-kind custom house!
I don't know how much this metal beam, or is it a post when it is vertical? Regardless, I don't know how much it weighs but we certainly weren't lifting it ourselves. We found a crane to come in and get it set into place. While Steve stayed on the top of the deck to guide the beam or post, let us settle on calling it a post, and Chris crawled underneath to guide it onto the special plate they built into the concrete foundation. Another check to make sure it is level, plumb, and true and then it is secured into place with cross-bracing for the time being. After the second floor goes up and everything is attached, there won't be any concern of this getting whacked. But this isn't the last of the crane operations, though we didn't know that at the time.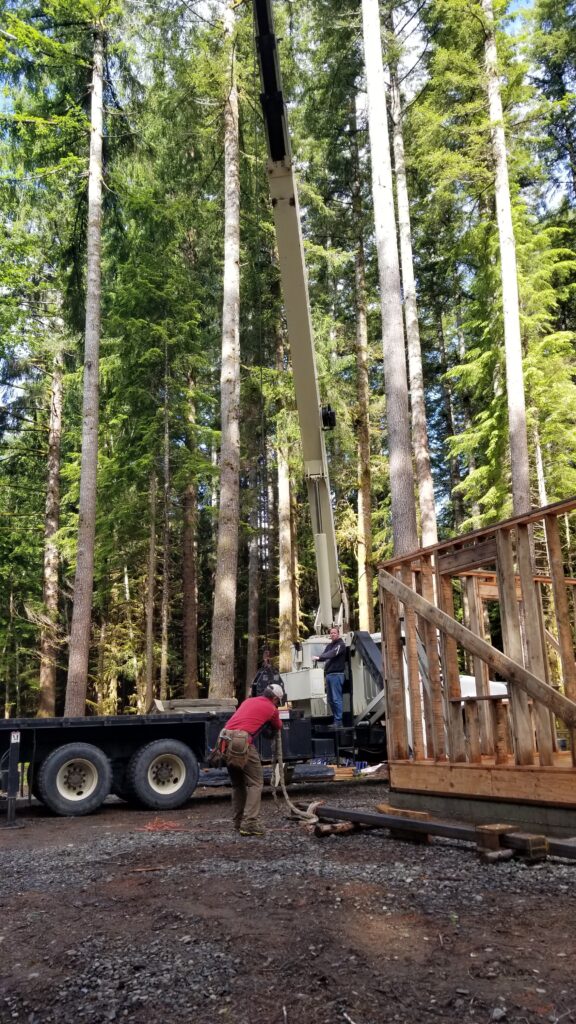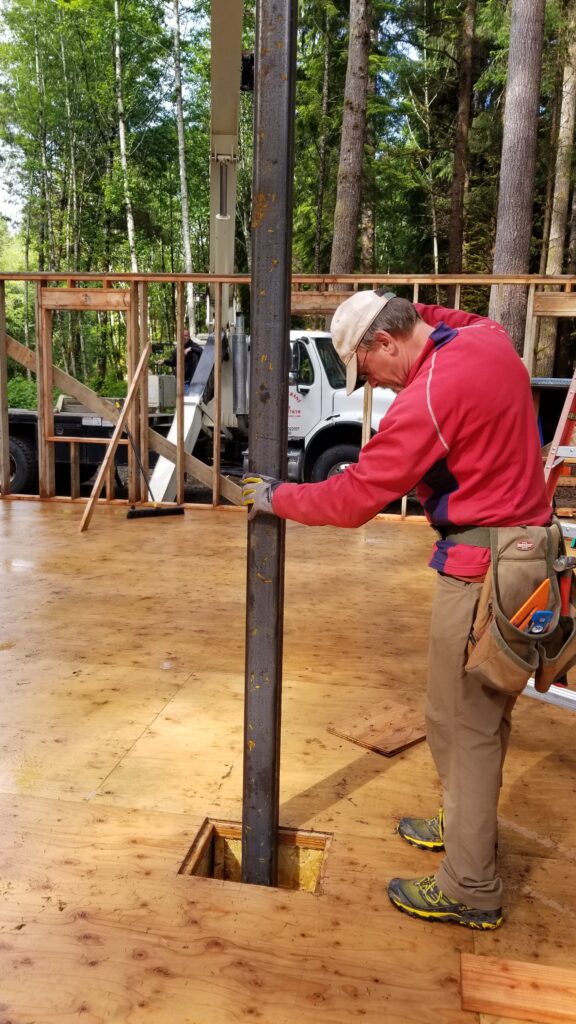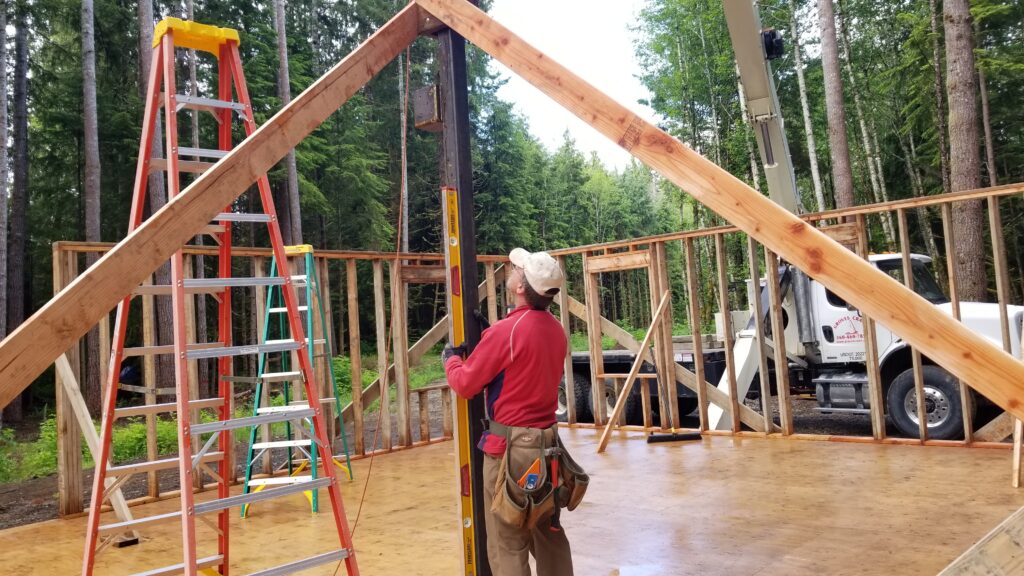 Wow, a lot of progress has been made in a very short period of time with just a few hands building!
Did you notice that the post has a big "U" shaped hook at the top and then a ledge in the middle? That ledge will hold the beam that supports the part of the loft that is cantilevered over the kitchen. It is a several-hundred pound beam and it was going to be lifted BY HAND.
Not by my hand, my back was not healing properly so heavy lifting was not allowed for me. But Steve, Chris, and Camille worked together and got it lifted and whacked into place.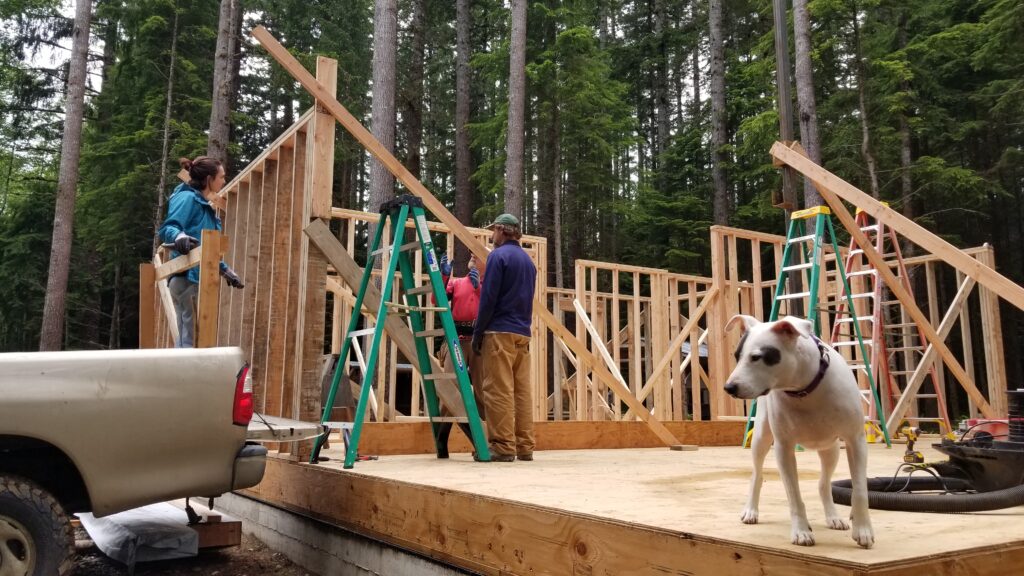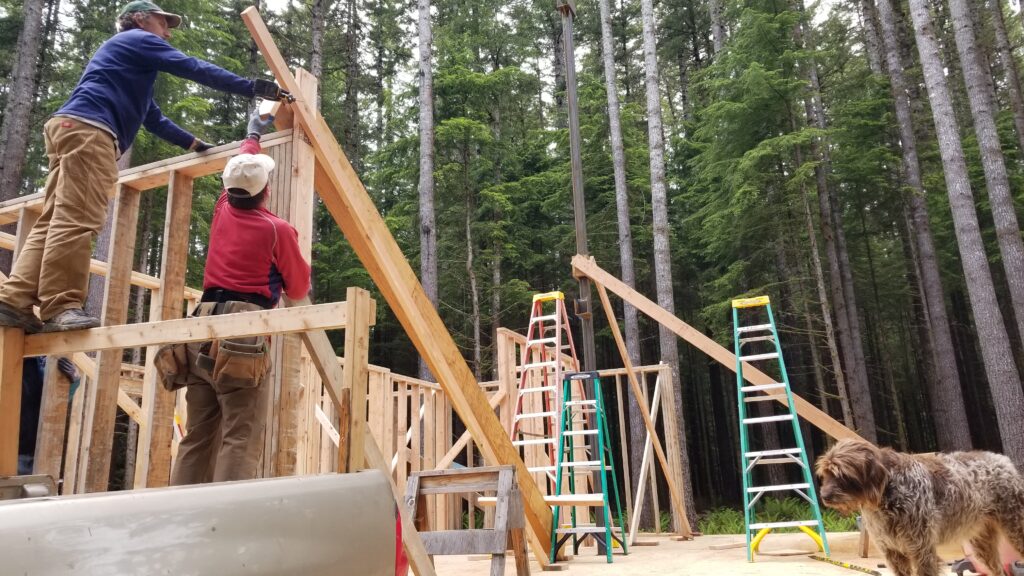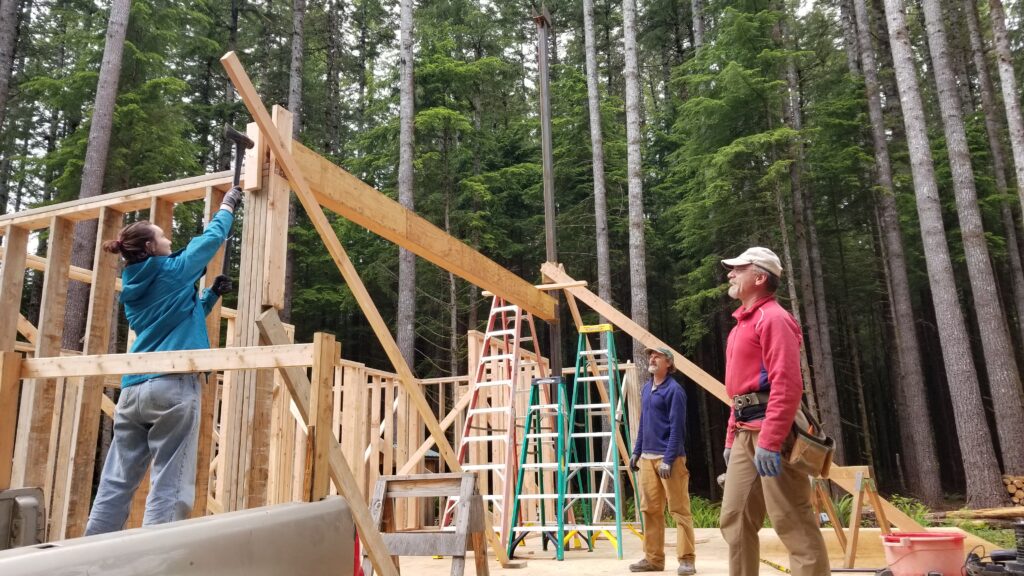 Only half the house could be built this month. There was a delay in the giant manufactured wall studs for the great room. But we could start installing the hundreds of hurricane ties. That will be the next installment (Ha! See what I did there?)