Hibiscus enchiladas are the bomb. Once you try these vegetarian delights, you will want to serve them to everyone! Who knew those lovely flowers could do so much?
This dish was begat by the gift of some dried hibiscus flowers. Other than tea, what does one do with these things? My savvy daughter sent me a link to loveandoliveoil.com where there are several recipes using hibiscus for more than just tea! I was inspired by the enchiladas recipe and have since added hibiscus enchiladas to my repertoire of favorites. And by "repertoire of favorites" I mean I no longer follow an exact recipe and these enchies become tailored to whatever my mood at the time desires. Sometimes I am "eating clean" and light and fresh fare that is colorful, uber-healthy, and gourmet. Would that I lived every day this way, filled with verve and vibrancy but the truth is that sometimes I have a bad day or rough week and I want comfort food. For me, comfort food is kind of heavy, it tends to be heavily sauced, have more than one kind of cheese in it, and it may tend toward mono-chromatic.
So here are two versions of the same Hibiscus Enchiladas, one for when you are on top of the world and the other for when the world has been riding your ass all week.
For both recipes you will need:
6-8 corn tortillas
1 Cup organic hibiscus flowers
15 oz can chopped tomatoes or 3 fresh tomatoes, chopped
Chopped onions and garlic, I do about ¾ cup of chopped onion and 3-4 cloves of garlic, then divide it between the sauce and the enchiladas
Julienned veggies of your choice to make about 1 to 1.5 cups(carrots, zucchini, potato, jicama, spinach, kale, swiss chard, yellow squash, and/or anything in the fridge that needs to be eaten). I tend to err on the side of too much veggie because the left overs can be saved for a quick addition to scrambled eggs or soup or as a sandwich filling so feel free to saute up extra to cook once-eat twice.
Cheese(s) of your choice (cotija, feta, cheddar, Monterey jack, cottage cheese are some suggestions)
*You may wish to add jalapenos into the veggie mix if you like a bit of heat.
Depending on the tortilla size and the amount of veggies you stuff into each, this makes about 6 healthy enchiladas which is 2 servings in my opinion but could serve 3 if you had lots of sides or were a light eater. If you are making the comfort enchilada version, it serves 4-6 people
Soak 1 cup dried hibiscus flowers in 2 cups hot water (as if making tea) for 30 minutes or longer. Drain and reserve the liquid for tea or for margaritas (see suggestion below for hibiscus cocktail recipes).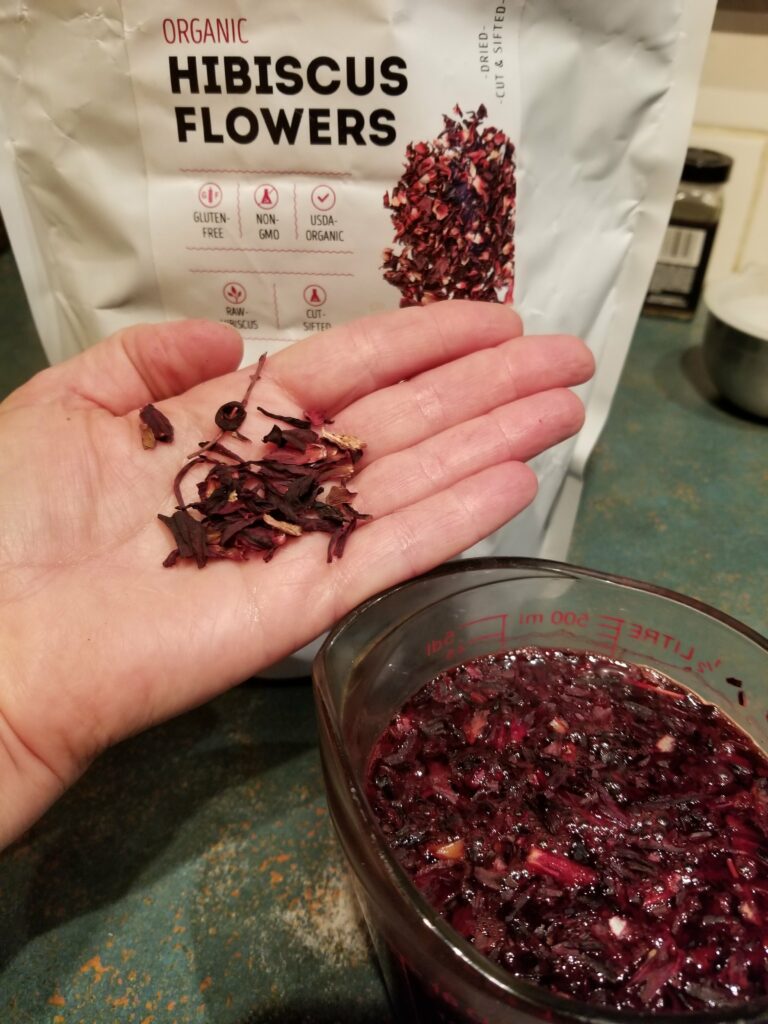 Thoroughly rinse the rehydrated flowers to remove any grit and set aside.
Meanwhile for the enchilada sauce (actually, start this first so it can develop the flavor), over medium heat saute onions and garlic and the chopped tomatoes, cut up 1 or 2 of the chipotle peppers and 2 -4 teaspoons of the adobo sauce and add to the mix with  1 tablespoon of chili powder (or not if you want a fresher, lighter flavor), some cumin, oregano, salt and pepper all to taste and cook about 15 minutes. Blend smooth in a blender. In a clean pot place some oil and heat, then add the sauce like you were going to saute it. Let cook about 15 minutes. It may seem like a hassle to re-cook the sauce but it really makes a difference in the flavor. Take it off the heat and keep it warm while preparing the remaining recipe.
To prepare the enchiladas:
For healthy enchiladas, saute onions until translucent. Next add garlic and stir around a moment until fragrant, then add the julienned veggies and hibiscus flowers and saute. Add 1 teaspoon cumin, ¾ teaspoon coriander, ½ teaspoon oregano, and salt/pepper to taste. I sometimes add some jalapeno slices to this mix as well. Saute until veggies are soft but still colorful and then keep warm until ready to make enchiladas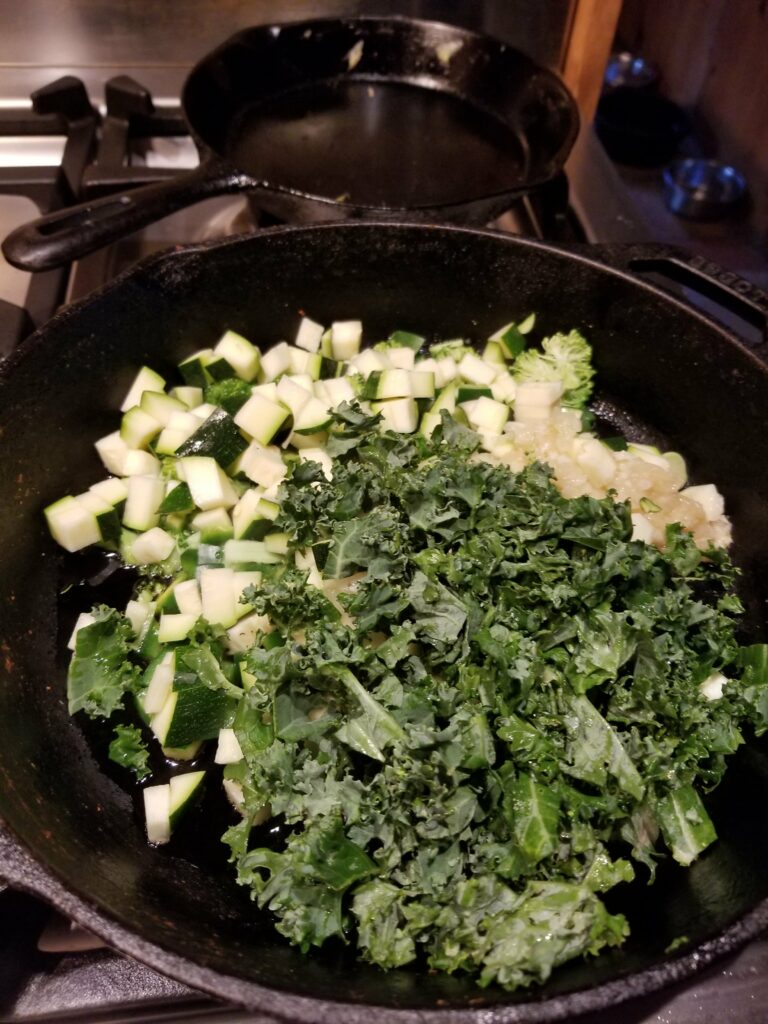 Place small amount of oil in skillet and heat corn tortillas on medium heat for 30 seconds to soften, placing on paper towel-lined plate. This heating also intensifies the flavor of the tortillas.
Assemble by placing a scant ¼ cup of the veggie mix onto a tortilla and roll up and place on serving plate. Top with enchilada sauce, avocado slices, sour cream or plain yogurt, and a sprinkle of the cheese of your choice.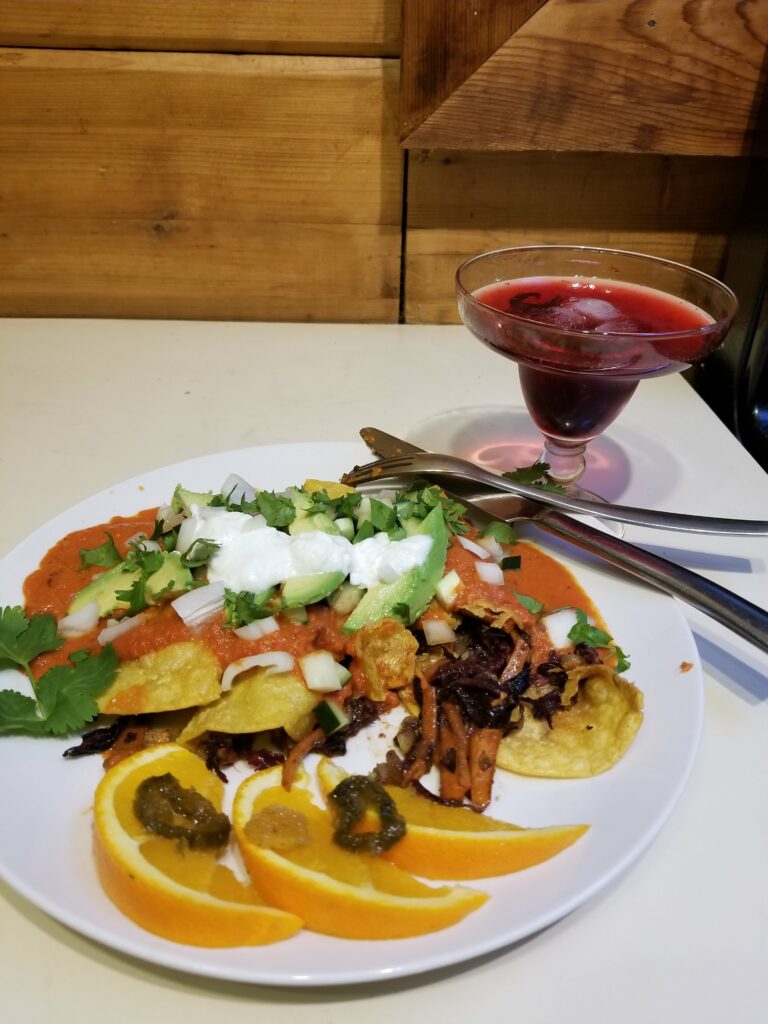 For comfort enchiladas, follow the vegetable saute and tortilla prep as for healthy enchiladas. Assemble in an oiled 8×10 (or so) baking dish that has a smear of enchilada sauce on the bottom of it by placing 2 tablespoons of veggie mix and 1 tablespoon of cheese (I like cottage cheese and Monterey jack mixed together). Roll up and place rolled-side down in baking dish, pour the enchilada sauce over and cover with cheese. Bake at 375F for 30 minutes or until sauce is bubbling and cheese is melted. Remove from oven and let cool about 10 minutes before serving. You can use this time to mix up a cocktail with that hibiscus tea.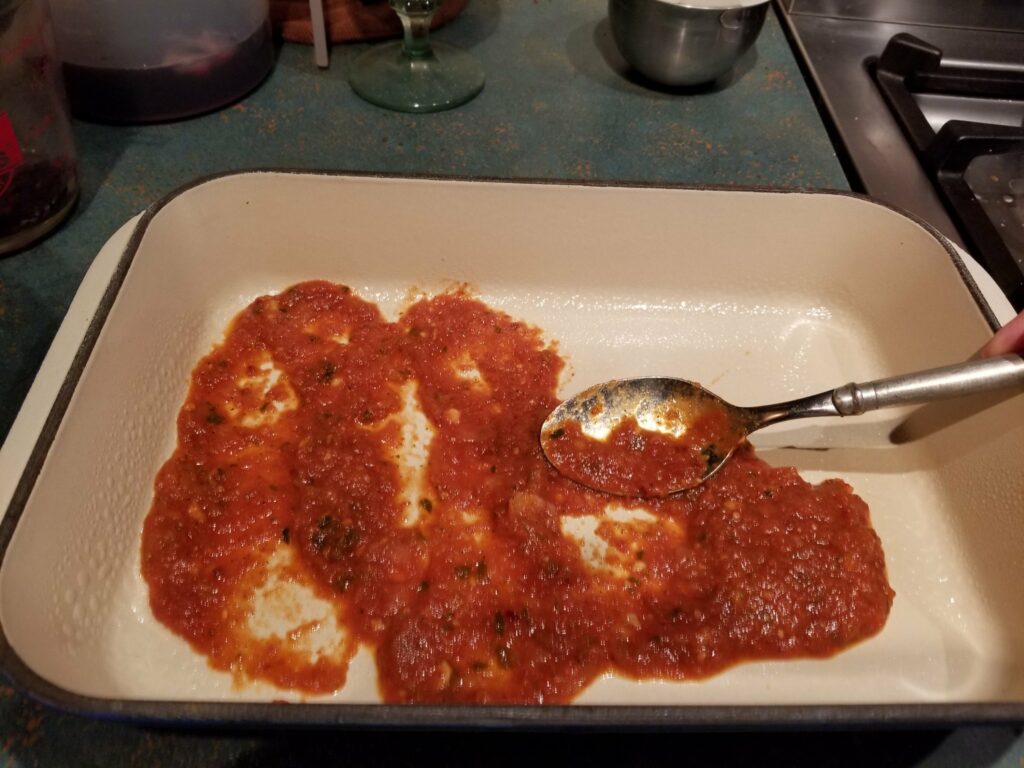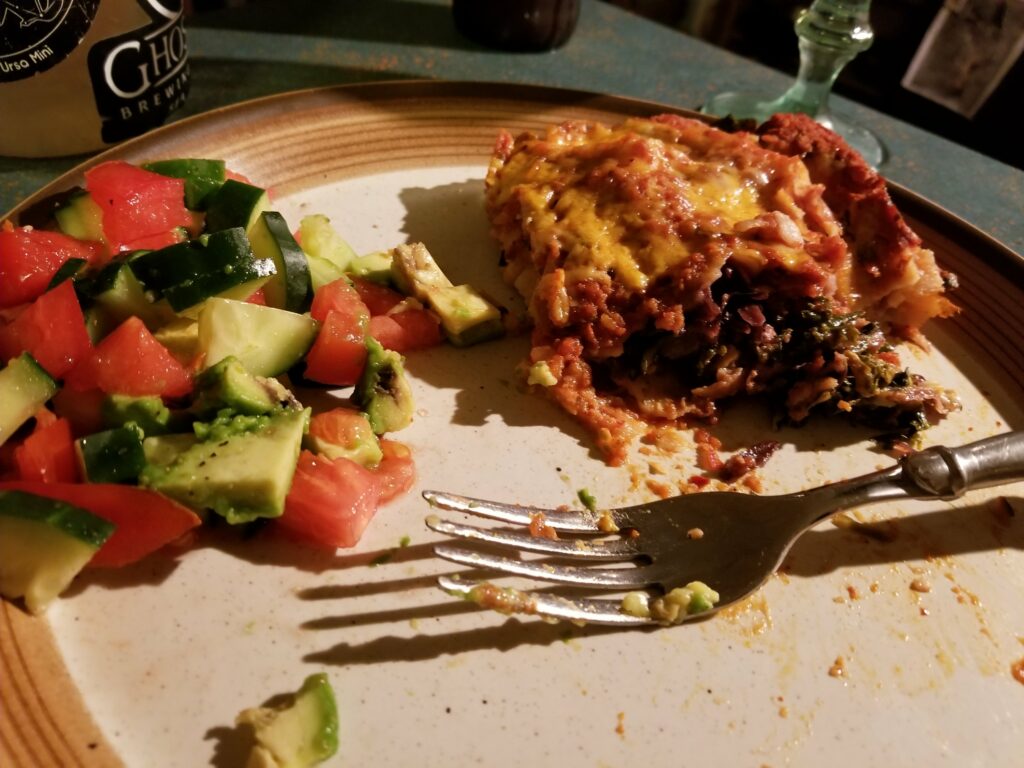 For a yummy beverage, you can fix these cocktails or leave the alcohol out for a nice mocktail.
Hibiscus Margarita- place 1/3 cup of the reserved hibiscus tea into a glass, add 1T simple syrup, about ½ a lime of fresh juice, and a shot of tequila (gold or anejo is my preference). Adjust to taste, then add ice cubes. I like to float or place on rim some candied jalapenos. I tried adding one of the hibiscus flowers to the drink but it really just looked like a dead baby squid rather than a glorious flower.
Hibiscus and Huckleberry-Infused Vodka sparkler- pour about 1/2 cup of hibiscus tea into a glass, add 1-2 teaspoons of sugar and stir to dissolve, then add a shot of huckleberry-infused vodka, a few ice cubes, and fill glass with sparkling water. I love my SodaStream to have sparkling water whenever I want without creating more plastic bottles to deal with.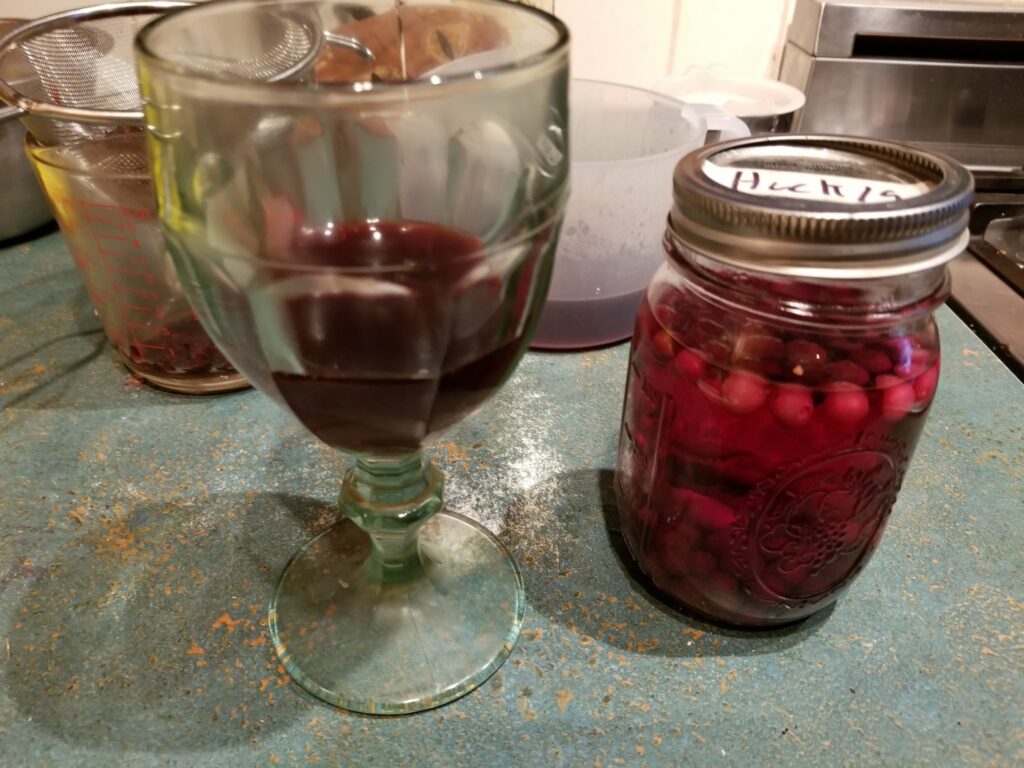 Wondering what to serve alongside the enchiladas? For the healthy enchilada sides, I've made salads. My favorite salad, of which there is no picture I am sad to say, had a base of romaine and tomato, then alternating slices of grapefruit and avocado and in the center were some cooked carrots with a raspberry-chipotle glaze. Dressing was grapefruit juice, olive oil and seasonings. To make the carrots, cook carrot coins in small amount of water until done. Add some real raspberry jam and some of the chipotle pepper in the pot and stir over heat until it reduces into a glaze. For the comfort enchilada sides I go simple and do a cucumber and tomato salad (and maybe a second cocktail). A little of Aura Cacia's Chill Pill essential oil on the wrist also helps soothe the soul.
Give these a try and let me know what you think! Did you do the healthy version or the comfort version? If you buy the hibiscus flowers from the above Amazon link (or any other items that are linked in this or my other posts) it will not cost you anything extra and I will make a small commission that will let me make up other recipes to use up that bag of hibiscus! That is how the Amazon affiliate thingy works, I get a few cents for pointing you in their direction.