40 Days to Personal Revolution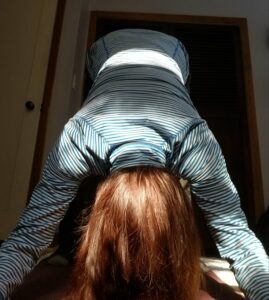 Who wants to kick start healthy living and habits? Who knows that the holiday season is just around the corner and our healthy self-care habits, those few of us who do it regularly enough to call it a habit, who knows those habits will get tossed to the side like a used green tea bag? And who would like to get into a healthier mental and emotional place before the stress of the holidays?
Me too!!!
Starting this Sunday, October 13, 2019, I am going to follow the program in Baron Baptiste's book, 40 Days to Personal Revolution. I will put notes on social media and on my blog about what I am doing and how it is working out, the things that are easy, the things that are hard. And YOU can do it with me! Some of you may belong to a yoga studio that does these programs and lucky you! For those of us who do not have a studio or community to share this process, let us make an online community. I have done the 40 days program twice with a studio in Houston, Texas and I have done it twice on my own. I can tell you unequivocally that on my own was quite wishy-washy and with a community it was radical and awesome. It turns out that introverts still need to be around people for some things and even highly sensitive people need community, they just need to be more thoughtful of the community in which they participate.
So why am I putting this online in the first place? I will be honest, I am having a hard time finding my community out here. I am sure they exist and I will dig them up somehow, I have not given up. In the meantime, I will make use of my resources and social media is one of them. There are great things that can be achieved through the connection of Facebook and Instagram and a sense of community through digital expression is one of them. I believe we all need physical connections but for those times that actual presence is not possible, digital presence is doable. I was reminded of this truth this morning when my daughter called me. I have been feeling down the last few days due to loneliness and feeling like I may never have any true and soulful friendships here and had expressed this feeling to her yesterday. Her call today to talk about it and say, "I have been thinking about this and it hurts me that you are hurting," or something to that effect made me cry a few tears of relief at being heard and being loved. It made me realize that even though she is not here in physical presence that she was able to project that love and care through our use of technology.
Are you in exactly the place you want to be? Do you show love and care for your body the way you want to? Do you show love and care for your own unique humanness and for the people around you in the manner you want to? Do you have the closeness to God, the Universe, Presence or whatever you call it, do you have the closeness that you desire? If you can answer yes to all these then YOU should write a book! If you, like me, are sometimes doing pretty good on these three aspects and sometimes life happens and they fall apart, then join me in this 40 Days and let's build ourselves and each other back up!
The things you may want to have to get started:
The book, 40 Days to Personal Revolution by Baron Baptiste. You can buy it here on Amazon or at most yoga studios and bookstores
A yoga mat. You can make do with a rug but there is something holy and sacred about rolling out your mat and stepping on it. There are lots of mats from the basic to the superb. I started out with a cheap mat from a discount store until I was gifted an awesome Manduka mat. You do what works for you
A journal. You will have to write every day. Yes, it may seem like a commitment but that is why we are doing this, to commit to creating the best for our one unique life. Just do it. You can use a basic composition notebook or a lovely journal and pen. Whatever resonates for you. I am getting this one because I love how the nautical journey look resonates with this personal journey
This might seem strange but you will want a quality chef's knife and paring knife. Why this? Because you are going to be eating a lot more fruits and veggies these next few weeks and cutting them up should not be a chore, it should be easy. This Global knife set is fantastic. Stays sharp, even when I would put it in the dishwasher. (gasp!) Maybe get a new cutting board, too. Food is holy, make that your mantra this next few weeks.
I'll mention some other things in the upcoming posts that I have used in the past that helped me. If you have any suggestions, let me know! I am looking forward to sharing this revolutionary journey with you! See you on the mat and in the kitchen.
Susan
Disclaimer: as an Amazon Affiliate, if you click the links in my post and purchase something, I will make a small commission and it will not cost you anything. Your support of this venture is much appreciated!