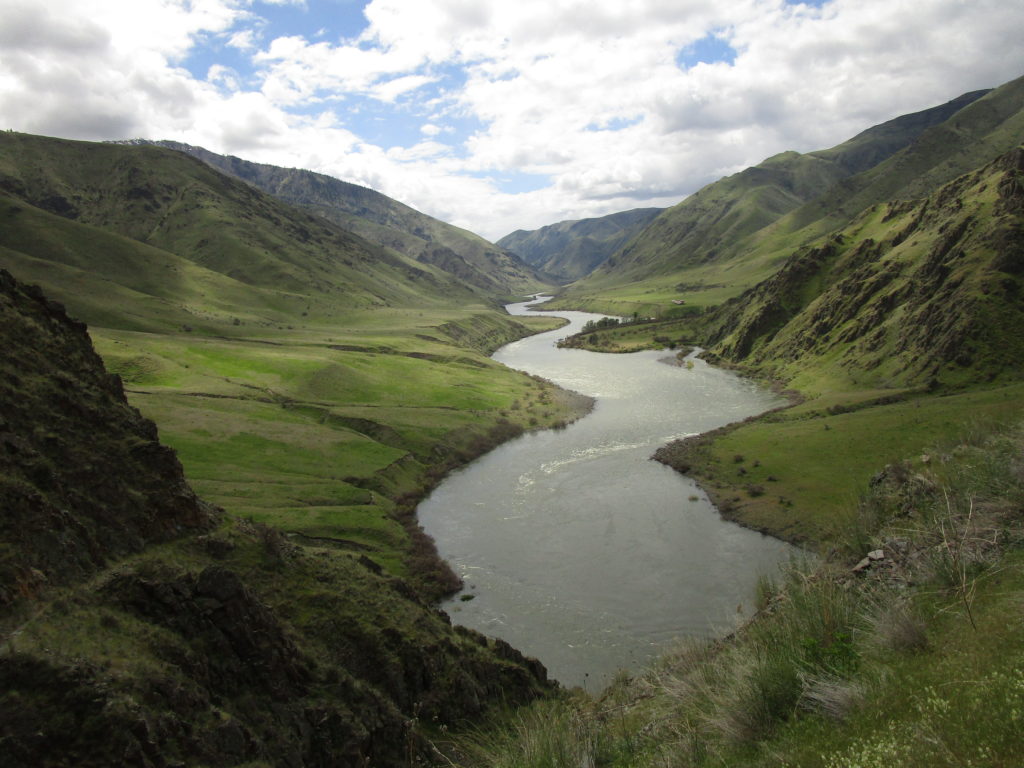 Ahh, once again I sallied forth to the hells of the nearby appropriately named canyon to spend a couple of weeks gorging on asparagus and test my new system of poison ivy avoidance.
The start of the trip was less than auspicious due to heavy rain causing a road to partially slide off the mountain thus, and rightly so, necessitating the closure of the only road to the trailhead from which we start our journey. Being a person who firmly believes if there is one way to do something, there are a thousand ways to do it, I began to consider options to the "wait and see" attitude of the people in charge of fixing the road. Wait and see as in, wait and see if the road slides further (it did, about 6 inches when I went to see for myself), wait and see if the rain will start up again or if conditions will dry enough to let heavy equipment up there. Regardless of what might come, the authorities were saying it could be a week or more before the road was actually open. After some discussion, the don mentioned an alternate route to get to the Snake River, one much less popular because, instead of starting at river level like the preferred trailhead does, this starts at mountaintop level, thus necessitating a 4,000 foot drop to the river which is done practically in one straight line following a creek. Have you ever taken 2,000 steps straight down? Boy, there were some shin muscles tweaking out at the end of that, I'll tell you!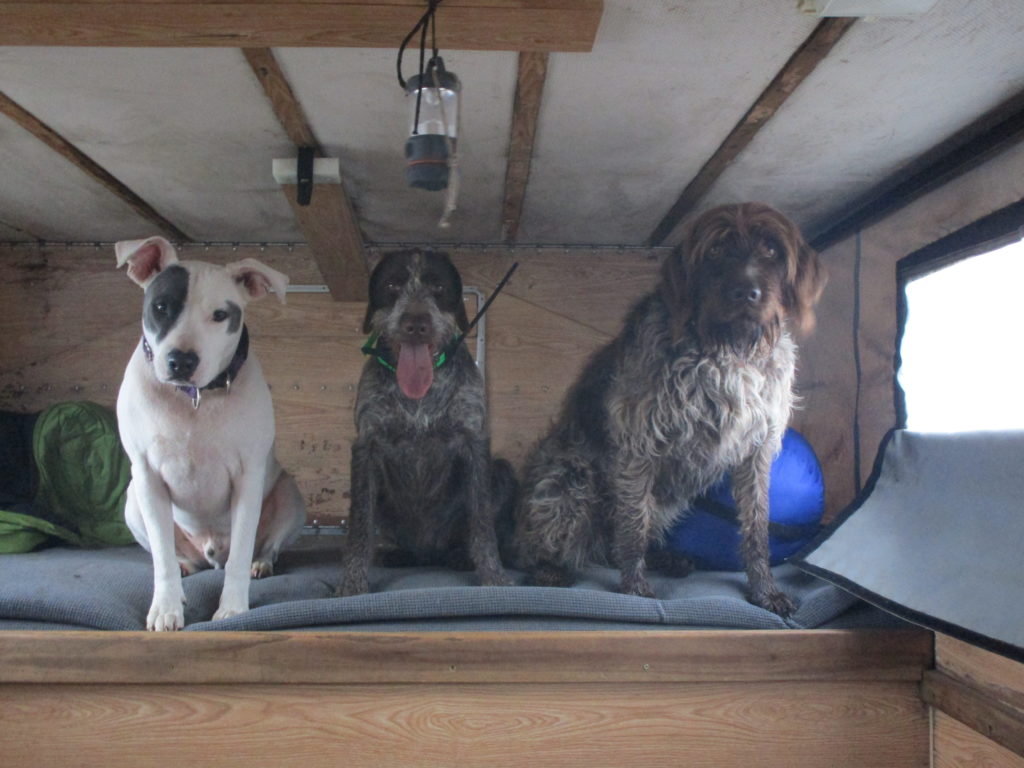 Leah also got to do what she was built to do, haul mules up a winding one-lane mountain road. Doesn't she look grand?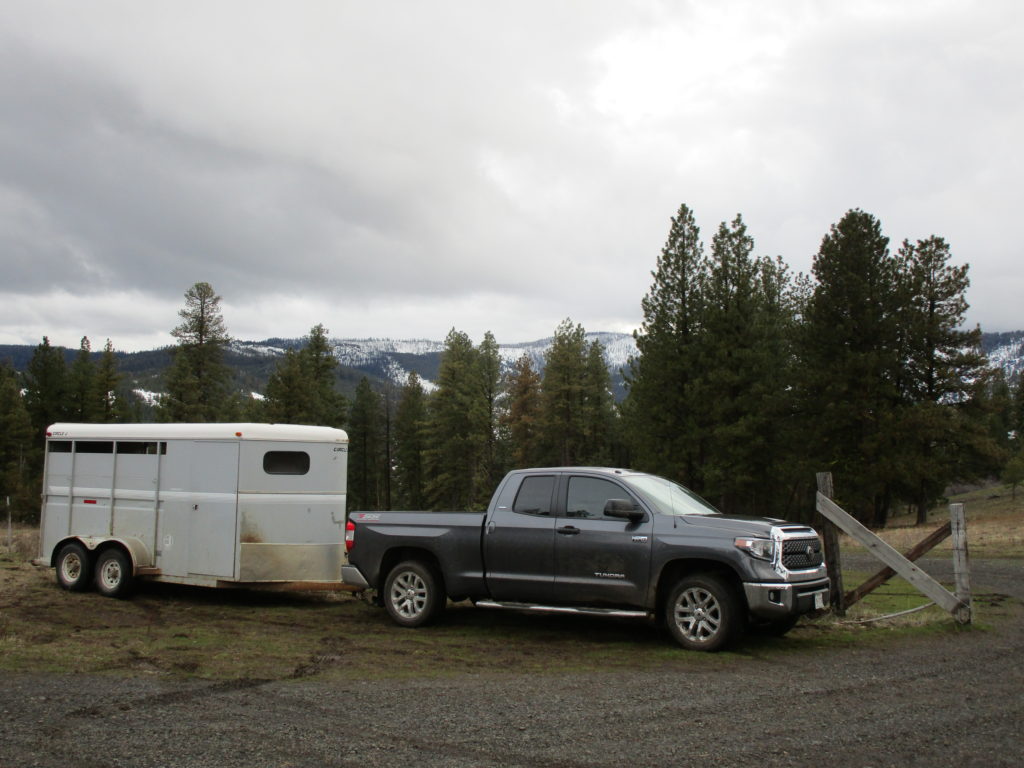 Here is an example of how harsh the terrain is here in Hells Canyon. This knife edged ridge looks crazy-sharp! And the weather was slightly ominous.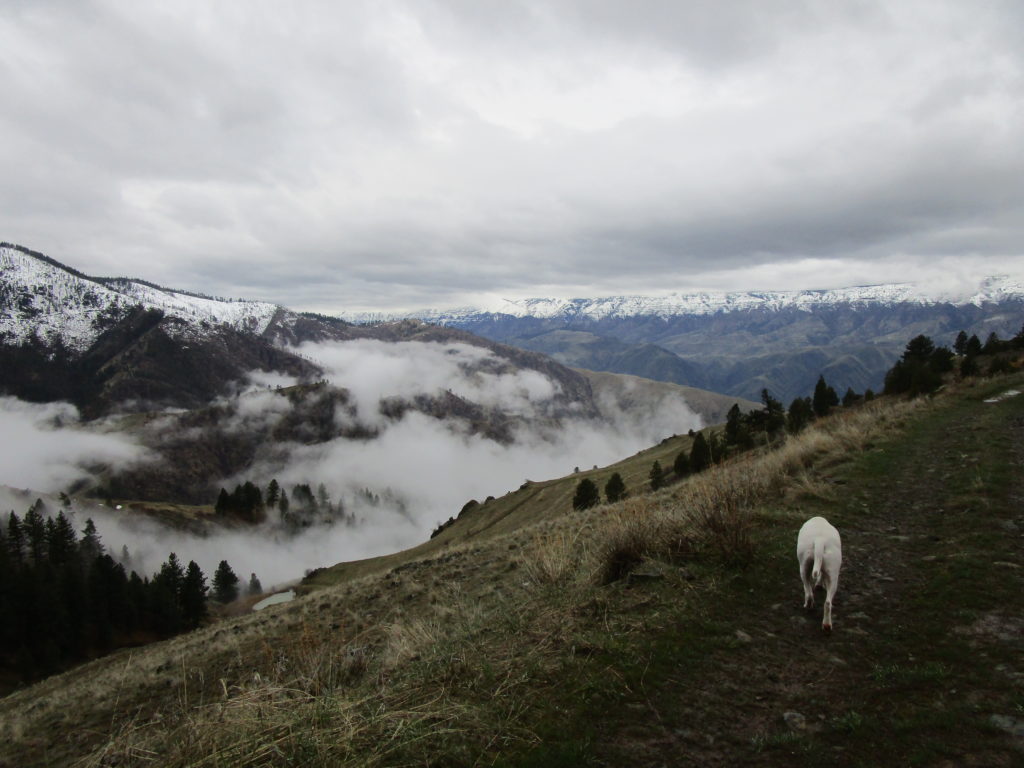 Okay, let's see if Monty can remember that mules are not his friends and one cannot walk between the pack line.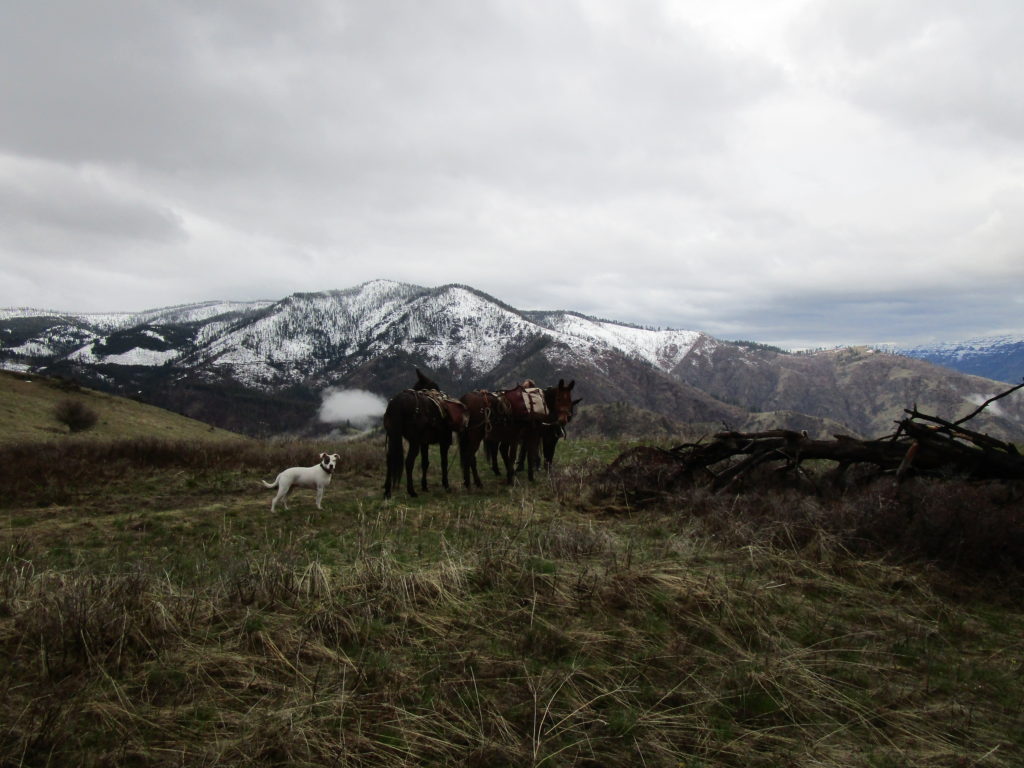 Here is one of maybe two switchbacks during the entire descent to the Snake River. It was a bit on the steep side, as per usual around here.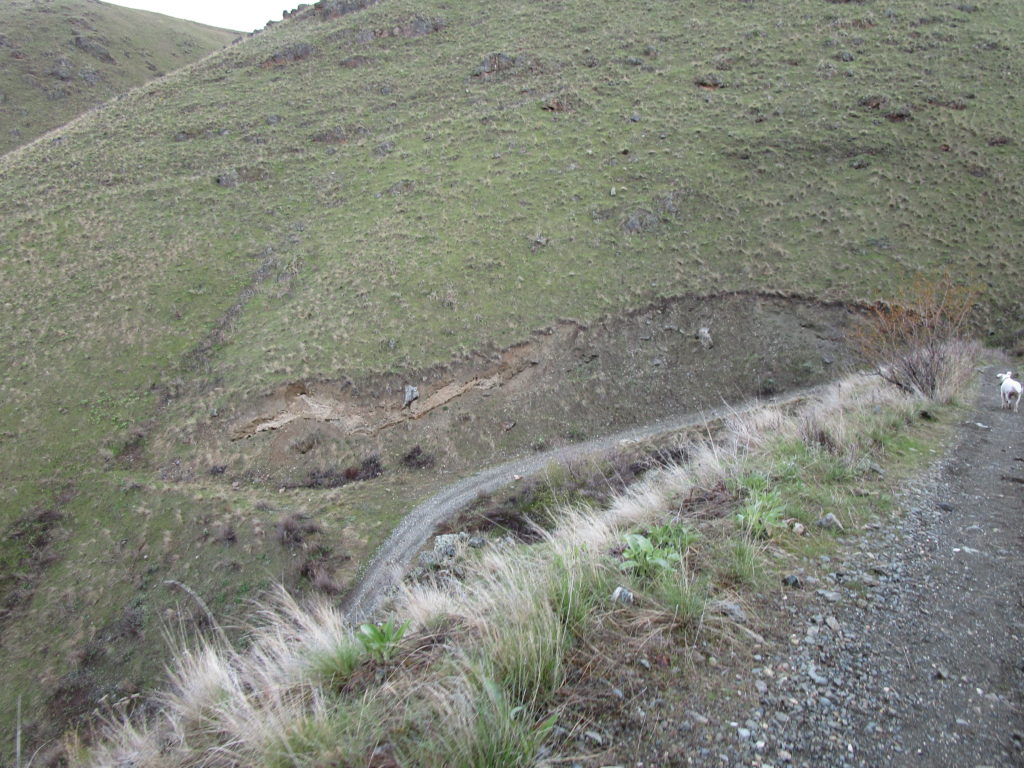 And all that rain made the difference between creek and trail somewhat undetectable.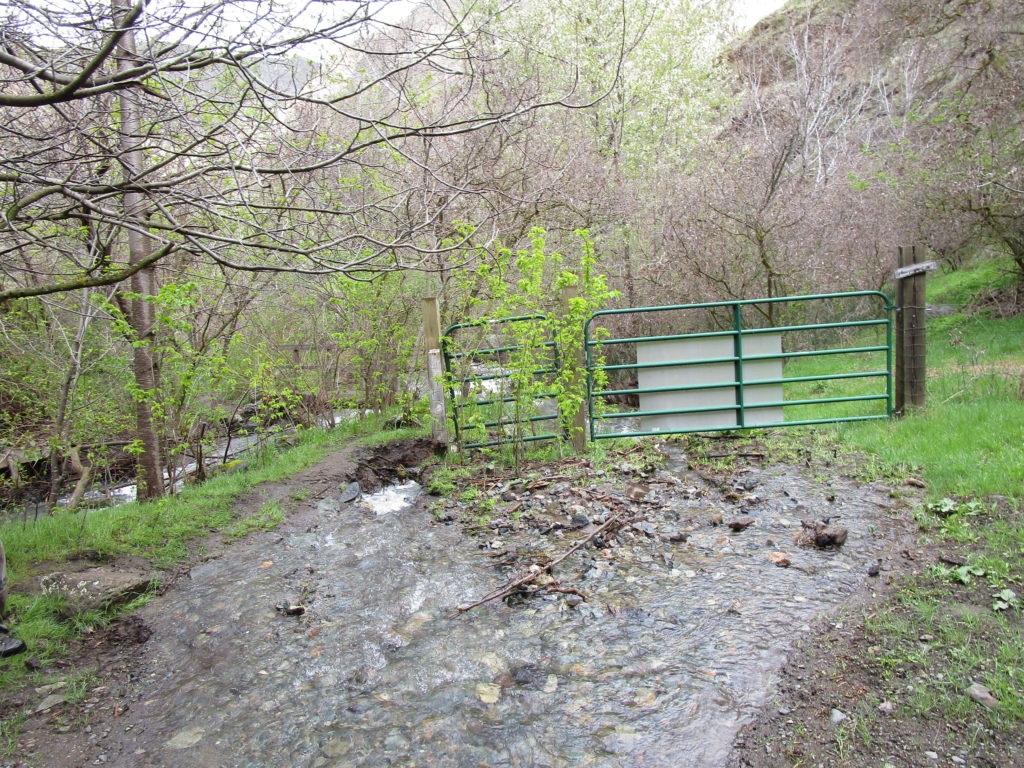 Finally we made it to Kirkwood Ranch on the Snake River. Lots of green grass for the mules to enjoy while we took a 3 minute break to stretch those shins. Only 11 more miles to go so better not dilly-dally. I'll write a later post on the old homesteads I found in this area.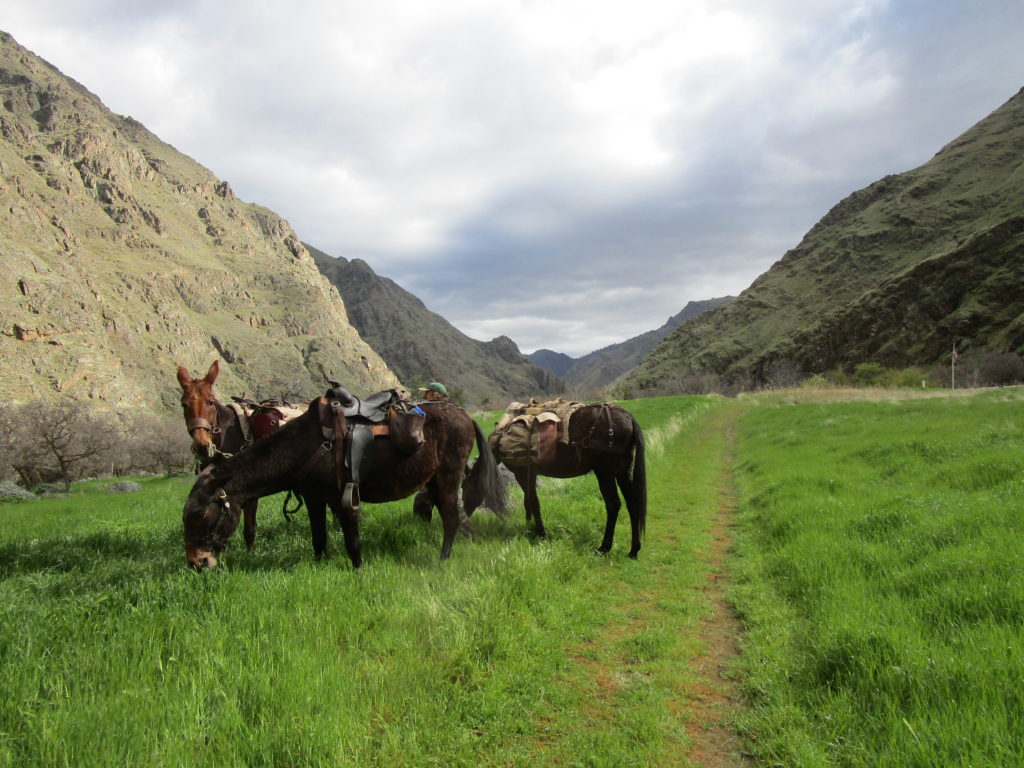 We took turns walking and riding Stella, the don and I did. With Monty's "issues" around me being on top of a mule, I rode only on the wide and flat spots where Monty could have space to make different choices if he found himself drawn to the mule's legs. With a bit of babysitting, Monty only once cut in front of a mule during the whole trip and thankfully the mules were paused. Monty is definitely getting better but since he is who he is I don't think I can ever relax when he is around mules. He just doesn't believe they can hurt him. It's so funny to watch how different the other two dogs are from him around the mules and also just being on the trail. The other two are hunting dogs, they roam hundreds of yards away up and down the hillsides and stay far away from mule feet. Monty does not get far from "his" pack, always running between people if we are not all together to check up on everyone. He also checks up on the mules though they don't seem to appreciate his concern for their welfare.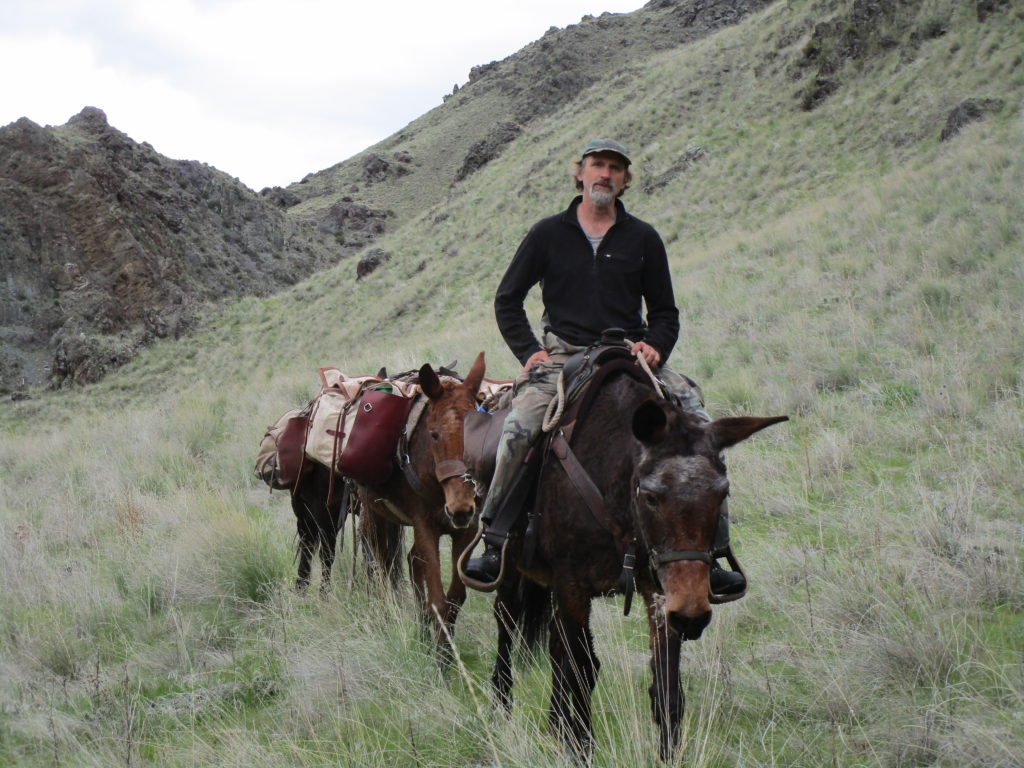 Here is my view from atop Stella with Monty safely following the don. No, the picture isn't crooked, it just there are few flat spots around here.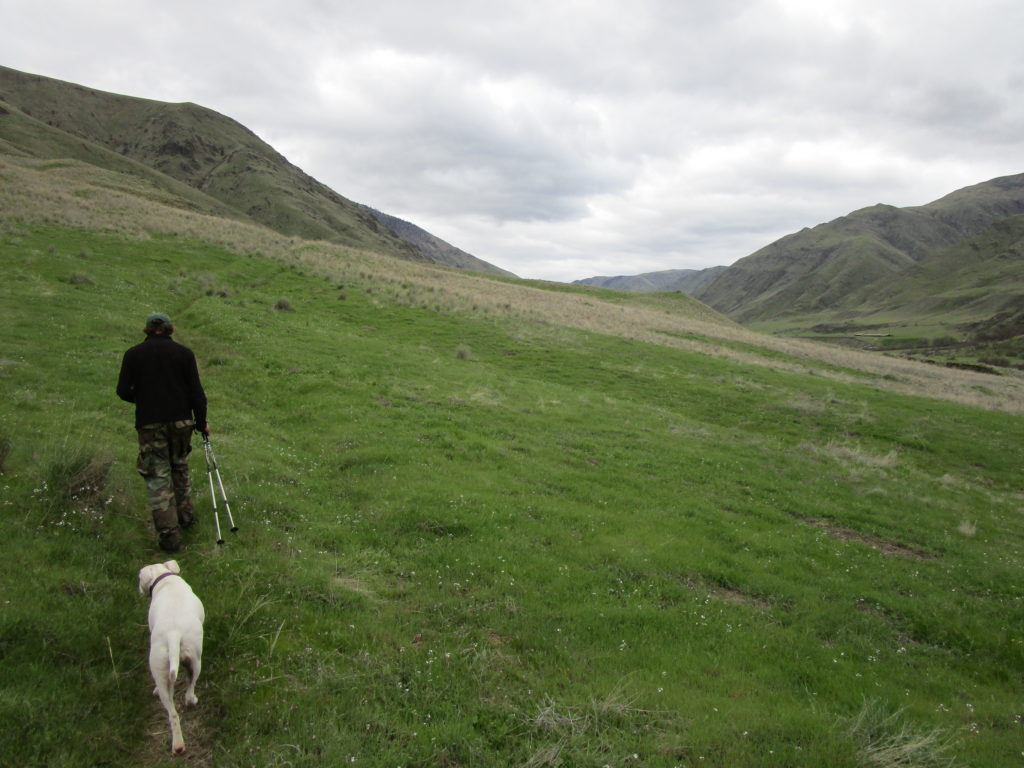 Hell's Canyon is also the only place I've ever been where one has to be wary of poison ivy and rattlesnakes in the same place. I don't mean along the same trail, I mean in the exact same place. Here's a rattler. He's little and not inclined to move fast but still I chose not to goof around with camera angles to try and get him and the poison ivy in the same shot this day. But see here, this photo is from a couple weeks later nearby and you can totally see the ivy. I swear, if it isn't one thing it's another… and I'm thinking I need to look into that rattlesnake vaccine they have for dogs.
Baby rattlesnake

snakes and ivy, oh my!
Though the day started out cool with storms threatening, it cleared and became quiet warm as we headed up from the river to our base camp. By the time camp was reached, the mules had walked maybe 18 miles and the dogs had probably done twice that. Everyone was ready for a rest.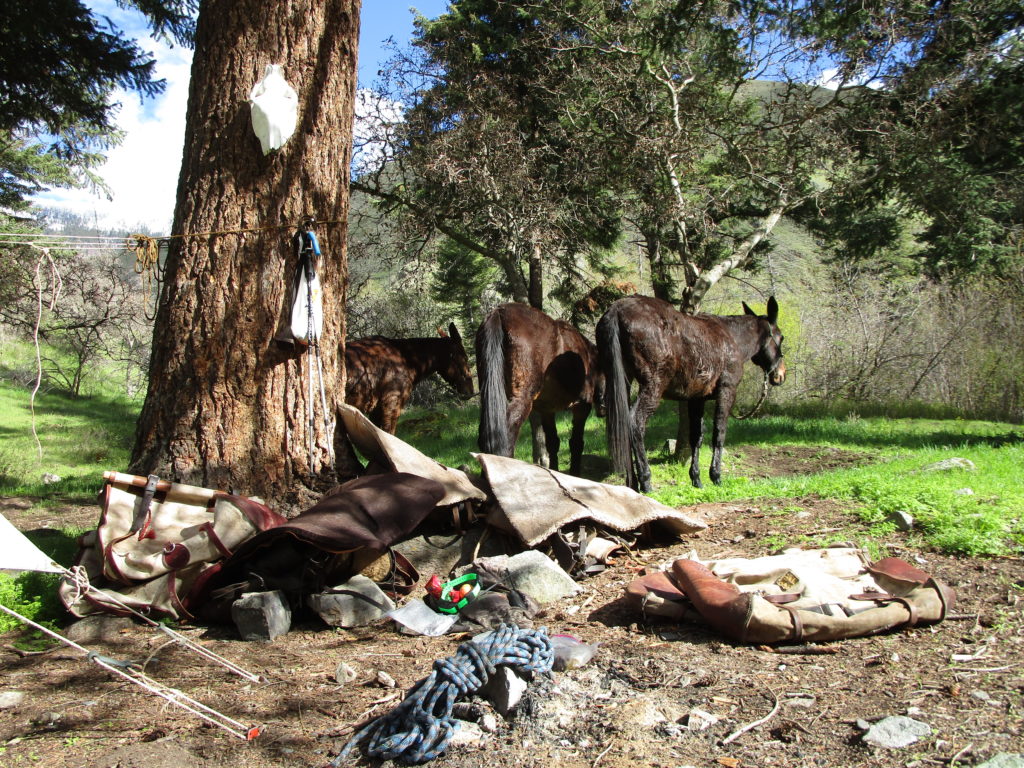 Dog Tired

Dog Tired 2
Boy, it's amazing how quickly those dogs recharge! Especially Finn, who is not even 2 years old yet. You might remember her from last year, the puppy who runs through poison ivy all day and then wants to climb into your sleeping bag at night. Sorry, Finn, no snuggles from me this year. Finn had a GPS tracking collar to wear this year as she can sometimes roam a bit too far afield. She was actually tracked running 32 miles per hour on this trip! Now you see me, now you don't.
Finn and Q

Finn-less
One warm day the mules and I stayed in camp. Just watching these guys napping in the shade can make you feel sleepy. That is, until they start yawning. How can you not laugh at those faces!
This is me in every meeting ever held. "Try to keep the eyes open, c'mon… okay, close them but have a thoughtful look on your face so you appear to be really focused on what the speaker is droning on about… don't yawn, don't yawn, don't yawnnnnnnnnnnnnn. Rats."
Being so far removed from light pollution, we can see zillions of stars in our little slice of sky. One very early morning I decided to capture the gorgeousness of the darkness. With the full moon lighting the canyon walls, I held my breath and tried to channel complete stillness to take this photo of what I think is Sagittarius over the ridgeline. The nights are so mesmerizing one hardly notices the chill.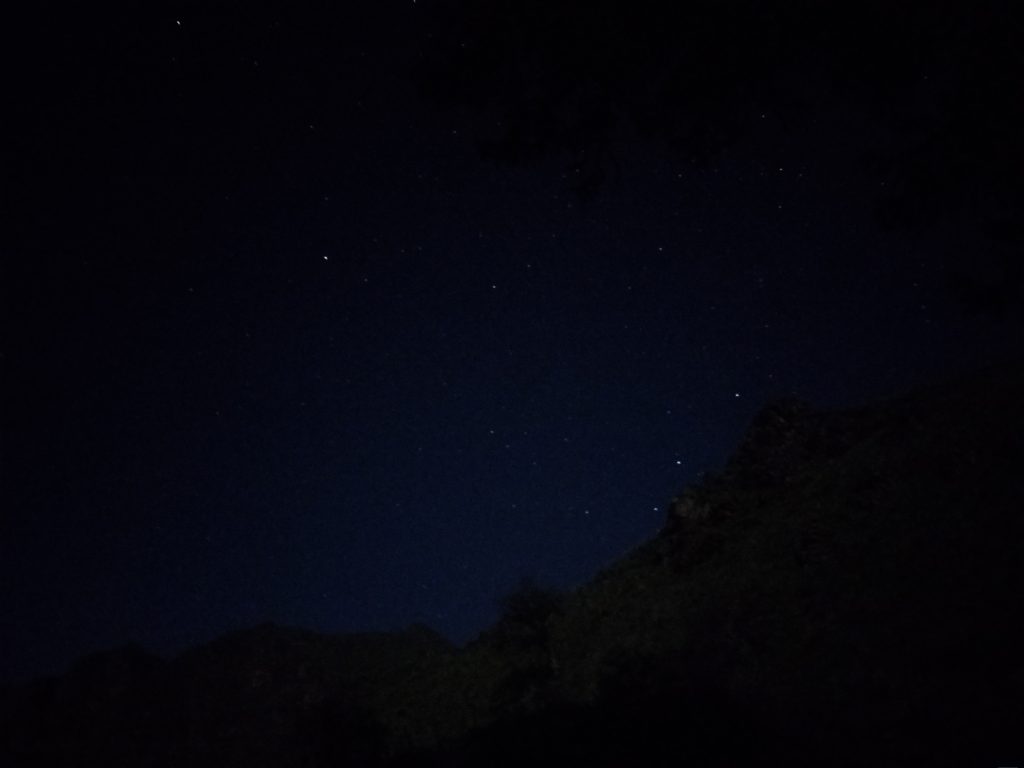 And finally, the whole reason for this trip, imo…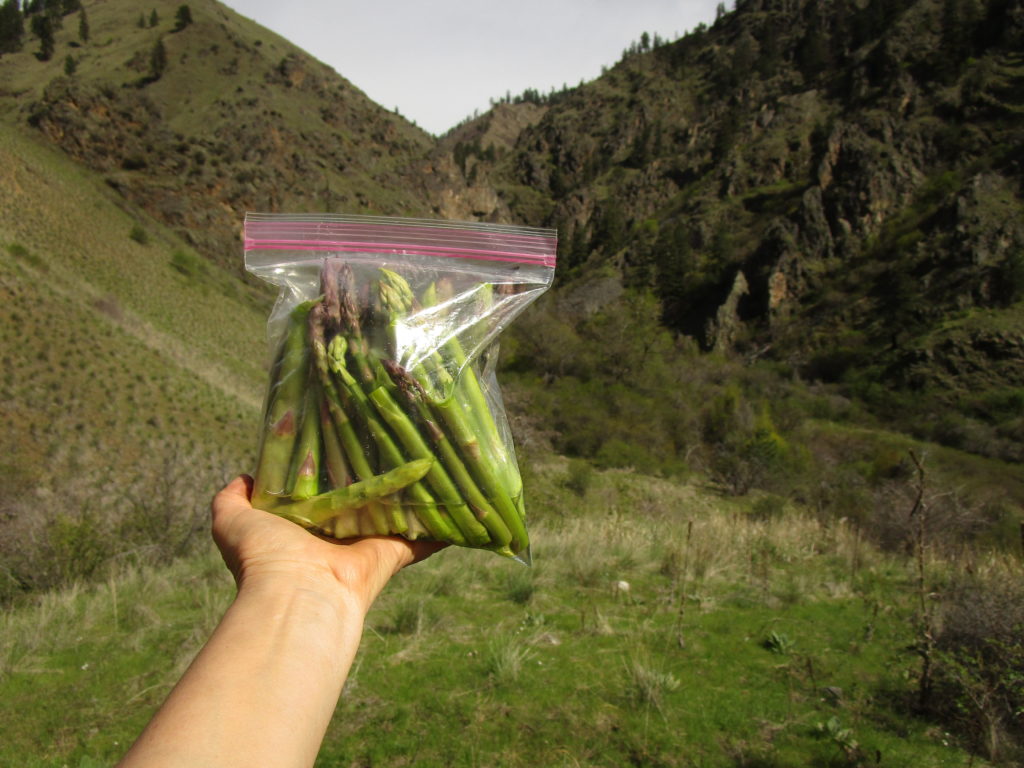 Asparagus! Freshly gathered. It would appear the animals here do not eat asparagus. See in this photo below how the green stalk is surrounded by dead dry stalks that, if not flopped over would be 4-5 feet tall. Those are last year's asparagus. No one ate them. It was pretty early so the majority of asparagus hasn't yet popped up enough to pick but I still got plenty to keep us in green veggies for the trip.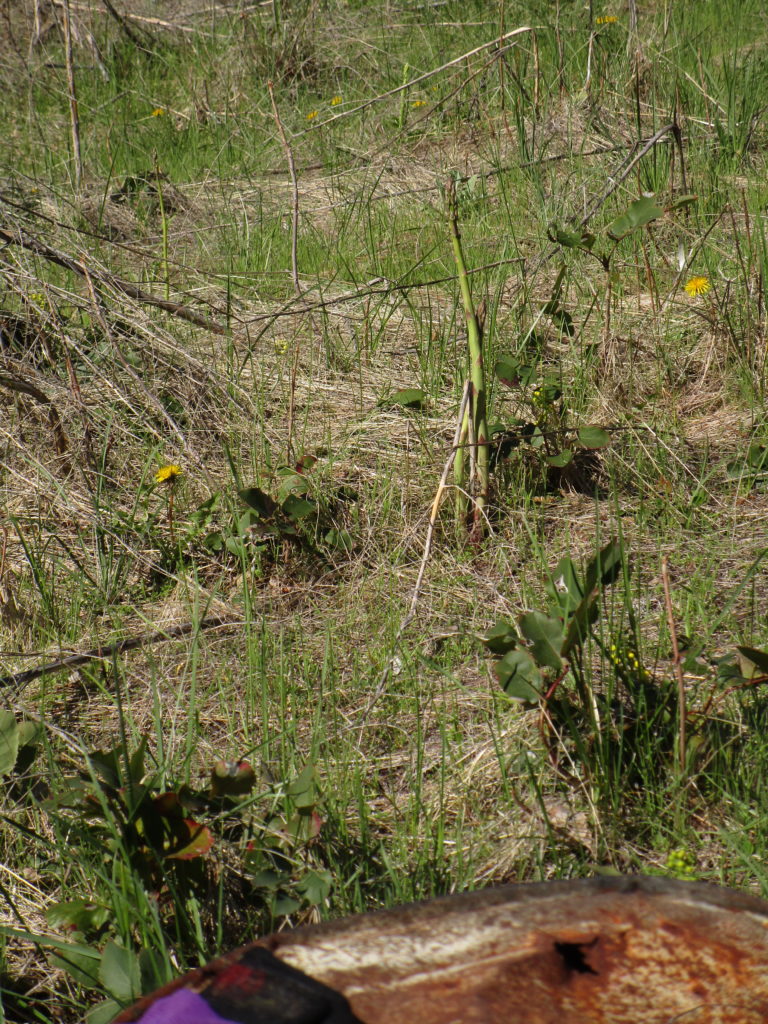 While basking in the glory of fresh tasty vegetables for dinner, I looked up and noticed a plane drawing lines across the sky.
Have you ever noticed that the contrails break up and begin to look like condensed chromosomes during metaphase? No? What, that's just me that sees this? Must be all that biochem. Well, now you'll start seeing it too, next time you see a contrail.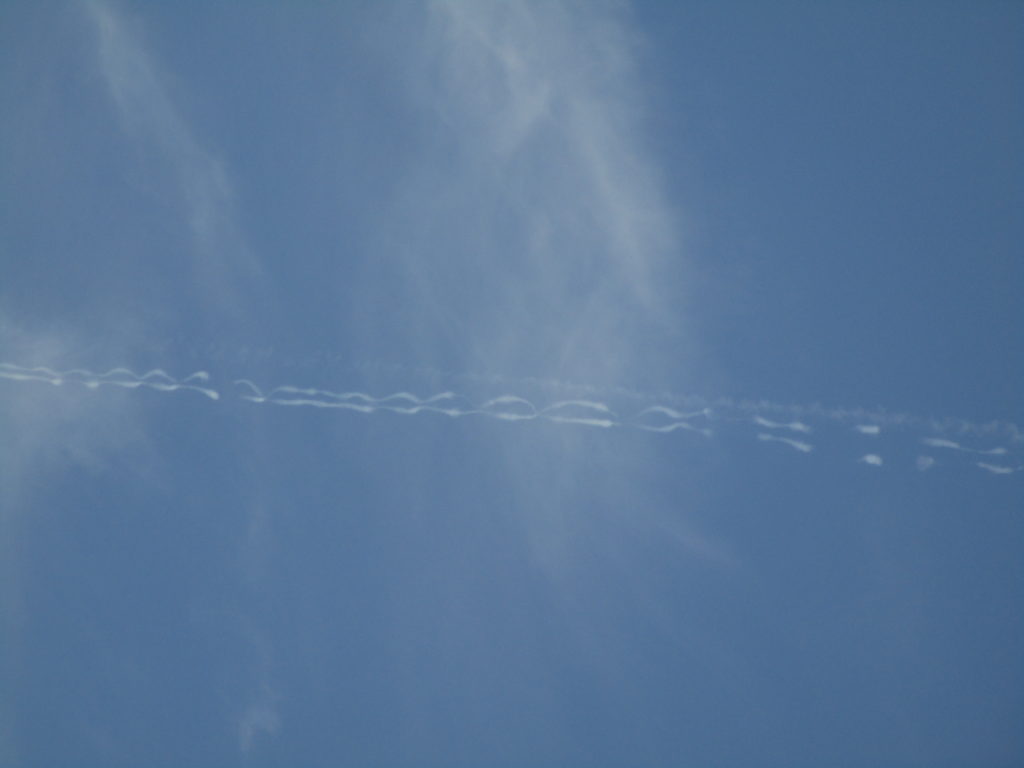 The advantage of traveling with the mules is that we can have good food, not just that dried stuff. I am terribly spoiled by the don, I will admit. He makes a great cup of coffee and then follows that up with a breakfast that would rival any fancy brunch restaurant.
Spoiled rotten, I am. the don makes coffee for me every morning.

Cowboy coffee

hella breakfast
In addition to asparagus, the "purpose" of this trip is to find antlers. I'm not very good at that yet. In part because I'm still so overwhelmed by the newness of everything around me and I'm distracted by so much awesomeness. It's also because I still have to look where I am walking so I take 10 steps looking at the ground, then stop and look around for antlers but then I see a waterfall, a burned log, a beautiful flower, my dog being cute or bored. But, strangely enough, I did find an antler all by myself! Sadly, it had sat out in the sun for many years or perhaps it had been engulfed in the fire that went through here a few years ago but either way it was beginning to "rot" and become chalky. I enjoyed the thrill of discovery and left it where it lay.
Bored Monty on steep hillside

Monty with my antler behind him

Nothing but vertical

Lady elk hanging out

Flower from ground view

Bleeding and burned

How can I find antlers when you look so cute all the time

Which do you think is more poisonous, the caterpillar or the poison ivy

Monty on Lightening Ridge. It's really that knife-edge sharp

just another pretty view

The antler I found all by myself

Monty in Cougar Basin
However, the don had spied an antler near camp and we took a morning walk to get it. I went down the hill to retrieve it, Monty got excited and wanted to help. (As an aside, in Houston these would be called mountains so I can honestly say I walked down a mountain to get this antler.)
Sadly the trip came to an end and it was time to pack up and head back to civilization and daily showering. Of course, it wouldn't be a proper HC trip without a photo of the don shirtless. To be fair, by the end of April it does get very hot in the canyon and no sense getting one's shirt all sweaty when you can't easily wash it. I don't mind at all.