The best gaiters in the world cannot be purchased from a store. They are handmade.
Seriously. And you can make them yourself.
I have worn many different gaiters over the years. Lightweight gaiters for my trip to the most gorgeous dunes in America, lighter-weight DirtyGirl gaiters for my trail running days, and others that were supposedly for hunters. All this done in my quest to prevent pebbles and stabby grass bit from working into my shoes and socks and poking holes in my skin (and maybe avoid migrating foreign body which is a very real and potentially deadly issue for dogs and why not people?). I also like to wear comfy pants instead of heavy canvas-like things and those grass seeds just love to snag into the weave of said comfy pants.
Gaiters are supposed to prevent sand, rocks, and grass from getting into your socks and maybe also prevent the bottoms of your pants from wetting out while you walk on the dewy hillsides. Typically they tie around your calf and under your shoe. They offer, at best, moderate protection from all that nature that wants to glom onto you and little to no protection from thorns, snakes, and other ankle-biters.
I was ruminating on this issue with my judicious daughter as I picked grass seeds out of my socks and shoes. Anyone who has walked across a hillside in late summer or early autumn knows the potential extent of this job. "Judi" related an experience with a sage at camp who made gaiters out of cowboy boots. Sky has had a rather storied life and brings much practical wisdom to the people at this camp in the western desert of Texas. I was determined to try this new gaiter out for myself.
For anyone who has worn them, cowboy boots are amazing. Except on dewy hillsides or multi-mile hikes, or craggy rock faces. But really, the problem is the soles which are great for saddles but not for hiking. Sky had solved this problem by combining the best part of cowboy boots with the best part of hiking shoes. I knew I had to try this for myself. Just as soon as I got all the danged seeds out of my shoes.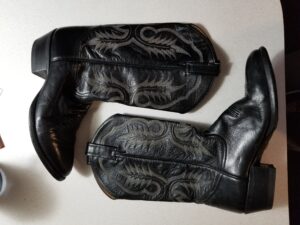 I searched for a couple of months at every thrift store I saw for a pair of boots with an inexpensive price tag for me to cut up. I finally found these lovely boots for seven bucks and commenced to cutting.
I found that my favorite pocket knife, a Kershaw, was the best tool for relinquishing the sole from the upper.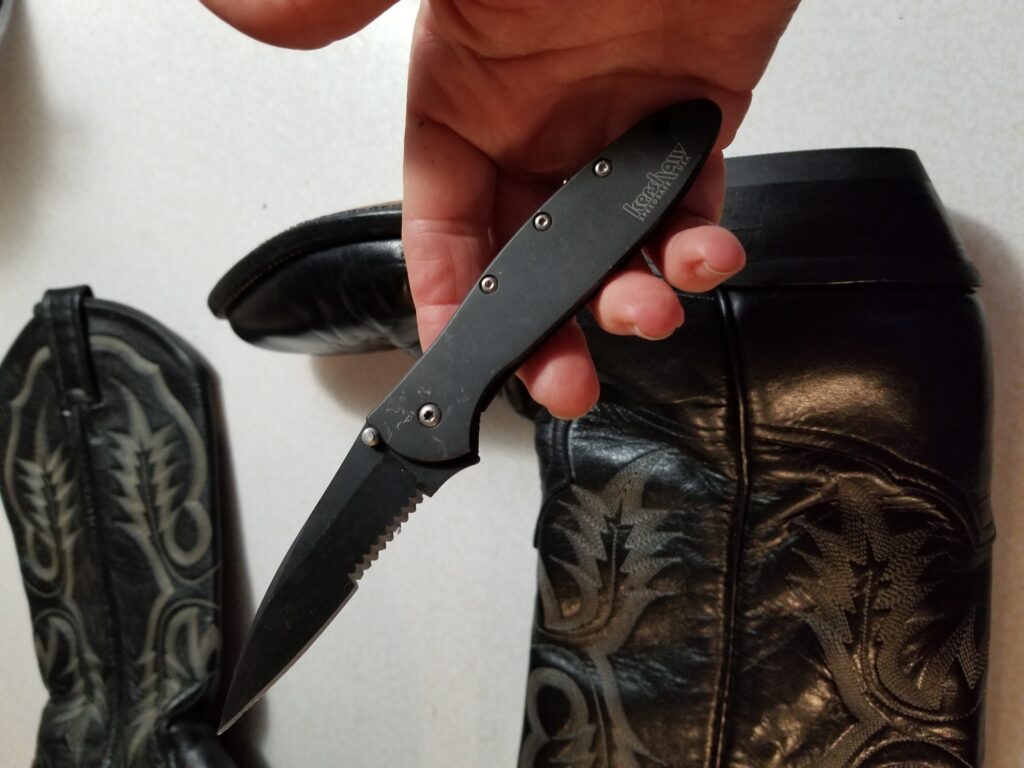 I chose to leave most of the foot covering attached because I frequently wear breathable shoes that grass seeds love to infiltrate.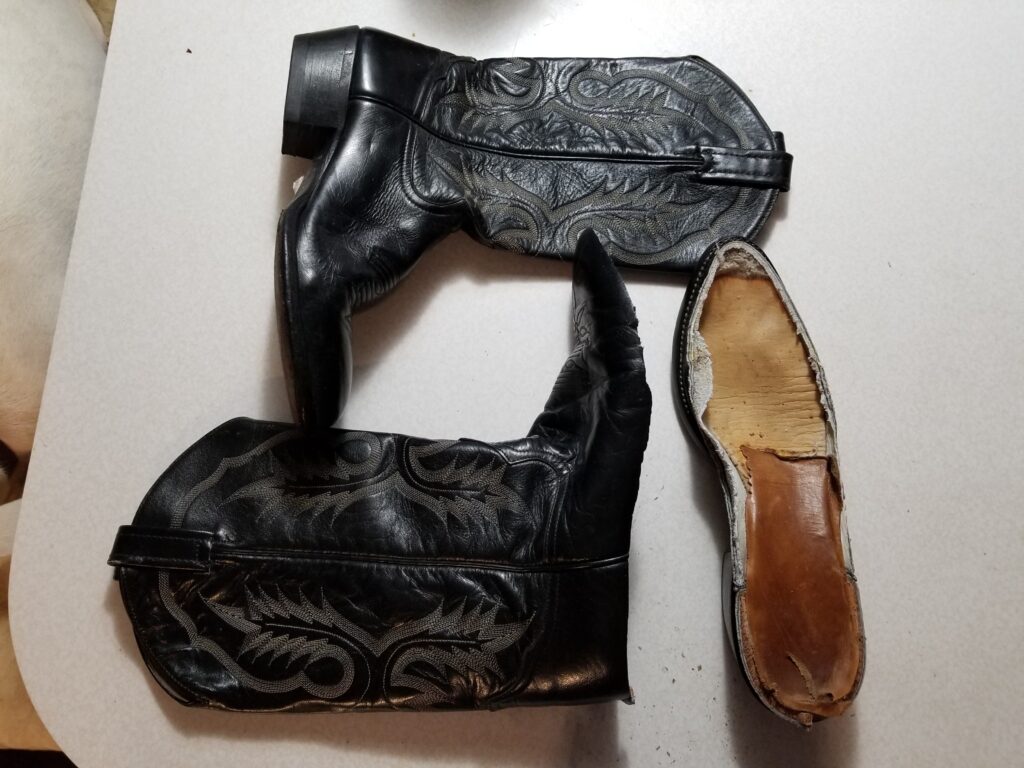 After removing the sole, slip the boot/gaiter onto your calf before putting your hiking shoe on to try on the gaiter and decide where to trim. I found that trimming was better done with scissors.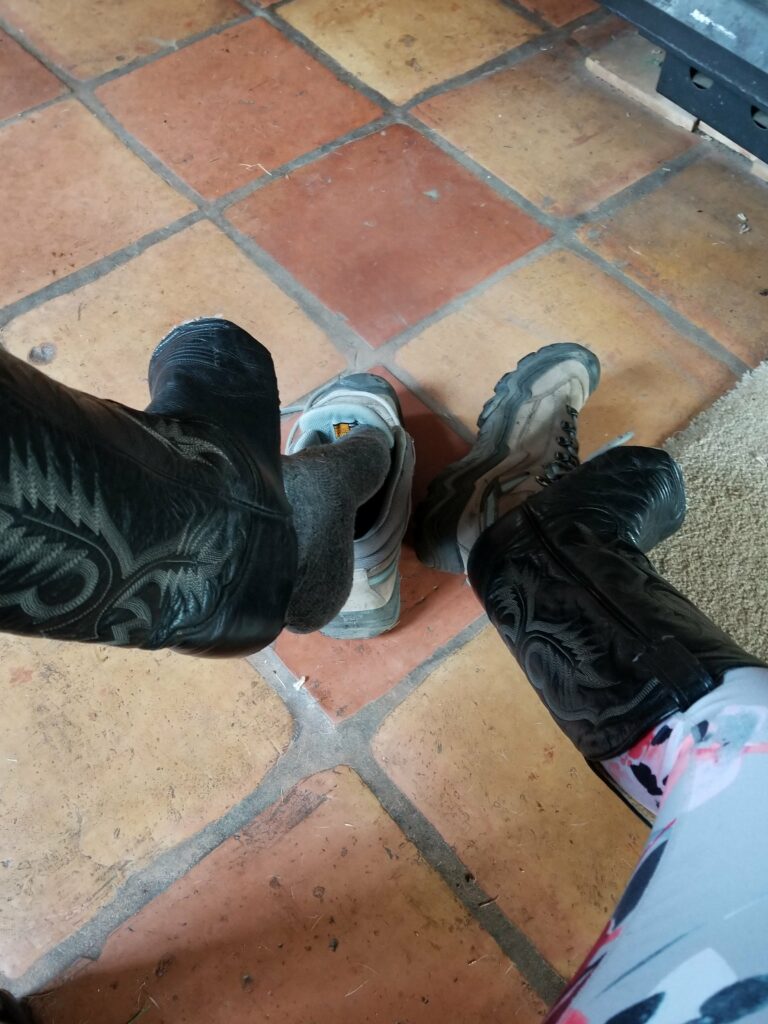 Then slide the boot down over the shoe and head out to your favorite grassy area. Does it look silly? I don`t think so, any more than any other gaiter and actually quite a bit more stylish.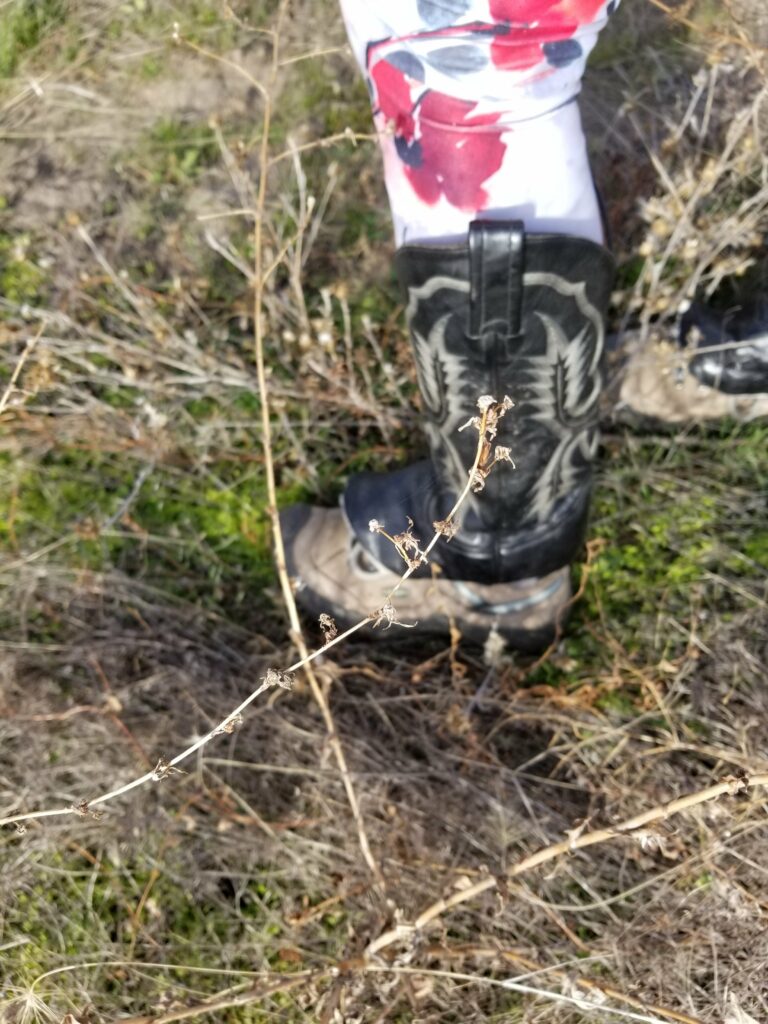 That night at camp around the lovely fire you can look silly as you kick back with a beverage while everyone else is picking grass seeds out of their stinking socks.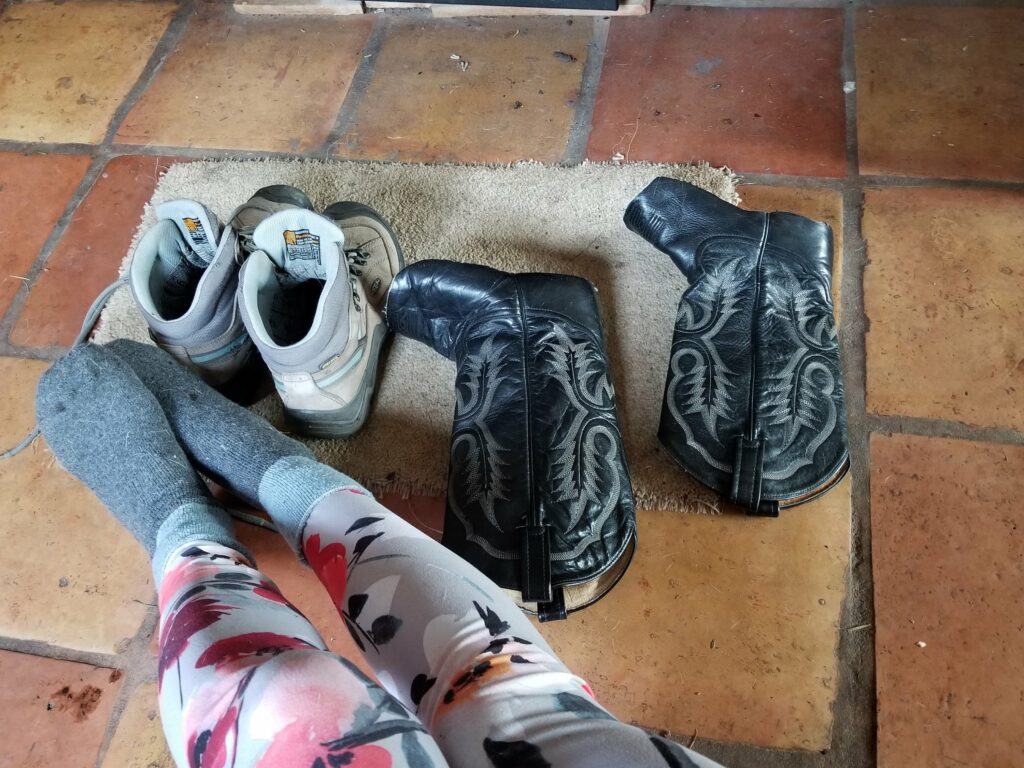 As an Amazon Affiliate, links in this post will take you to Amazon where you can review my suggested items. If you make a purchase it will not cost you anything extra and I make a small commission.