Do you have a truck and enjoy camping in the outdoors? Are you also either a minimalist, have little storage area, or on a tight budget? Read on, fellow outdoors-person. Have I got a solution for you!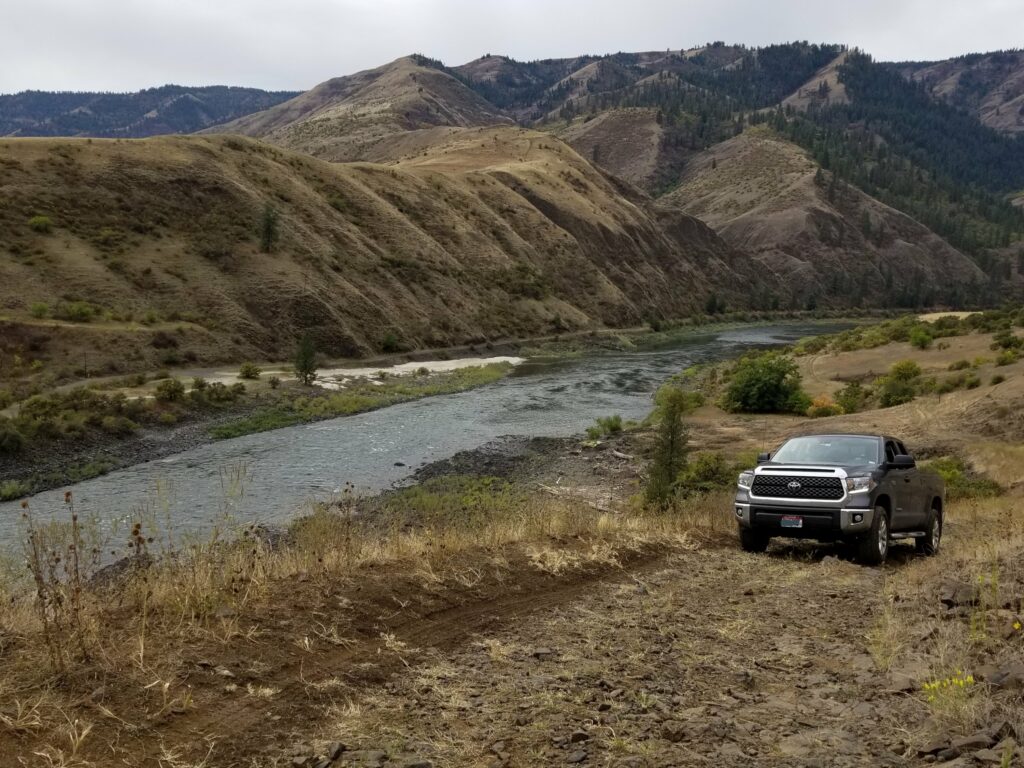 I love camping and traveling. Many of the lovely undeveloped camp areas in my newly adopted northwest home are little more than pull-outs along the steep and winding mountain roads. Finding space to pitch a tent can be challenging. I do have a pull-behind RV (read about the RV rehab on Brighty here) but sometimes I do not want the responsibility of pulling an extra 20 feet of trailer behind me. The fuel mileage is also a consideration. As a friend said, with an RV it isn't miles to the gallon but gallons to the mile. For a quick and no-fuss getaway, being able to sleep IN the truck would be ideal for my situation. I have spent almost a full year researching the issue of truck bed camping, some factors I considered for my truck camping solution were:
Waterproof and weather proof
Ease of set up and take down
Minimal storage footprint
Cost (under $100.00)
Space to live and cook inside in case of inclement weather
I have had the good fortune to spend many nights in a pop-top camper that slides into the truck bed. It is probably the primo way to camp for comfort and convenience. They are mostly waterproof, are easy to set up, and have fabulous living space inside. However, these campers are very expensive, averaging $20,000+ new and used ones cost around $15,000. Additionally, a camper requires a protected place to store it when it isn't on your truck.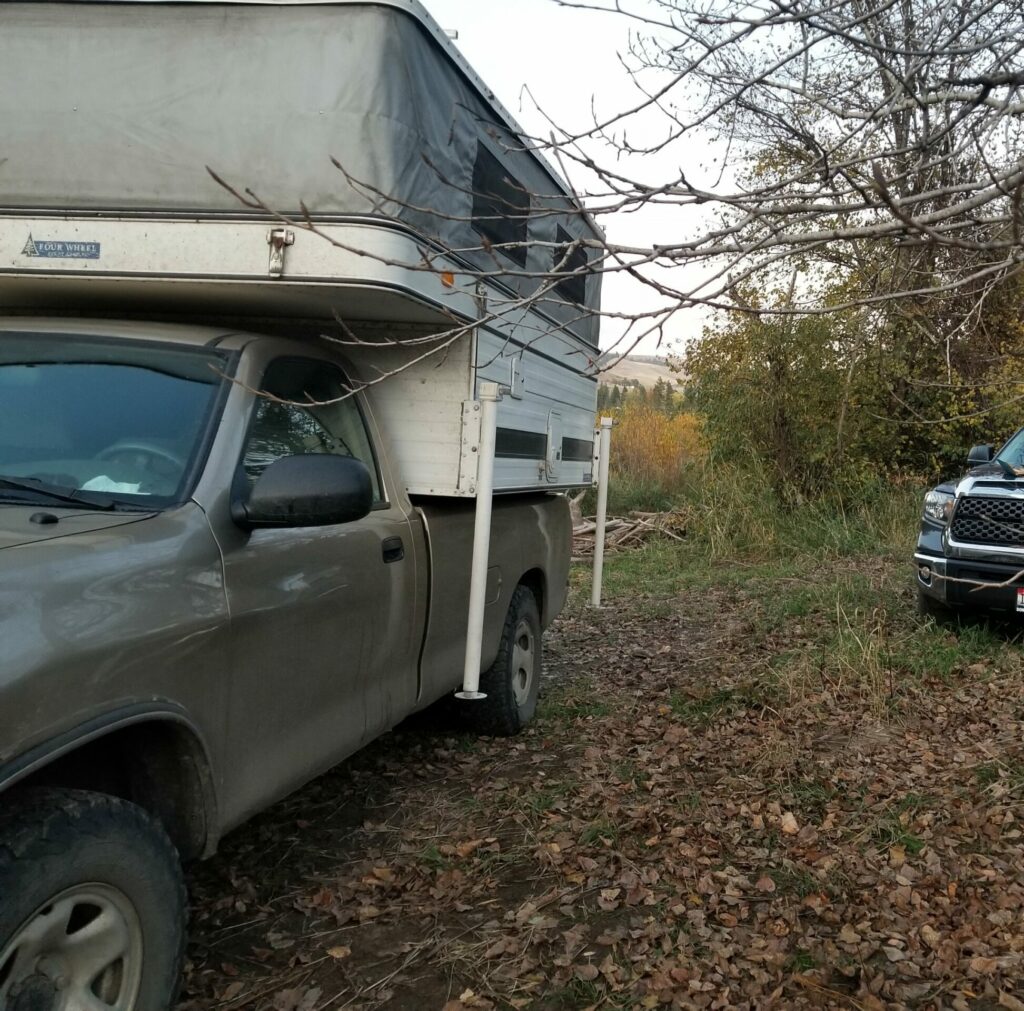 Another possibility is to buy a topper or cab for the truck bed and build it out. I researched the various toppers extensively and determined that a topper is not a good fit for me because I actually need to use the truck bed for throwing stuff into and unloading. Stuff like gravel or mule manure for which I use this easy unloader which fits over my tailgate; neither of these items works well with an installed topper. Toppers are not very waterproof or road-dust-proof, either. They seem to always have a leak at this corner or that window. While they are removable, it isn't a simple job to take it off, load the truck with poop or gravel or bikes or 8 foot long boards, then clean out all that stuff and put the topper back on properly aligned to minimize water leaking and dust infiltration. Toppers cost around $2500 new. You can find used ones for certain trucks, especially older trucks but you still have the leaking issue. Still, this is a very popular avenue, especially if you already have a topper.
Tents that are made to be set up in a truck bed exist. I got to see one at my truck dealer. Maybe if MSR made one I would have faith it would last through a hearty storm and winds. You could maybe fit two sleeping bags inside it but you would still be stuck cooking outside. It costs around $300
Finally I decided to build my own truck bed camping system. Inspired by the frequent references to the pioneers who blazed trails to homestead this area, I began to think of life in a covered wagon. Certainly I could adapt my truck to a covered wagon! I knew it would need side walls, easy enough to build a wood frame; lots of trucks around here have lumber frames for transporting wood logs that were cut in the forest. Next stretch a waterproof cover over the walls, and better add some sort of peak to let rain and snow slide off and not cause puddling on the roof. That would take care of the structure. I can build a sleeping platform and mini-kitchen for living.
I lucked into a pile of wood on BLM land that was about to get burned. Some structure was apparently decommissioned and dismantled. I scavenged almost all of the wood needed for this project. A super bonus was the wood had already been fully cured and the plywood outgassed all it was going to. My lumber rack was built entirely out of this scavenged wood and there was plenty left over to build a kitchen sink and sleeping platform. The lumber rack would probably have cost about $20-30 if I had to buy the wood.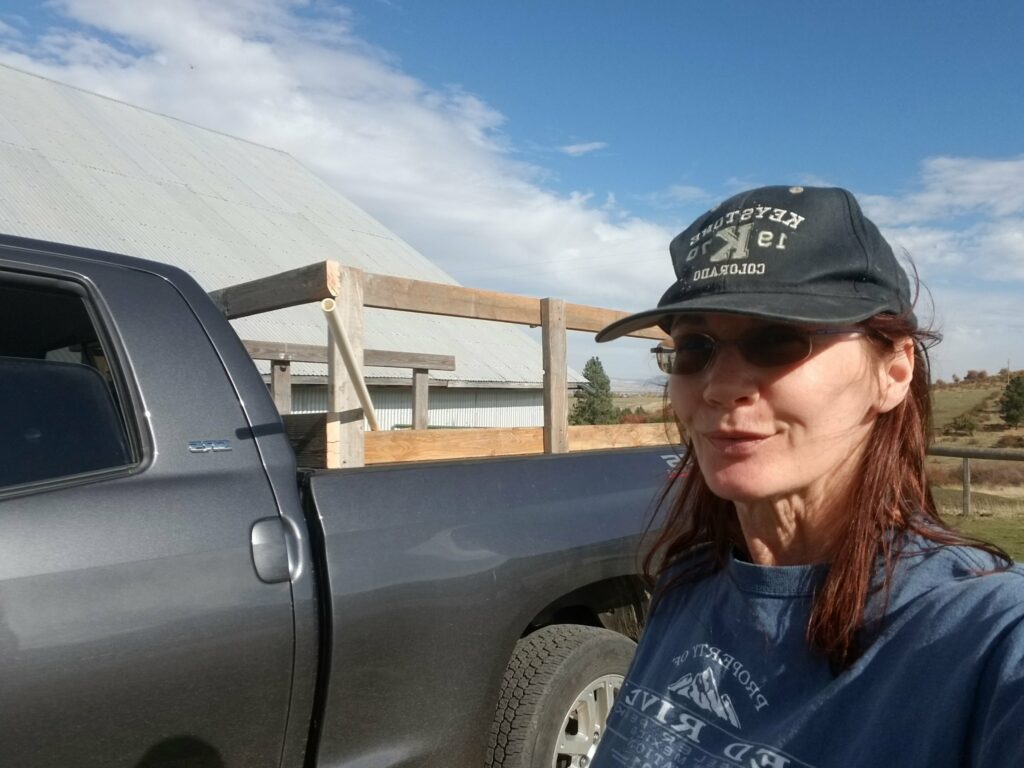 After some deliberation between wood vs PVC pipe for the roof structure, pipe won out based primarily on how easy it would be to store. The pipe and holders cost $10. It is a simple action to arch the pipe for the roof structure and for the porch cover.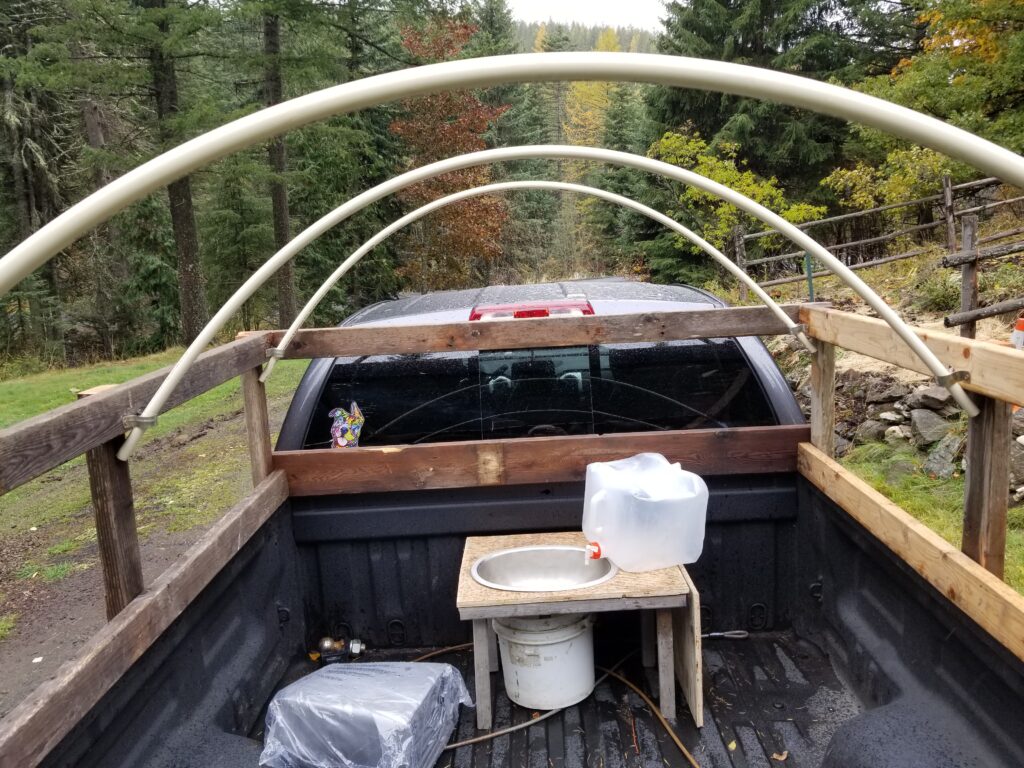 Finding a cover was a little harder only because I really wanted to keep this entire build under $100. I ended up using a 16×30 tarp that was cut down to 16×20. I would have preferred Tyvek or maybe ripstop waterproof nylon to make my own cover and put the grommets exactly where I wanted but one has to make do sometimes. The tarp cost $50. I used bungee cords to hold the tarp in place and also have some rope in my camp kit in case I lose a cord.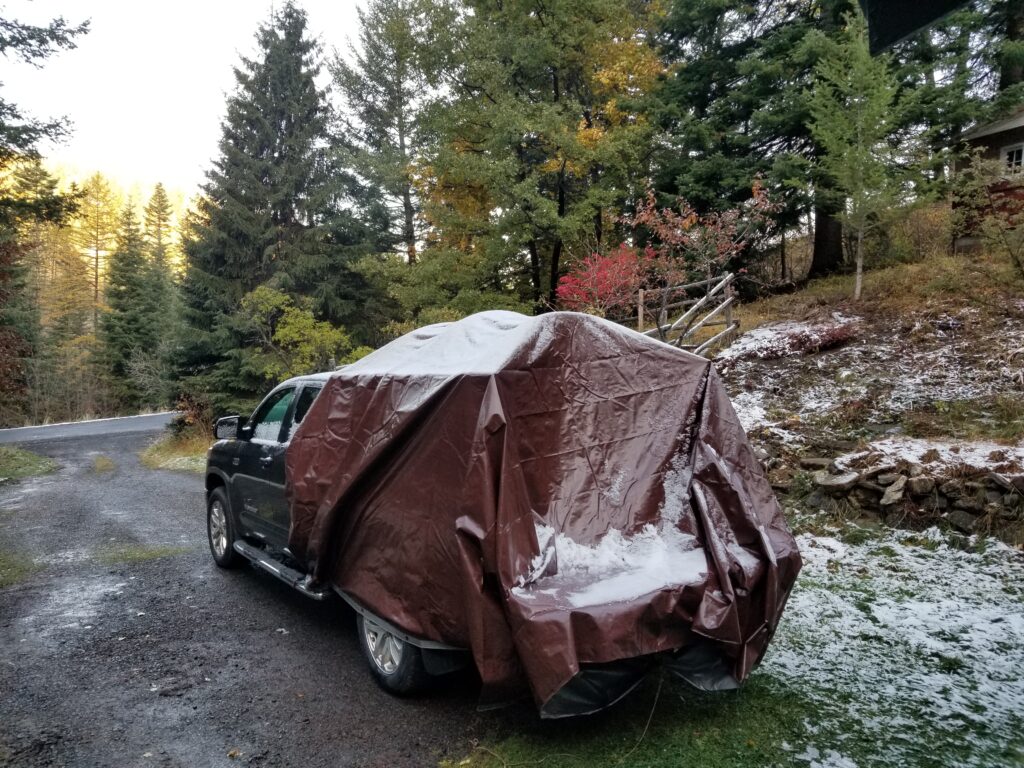 With $60 already spent, I decided to take my "Hillbilly Camper" out for a test of concept run. I made a simple and slightly-precarious sleeping platform for me and devised a way to extend the platform for my dog to sleep with me. He is the best heater for those long winter camping nights and his very short fur and stoic temperament means I can snuggle my icy feet into his tummy without him moving away. I made a lip on the edge of the sleeping platform and, using the sink as a base, put a piece of plywood abutting the sleeping platform. Since neither of us are violent sleepers, this set up worked well for a test run. Plenty of room inside the camper to move around and I can almost stand up straight inside it. Sitting on the platform was quite roomy and would allow plenty of space to cook or read.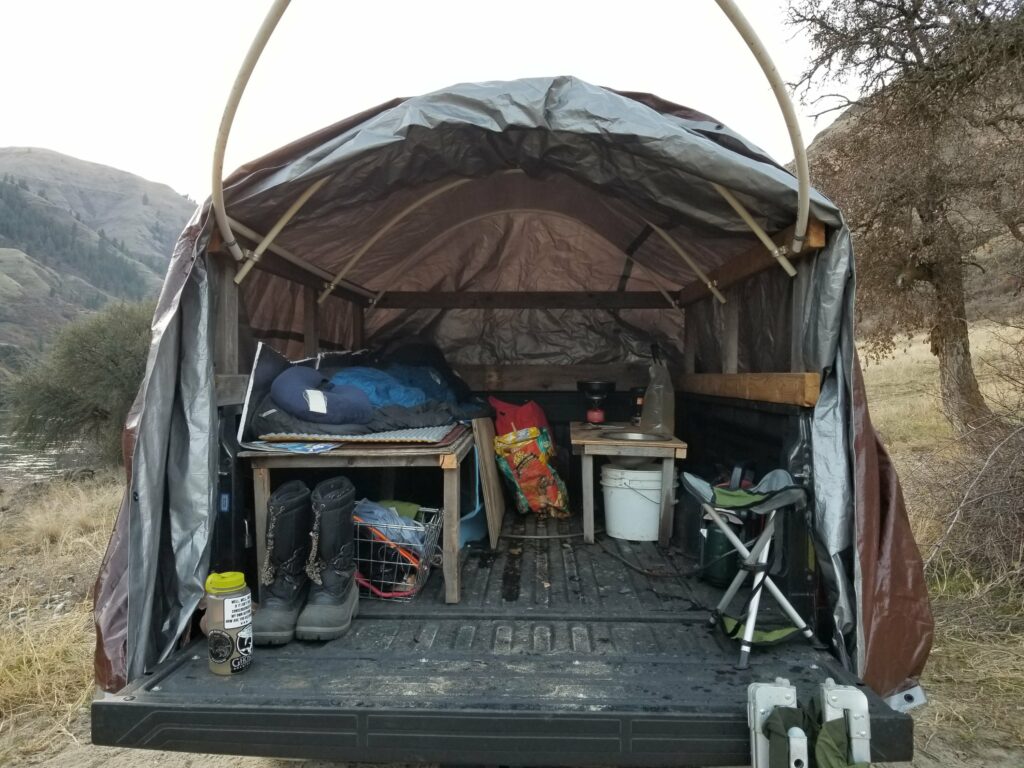 Since it was such a nice evening, I cooked on the tailgate and then we sat outside and enjoyed a campfire. It was perfect for burning all the grass seeds and burrs that accumulated on my snow boot laces. However, not every night will be so fine as this one. I built this sink and counter for those icky times. The "Kitchen" was made from all recycled materials. The sink came from Brighty's demo, the wood from the BLM pile, and the bucket for gray water collection was hanging around. The side counter is hinged to fold down when not needed. Upgrades are planned but this is the down and dirty cheapest way to make a kitchen. One upgrade will be to install a faucet (also saved from the demolition) and use a foot pump to get water flowing. This upgrade will be used only during the warmer months when I don't have to worry about freezing water lines.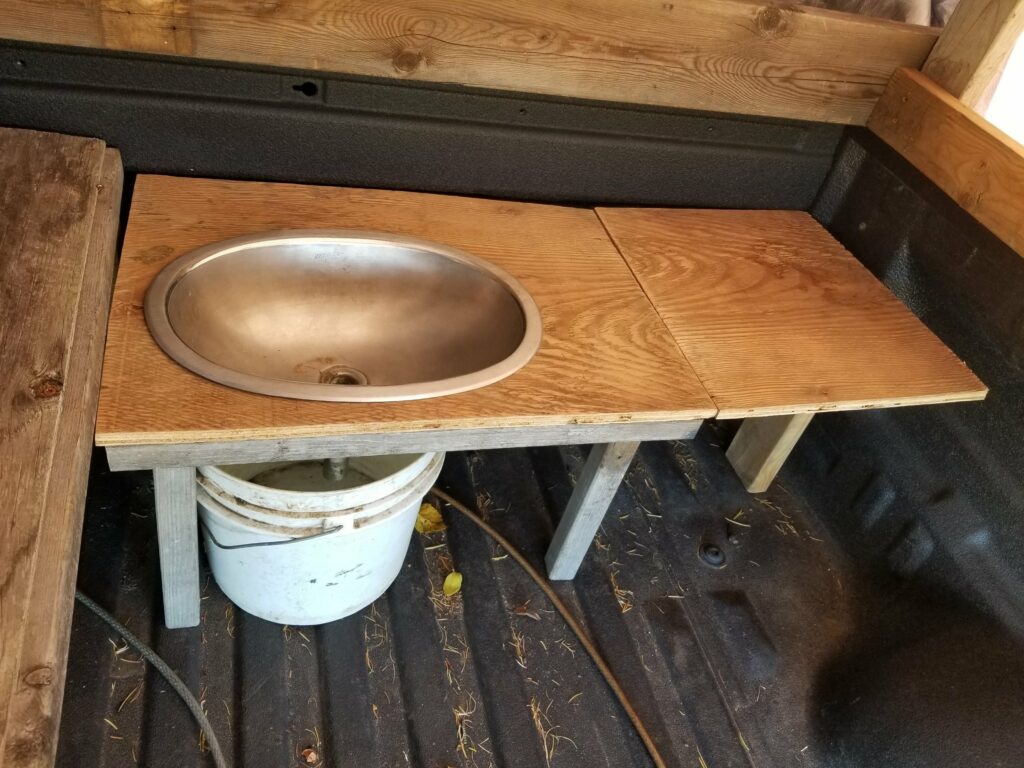 When it was time to turn in, I folded the tarp over the porch awning and held it closed on the inside with small bungee cords. The temperature at 6:30 that night was 37F. The Mr Buddy Heater quickly warmed the small space up to make it comfortable while I read and got ready for sleep. I ran the heater for about 5 minutes on the lowest setting and that was sufficient for the evening.
I had placed two mats on the sleeping platform for cushion and insulation. These in conjunction with the wood worked perfectly for keeping the dog and me warm and comfy. The next morning I appreciated the previous evening's foresight in placing the JetBoil and coffee-making needs next to me. I didn't even have to get out of bed to get a cup of coffee.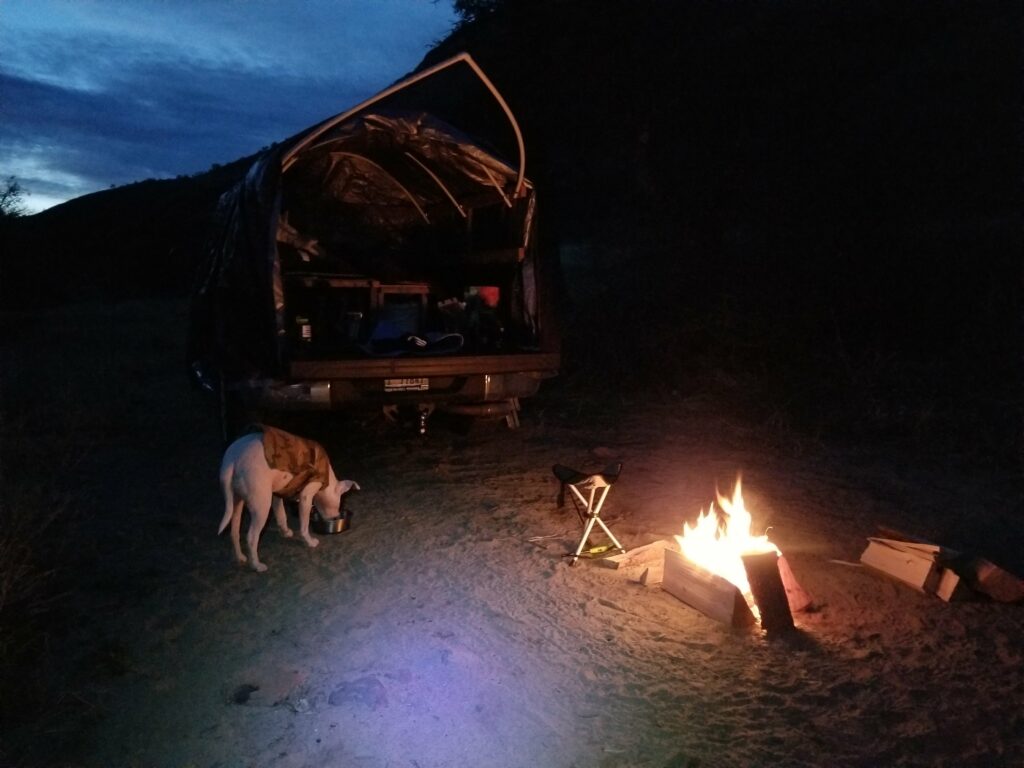 Breaking down the camper was just as easy as setting it up. Being curious how it might manage in rain, I did an accordion-fold on the tarp as it hung over the lumber rack and removed the pipe. I then tucked the tarp over all the camp gear and held it in place with a cargo net. This technique would help prevent all the bedding and kitchen gear from getting soaking wet in the event of rain during a travel day. I think that, provided no items were on the floor of the truck, everything would stay dry.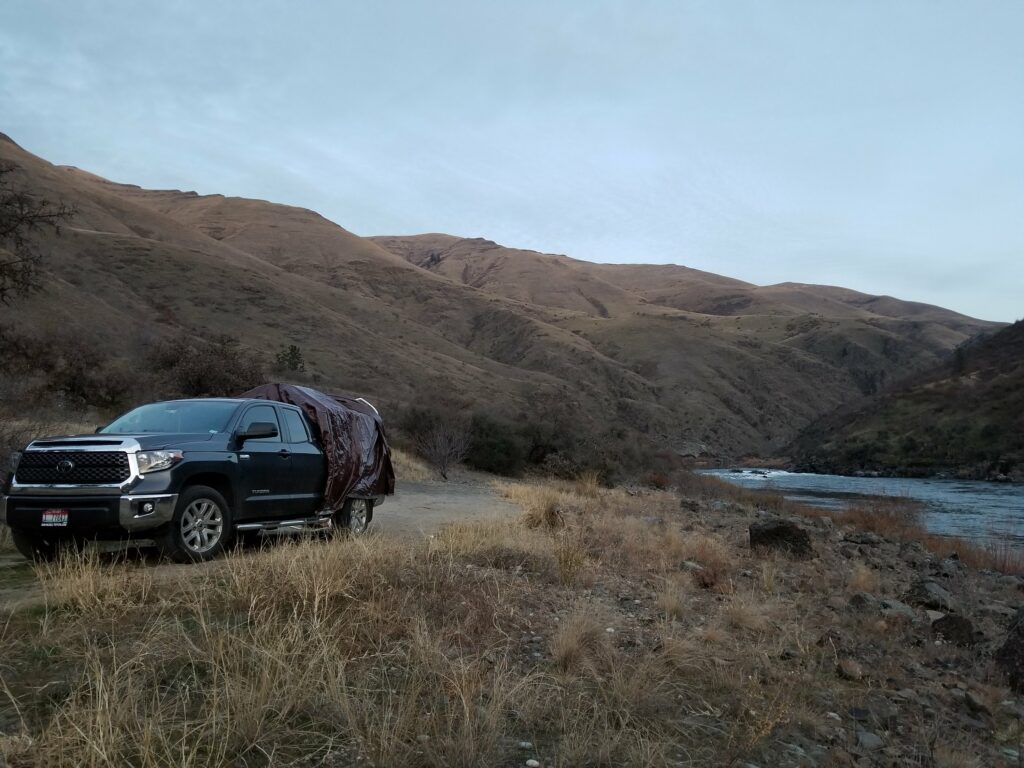 I have already started on building a proper sleeping platform that will accommodate either a dog or another person without any wiggles in the legs. I will share that when it is completed. For now, I wanted to show you how a decent truck bed camper can be made for less than $100.
Please note that yippikiyo.com is an Amazon Affiliate. If you make a purchase via one of the links in my post, it will not cost you anything extra and I will make a small commission. Every product is something I actually have purchased and used. Check out the link and use Amazon to review and compare products.
The tarp above is the size I wish I had gotten. I bought one from Walmart and had to cut it down so I do not have grommets on one side.