For a few glorious days I got to see what warmth and natural Vitamin D was like. It was as if the Olympic Peninsula weather had a nasty breakup from Winter and went out on a rebound date with Spring. There were a few days of well-above-freezing nights and afternoons that hit 70 degrees; truly such a lovely dalliance. Alas the OP realized that maybe it wasn't done with Winter just yet and rainy-day 50 degrees returned to try and make things work.
Dazzled by the sunshine and digging out T-shirts, shorts, and, oh yes, a razor (I had sort of let No-Shave-November drag on a bit), I was again smitten by this northwest paradise. While walking in the sunshine I was remembering a hike I took late last summer. I'll let this be a bit of photojournalism.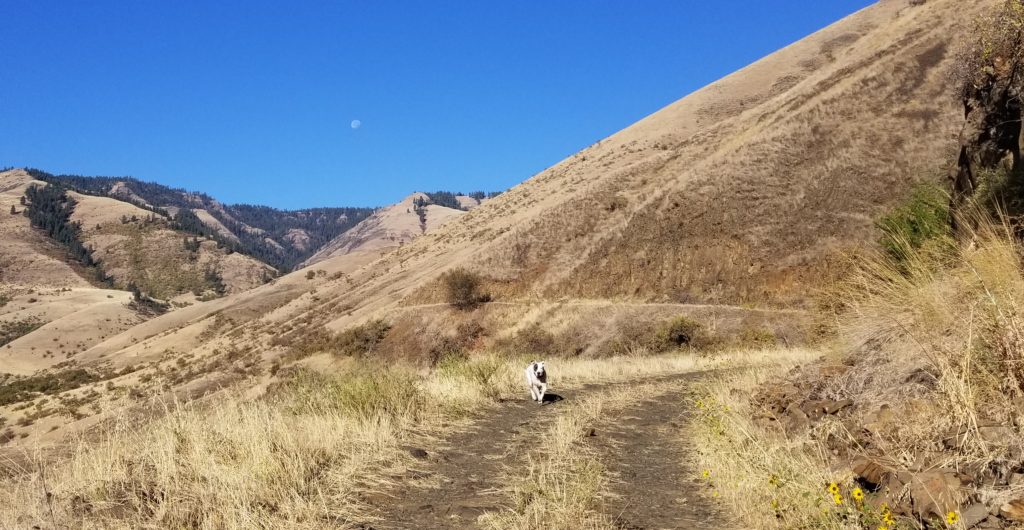 How does an Idahoan get anything done? There's so many delightful distractions from the To Do list during the summer. I am a firm believer that one should strive to have accomplishments each day AND that one should absolutely not miss out on the amazingness of the world while in the pursuit of checking off that To Do list. Maybe you should have two lists, a To Do list where you get to feel productive and a Tah Dah! list where you allow time for the miracle of the world to unfold before you.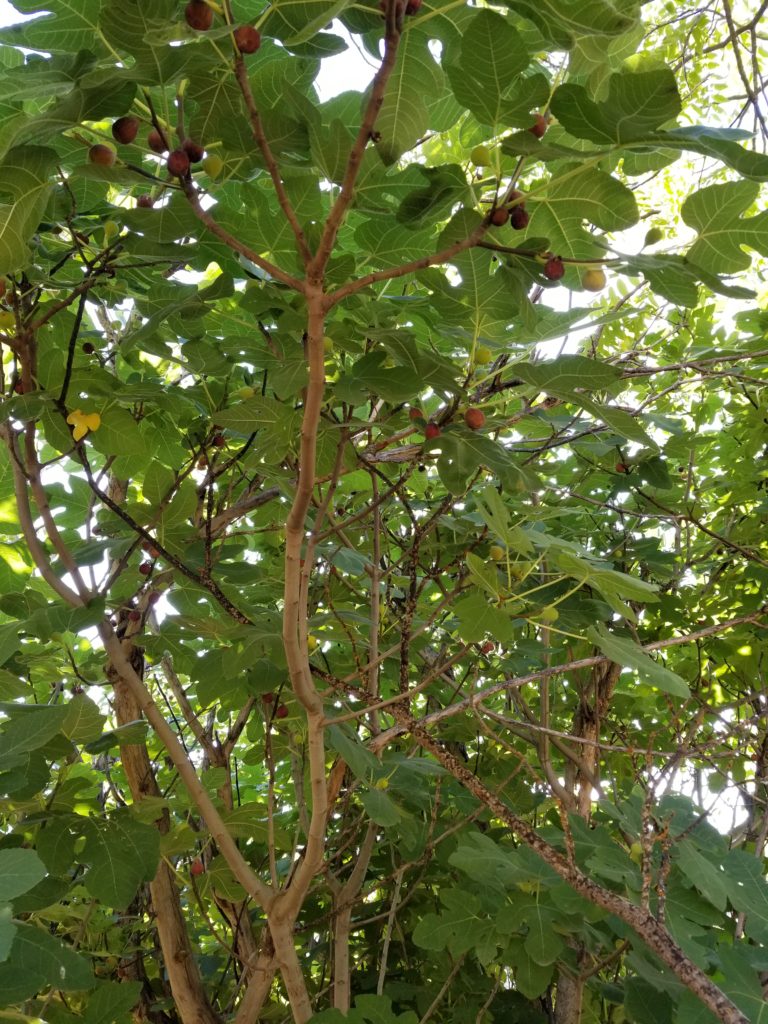 I had some lucky inside info from the don on a location of a fig tree. Figs in Idaho? This place never ceases to surprise me. I was able to find the tree and so much more! I surmise this spot must have been a former homestead along the river and a tiny orchard was planted. First I saw the fig tree, its leaves are unmistakable, even if you have never seen a fig tree before in your life, even if the only exposure to a fig leaf might be the pictures of Adam and Eve with a leafy bathing suit, you will instinctively know a fig leaf when you see it.
The bounty!

Pretty ripe and vegetarian
Wasps also like figs.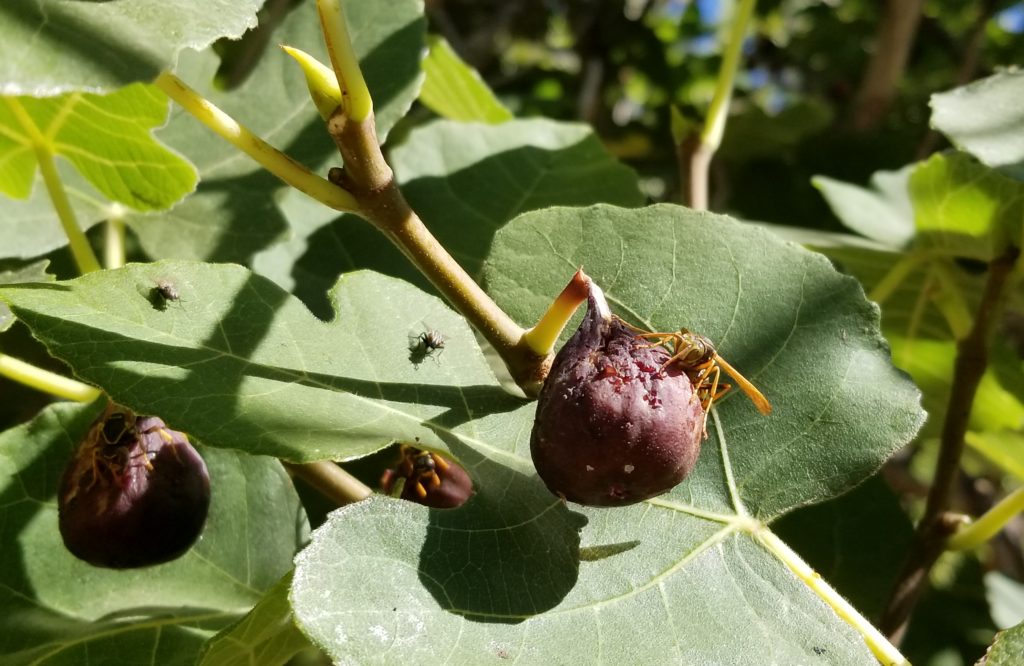 As you might remember if you read the Ponderosa Pinecone picking blog story, the wasps here have well earned their reputation for being aggressive. I was disbelieving of this reputation at first because the wasps in my yard in Houston were so mellow that we never had a negative encounter, even if I accidentally bumped them or soaked them with the water hose. The wasps out here in the harsh and wild West are just plain mean and will sting you just for breathing. Luckily these wasps on the figs are virtually drunk with the sugar and can hardly stay on the fig they are eating. Yes, those boogers eat figs. They poke holes in the figs and nibble until in a sugar coma. Look here.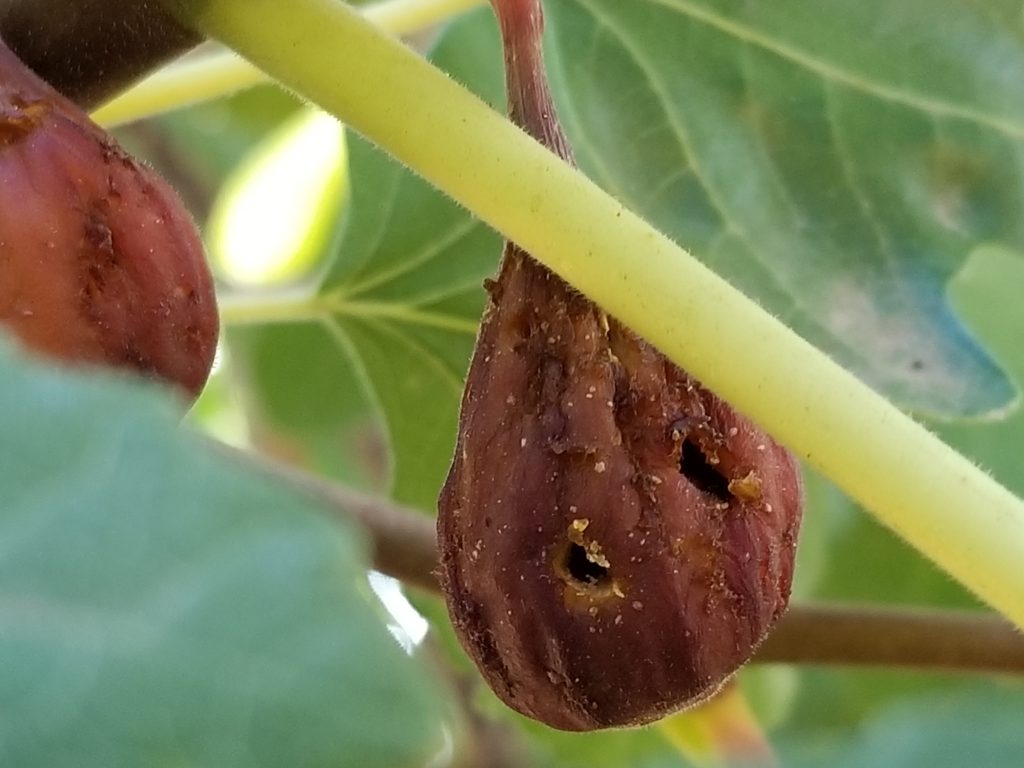 So this is probably a good time to mention that whole "figs aren't vegetarian because they have dead wasps in them" thing. I am not an expert on fig varieties but as far as I can tell, this is just a common fig that doesn't need another tree or wasps to pollinate (lucky for it because I don't know how many miles to the next fig tree it might be!) And these wasps are not the fig wasp I saw pictures of on Google. You can tell by the head shape, these are just normal mean wasps that will sting you as soon as look at you- except for one thing… they are apparently happy drunks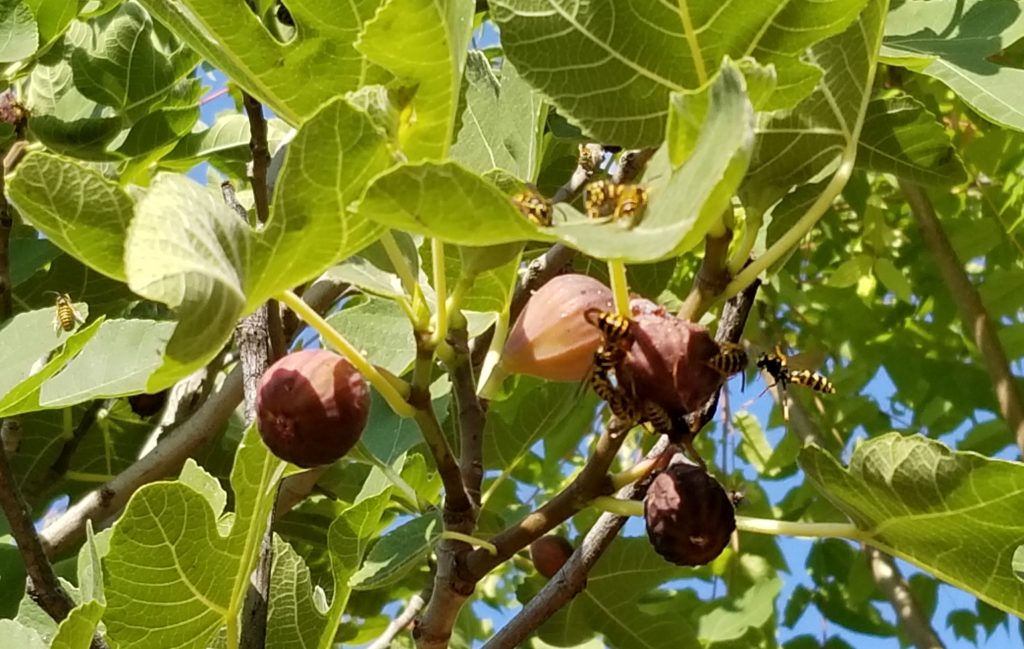 Since they are so satiated with sugar, the wasps hardly even notice me or Monty and so we were able to safely pick all the figs we desired.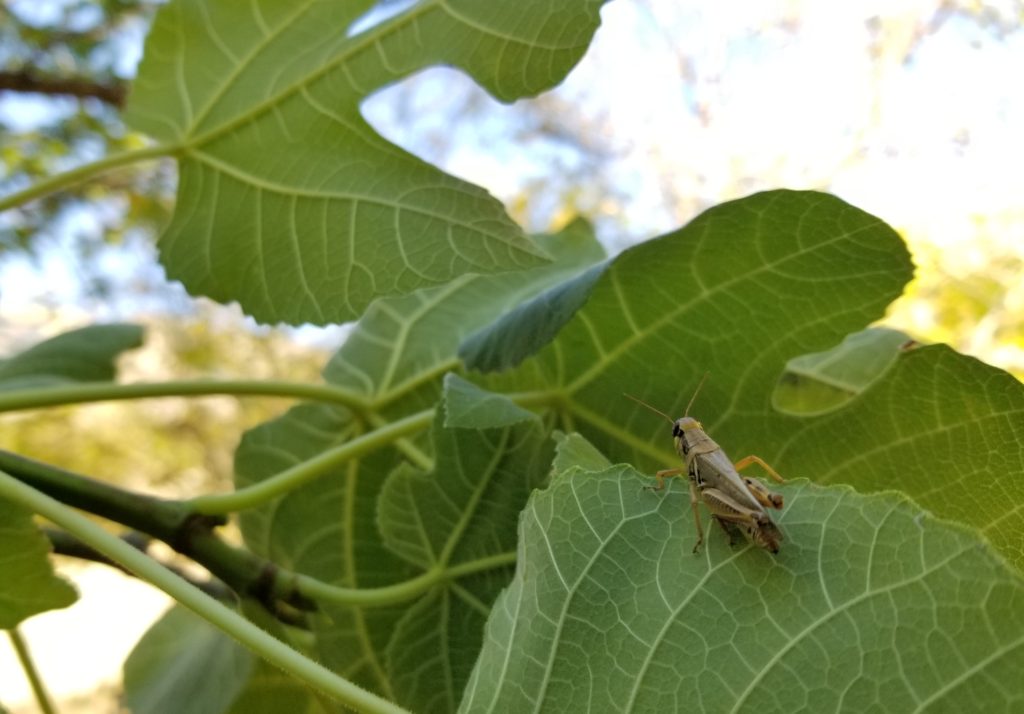 The grasshoppers also were hanging around the fig tree. The grasshoppers eat with more gusto than the wasps. I identify more closely with them in the eating style department.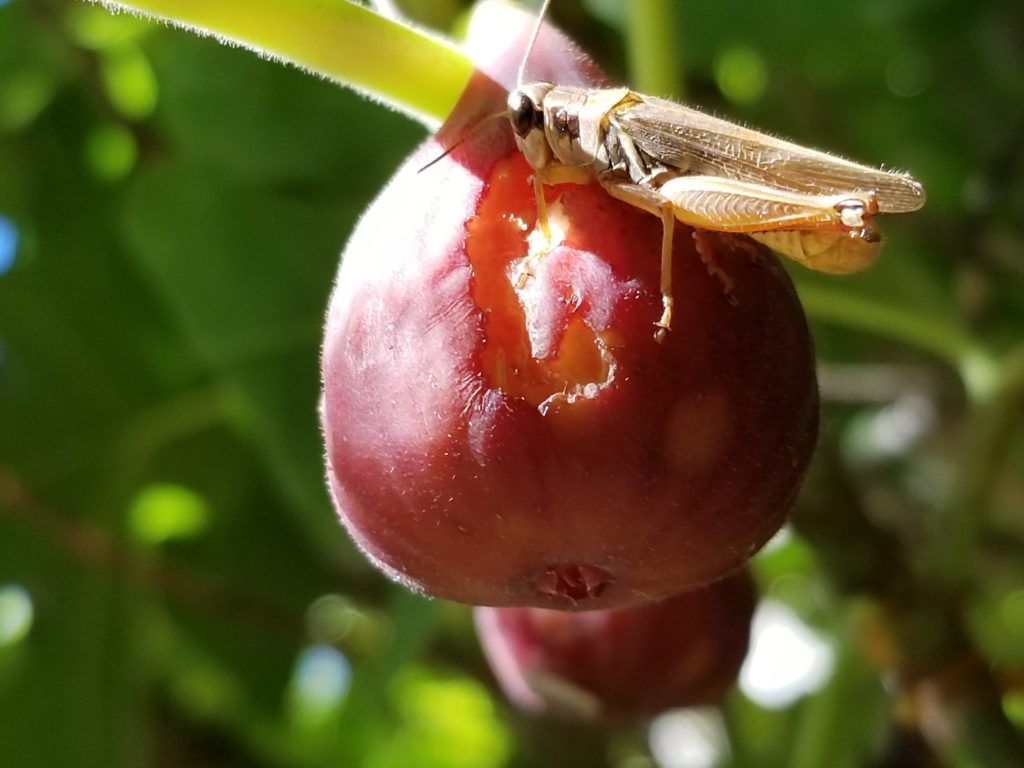 Near the fig tree was a tree with a fruit hanging on it that I hadn't noticed before. I grabbed a fruit off the tree and opened it up because for some reason I had an inkling it might be interesting and low and behold…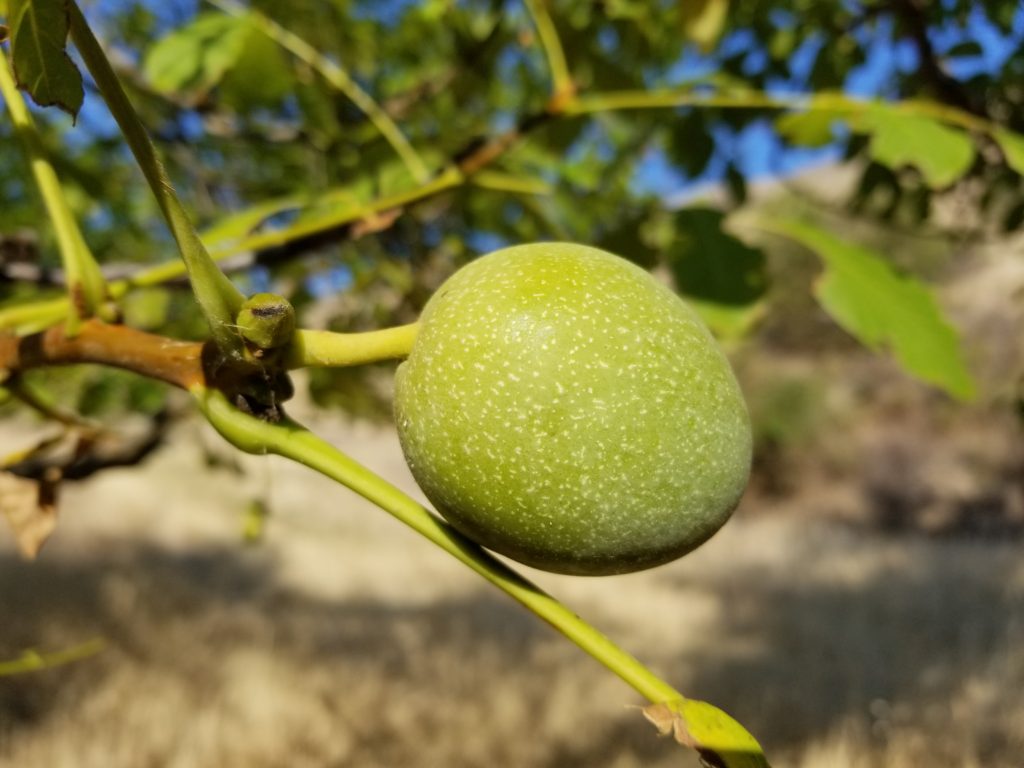 A walnut!
Although doesn't the walnut fruit look kind of like a small apple? But it pulls away cleanly and leaves the giant nut we love to eat.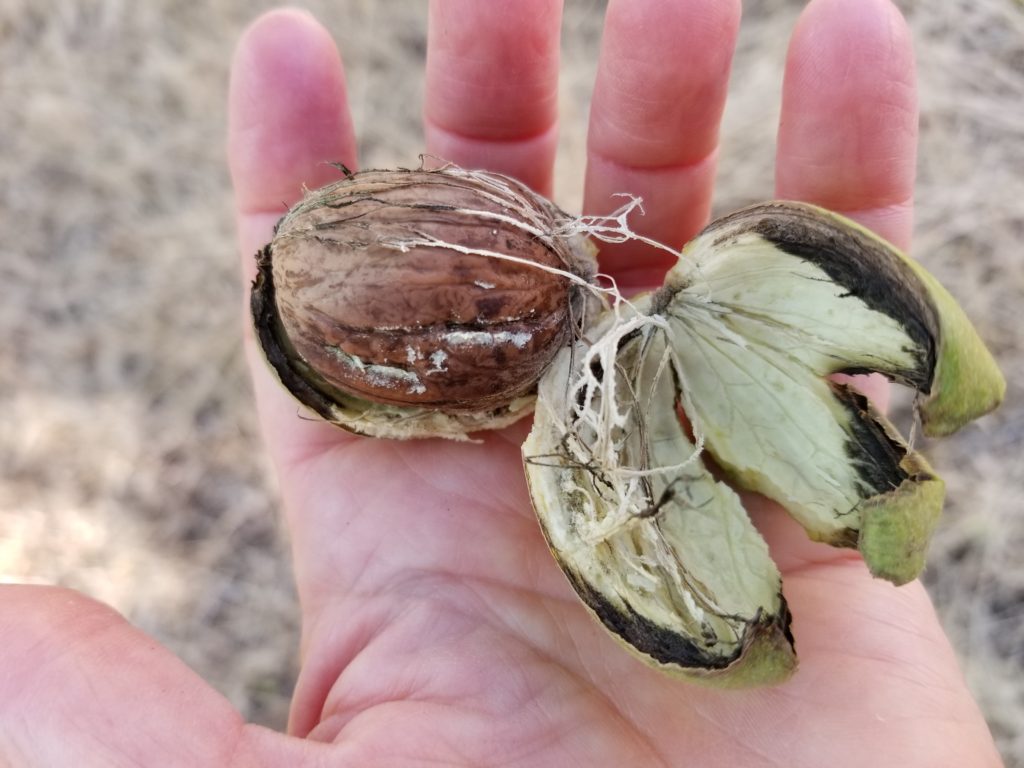 By now my collection bag was getting heavy. I do make a point to only take no more than 10 per cent of the food on a wild tree so the animals who can't go grocery shopping have plenty to eat. Even so, my bag was getting full with the figs and walnuts when I spied a tree with little orange baubles dangling from it.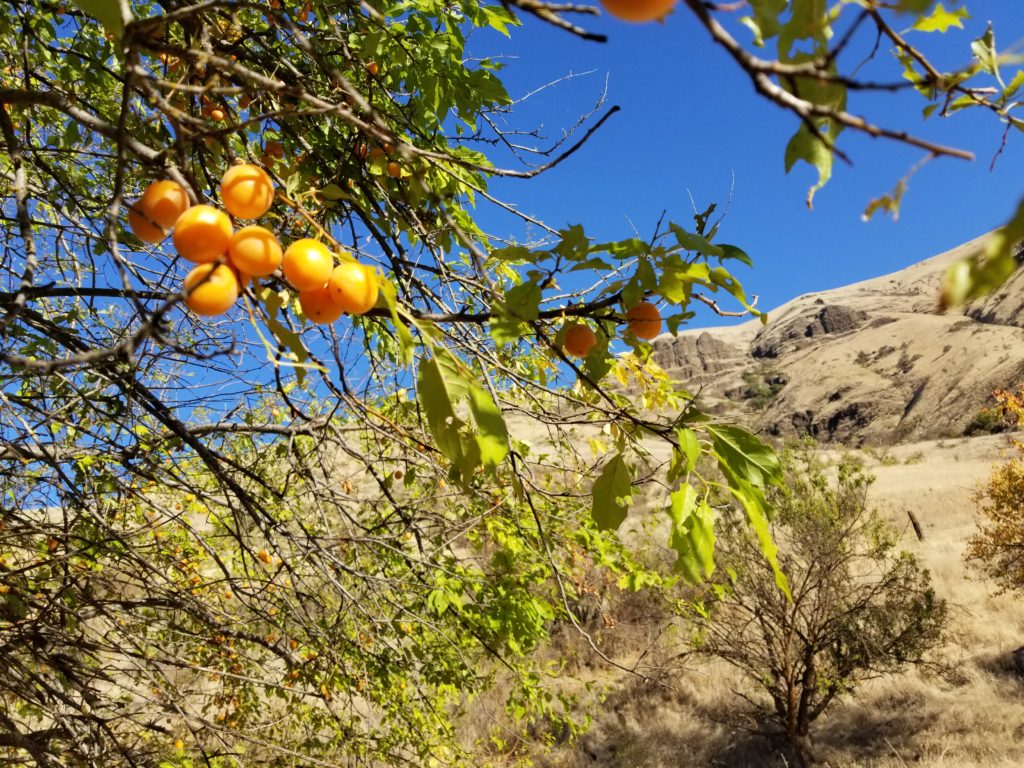 Drawn to it, I stepped under the tree and plucked one of the salmon-colored beauties. Admiring it for a moment, I ripped it open like a hawk on a starling and checked the seed. I wasn't sure at first if it was a plum or perhaps an apricot. Once I saw the seed, I tasted the flesh. It was bright and tart and I still couldn't be 100% sure if it was plum or apricot. Or could this be a rogue plum-apricot hybrid? It was textured like a plum but tiny and orange and tart like an apricot. But the seed lended itself more towards plum. I might have taken a bit more than the 20% on this tree. Plums are famous for having the whole tree ripen at the same time and you have about 36 hours to harvest them or they fall off and rot. Okay, maybe a bit more than 36 hours but it's not far off the mark. Ask any plum grower. And these guys WANTED to come with me. They were literally falling off the tree and hitting me on the head and shoulders trying to leap into my bag. And they were so soft and squishy and at the peak of ripeness this very moment. It was heavenly and the wasps hadn't discovered them or maybe they just didn't have the sugar the figs did so I was all alone picking, or perhaps the better word would be ducking, the plums.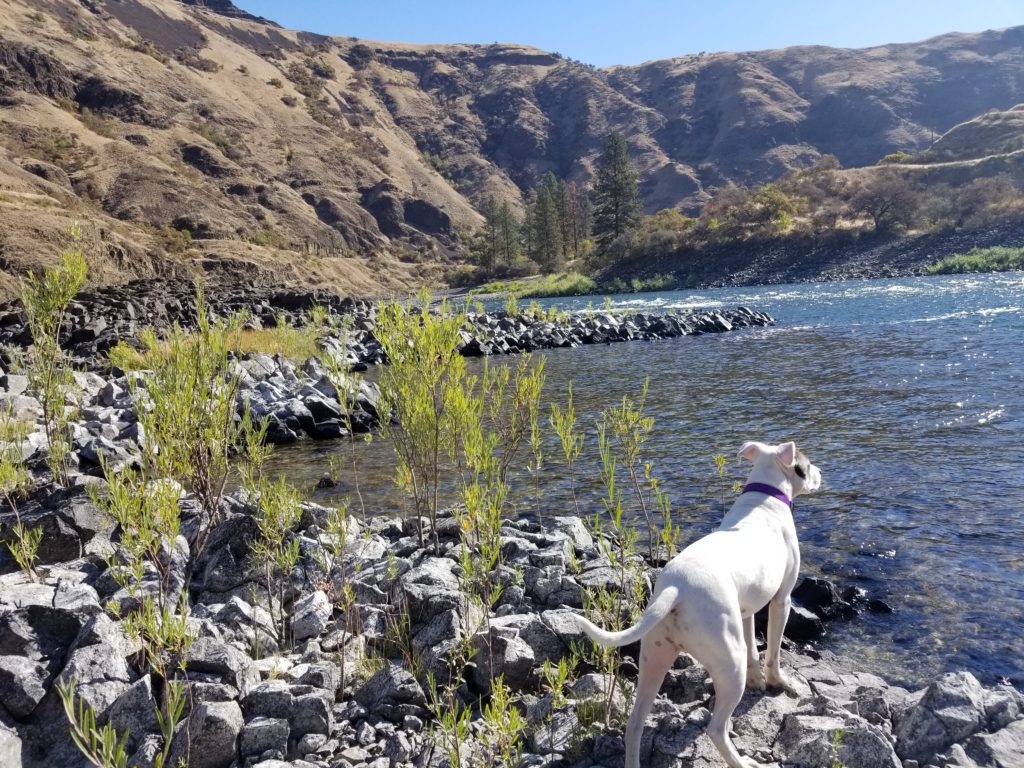 Now Monty, who was not as impressed as I with the extraordinary bounty of the river valley, was getting rather thirsty. However, being the protective fella he is when we are out walking alone, he wouldn't leave me to go down the 50 feet to the river and get a drink so we walked down together. It was so lovely on the river with the cool fall wind blowing gently balancing the sunshine. I could have stayed there all day.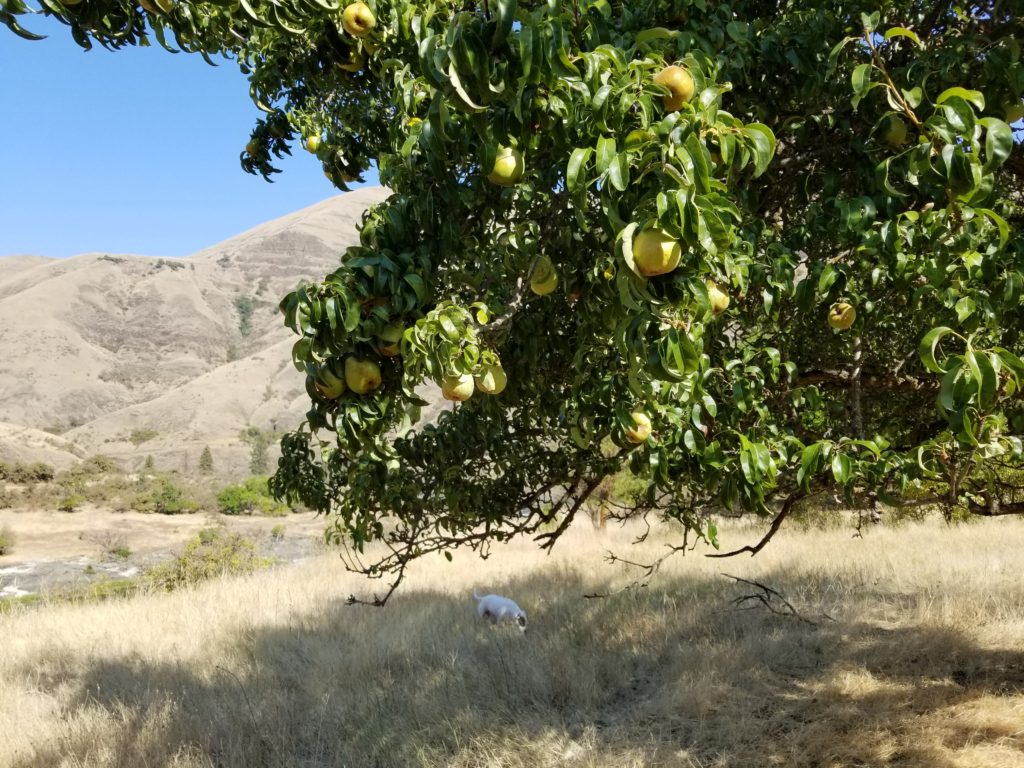 The wonders never cease! Right near where I parked my car was a group of pear trees and, as luck would have it, there was plenty of fruit on them that was within my reach.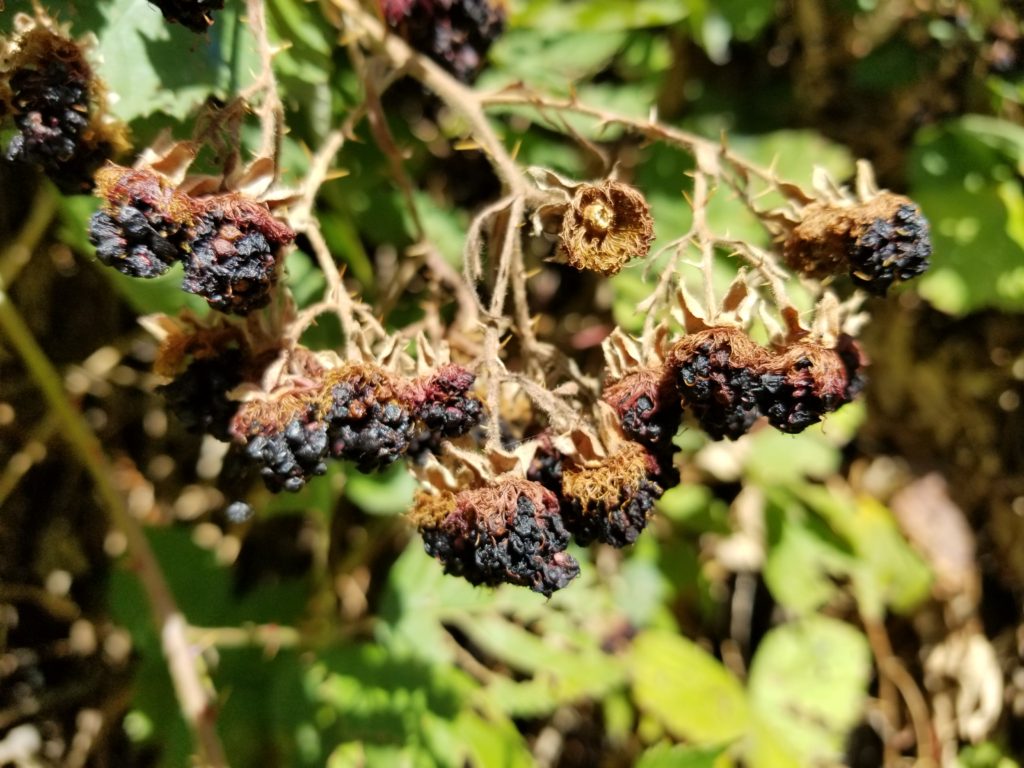 Coming up from the river I came across a blackberry bush. Around here the berries are ripe about July to August and this is in late September so these were well past ripeness and were actually dried on the bush. I picked a few and they were delicious! Kind of like Nature's fruit leather and I didn't mind all the seeds in the least, it was sort of like chia seeds. I was entranced by the yumminess, enough to brave all the tiny thorns that are so stabby so I grabbed about a half cup of the dried berries. I probably ate as much or more while collecting.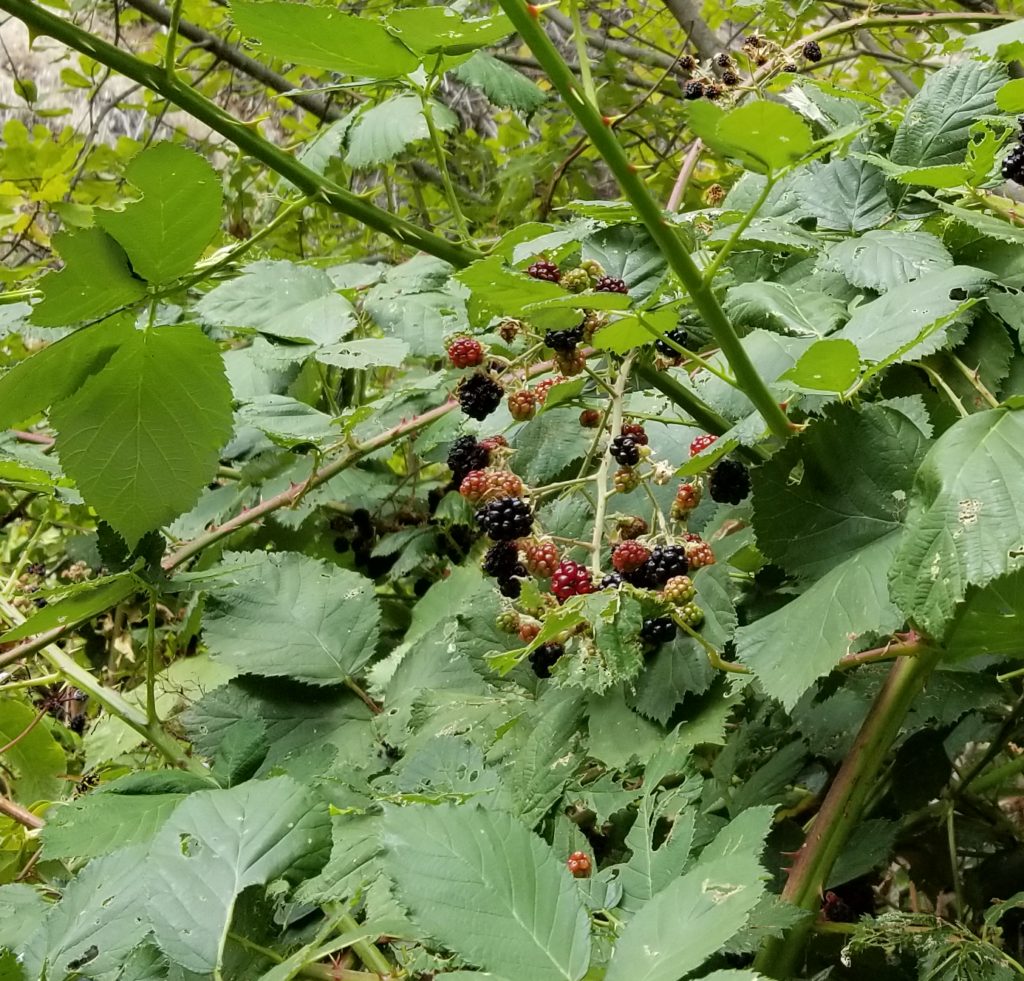 And if all that wasn't enough, then, in a cool spot on the walk back I spied a blackberry bush that had berries just beginning to ripen! Honestly, this is the most amazing spot, just when you think you have a handle on it, another surprise rounds the corner.
Here are a couple of photos of the bounty from this Eden.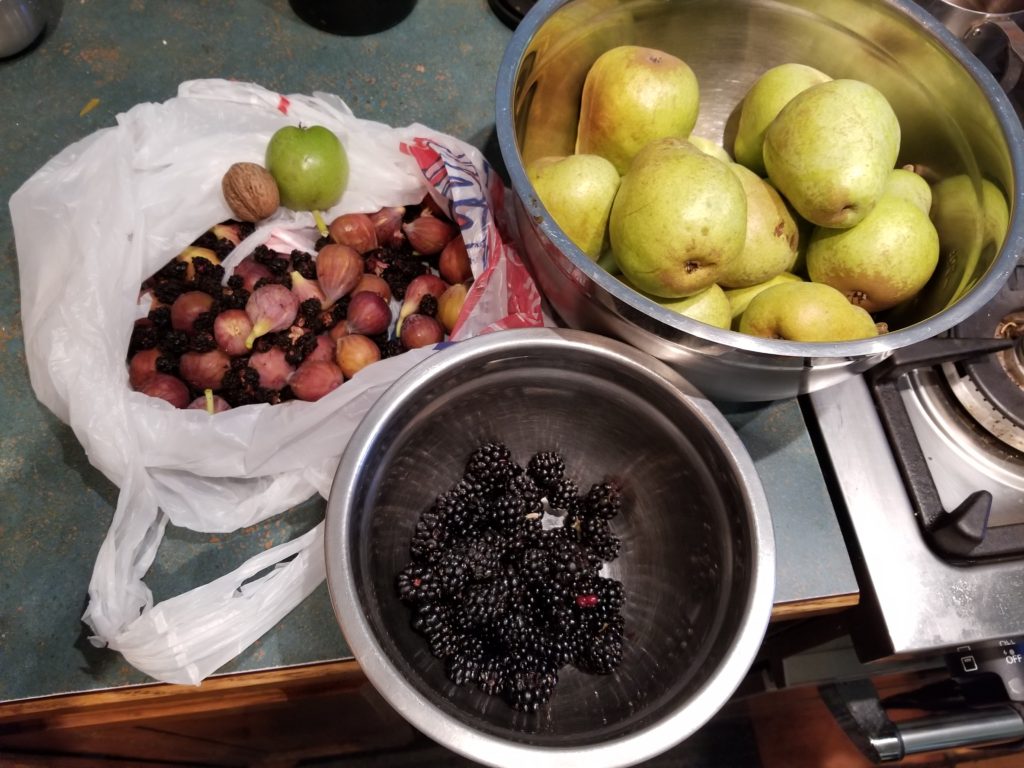 This one includes some items from the don's garden. It's a great time to be a vegetarian!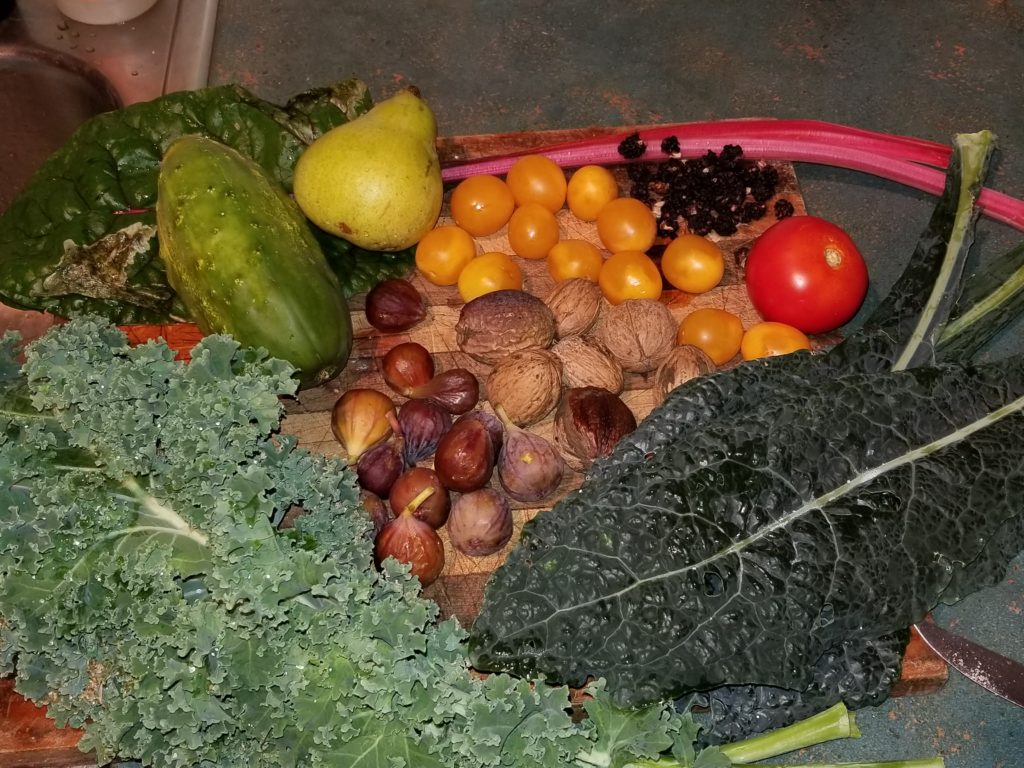 Gosh, all that remembering has made me hungry!
My days now will be divided between Idaho and Washington. Both of them are coastlines, if you look far enough back in the geologic record. I am quite lucky to have such extraordinary beauty surrounding me and these current cold and gray days are just a time to remember the bounty of summer.
And perhaps begin to plan this year's garden!