Lordy, lordy, lordy.
That is all I can think sometimes when mulling over life with this little white city dog out here in the rural wild west. Monty is a great urban dog. He loves dog parks, loves restaurants with outdoor patios, and loves meeting people. His fur, what there is of it, is thin and short and perfectly suited for warm cities and cute winter coats.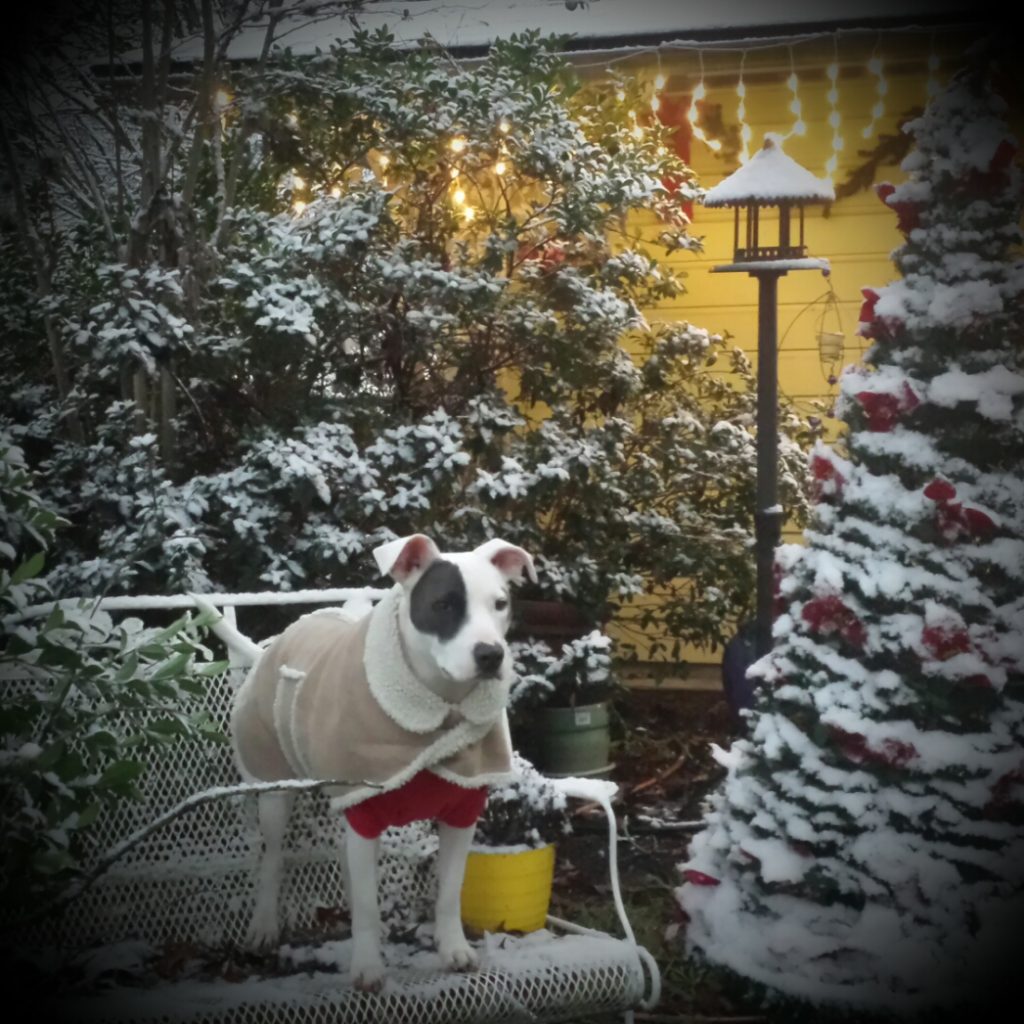 Naturally he also enjoys the freedom of this forest life, going without a leash, pooping wherever he wants, all the great smells and chasing a forest critter every now and then. But his body is not designed for such living. His bare tummy gets big scratches and he gets wounds from sticks that poke out as he runs past, and most recently he tore a nail. Have you ever torn a fingernail way up high into the quick? I mean WAAAAAYYYY up high? Were you able to rip it off yourself or did you have to get someone else to do it? And remember how much it bled and how sore that finger was for days and days? Well, turns out the same thing can happen to a dog.
Here was the chain of events. The neighbors dog came over to play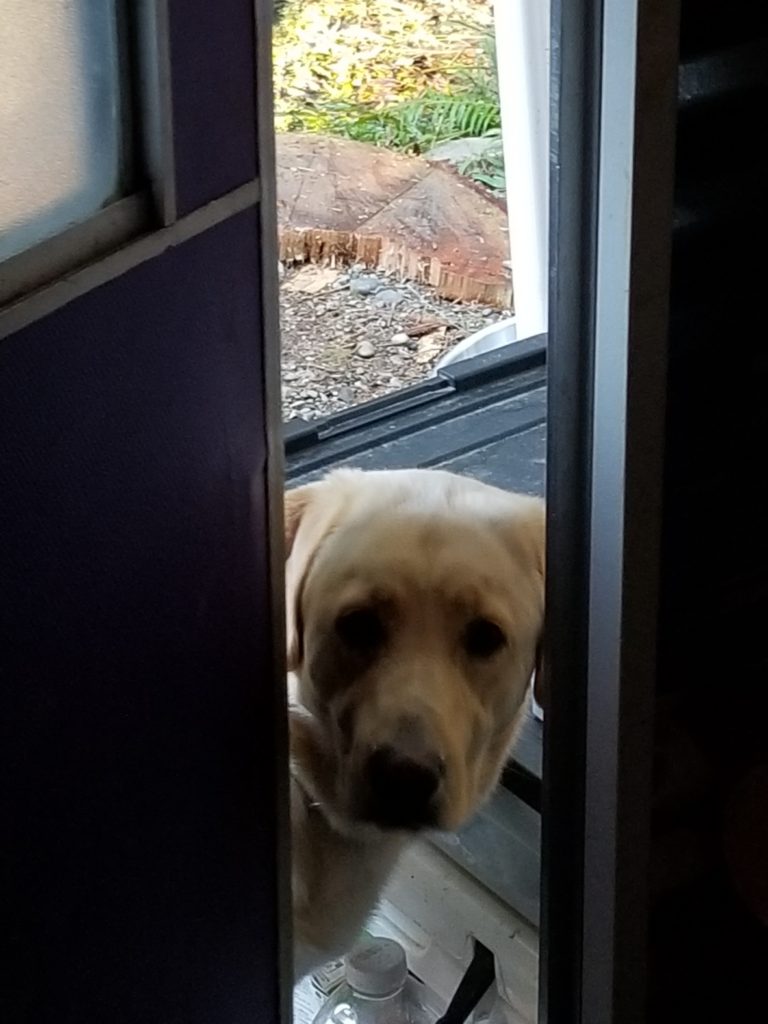 The two dogs are running around having a great and rambunctious time as we trek through some woods
Can't catch me!

Yes, I can!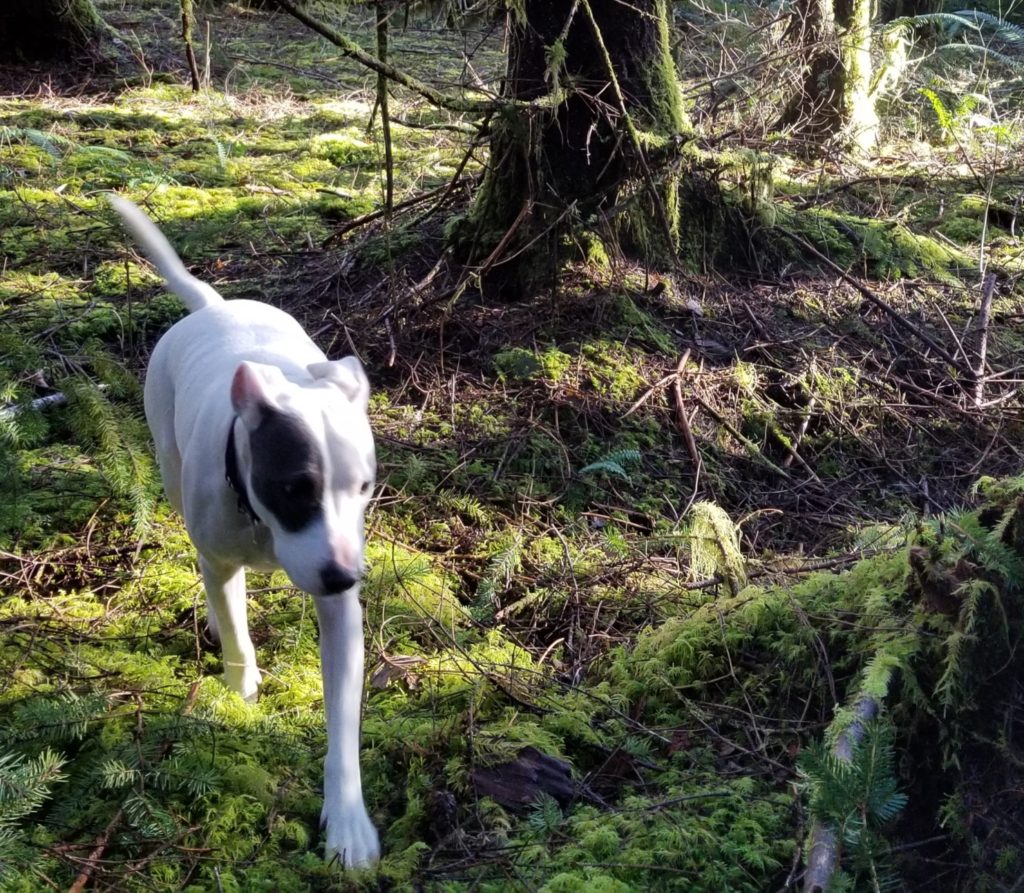 Then suddenly Monty comes up to me and says, "Owwwie!" and holds up his paw.

Sheesh, that is a bad tear. Maybe if I clip the nail a little shorter it will be okay.
Oh, that doesn't look good

A little trim might help

Nope, still hurts and Monty doesn't want to walk on it.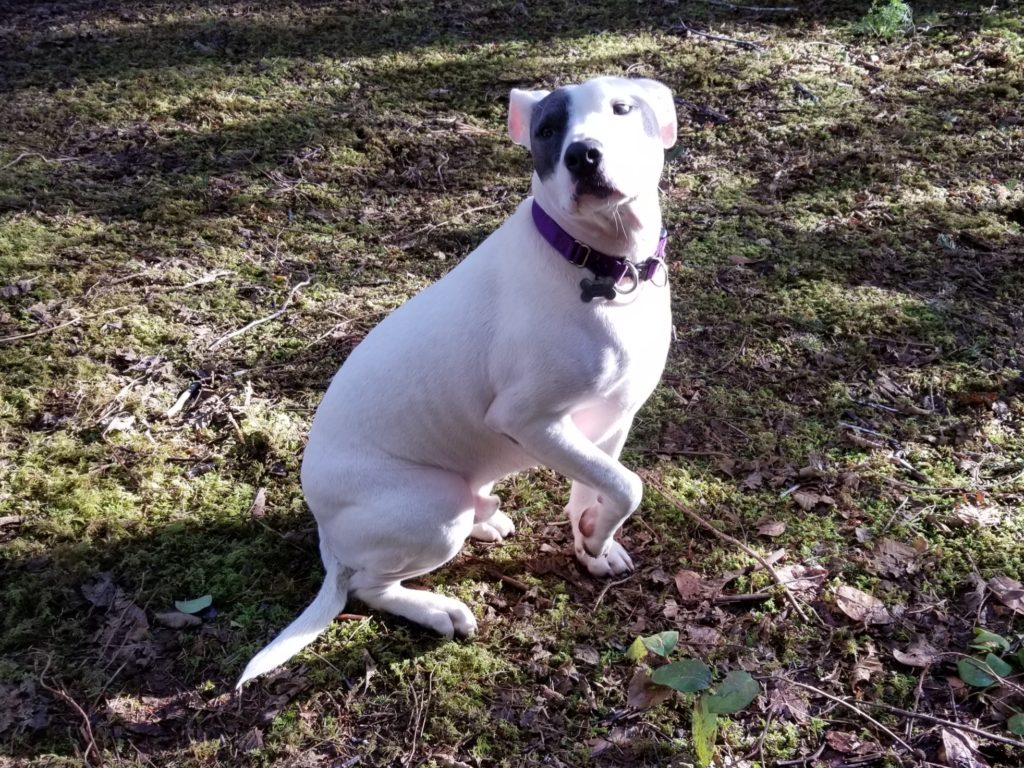 Here is where I realize that as his human it is my job to address this issue. So, as any person would do, I call the vet so she can fix it. Fiddlesticks, the vet is only in town on Wednesday (hello, life in a rural area) so we will have to wait 4 days for an appointment. Ummmm, I don't think that will work. I could drive 80 miles and almost 2 hours to the next town that has a vet but that also seems excessive, so maybe I can just Google this and see if cutting the REALLY nail short is do-able. I also check with my mom and sister for their opinions. Naturally they do have opinions and, as luck would have it, they contradict each other. After a few more moments of fretting I decide to channel my sister's badassness and just be my own veterinarian. It's starting to rain a bit so probably inside is the best place to work. After spreading a canvas on the bed to protect from muddy paws, I get Monty situated, feed him some treats, then look at his paw again to see if maybe there is a way out of doing this next step. I have trimmed many a dog's nail and infrequently cut it a bit too short. If you have, then you know they squeal, rip their paw out of your hand, bleed a bit, and look at you accusingly while you feel like Judas with the nail-clippers betraying their unconditional love.
But what if you PURPOSEFULLY cut deep into the quick? Ah, so this is why people pay doctors to deal with this stuff, so you don't have it on your conscience. I really do not feel like wearing my big girl panties today but I guess I'll go put them on and take care of my dog.
My sister said not to equivocate. Just get the nail and cut it. So I channel that matter-of-fact attitude, grab the nail and cut the damn thing.
The weapon

Just apply a bit of pressure, Dr. Google said

Checking after 20 minutes, still bleeding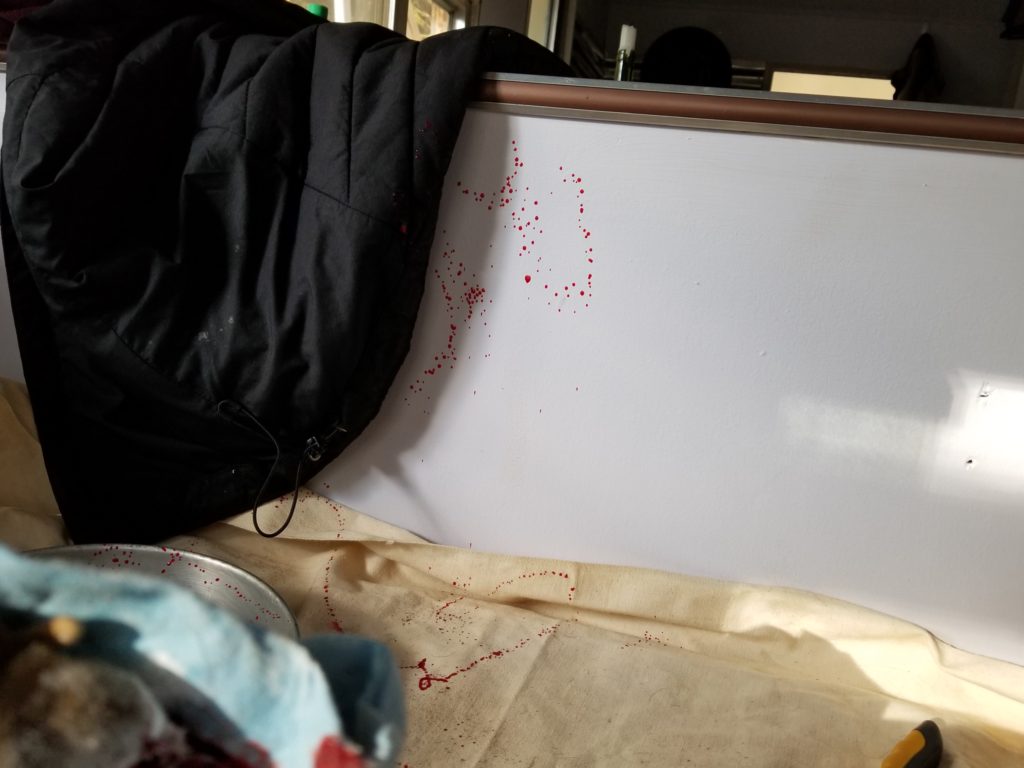 Holy redrum, Batman! I knew there would be some blood but I never imagined this! I had a cloth ready but didn't know it would spray the walls! I wonder if that will come out? I also wonder if Googling "how to get blood spray patterns out of walls" will raise any flags? And that nail bled like a mofo, I spent over 40 minutes applying pressure (and taking pictures with my free hand) while Monty recited lines from Mercutio's death.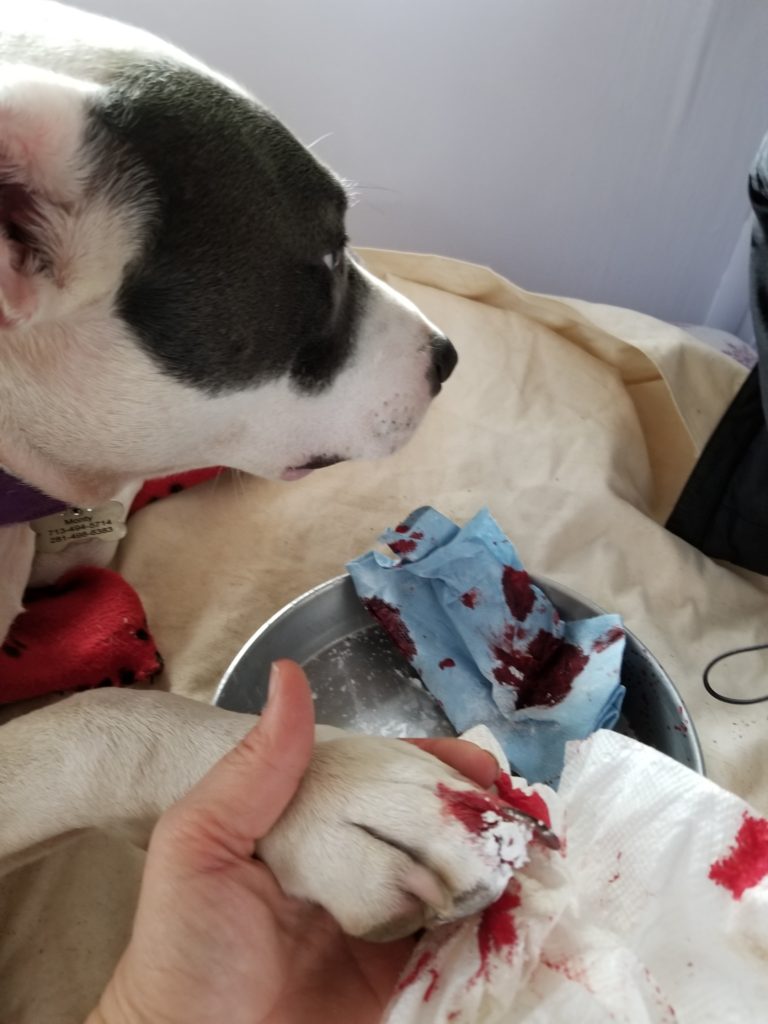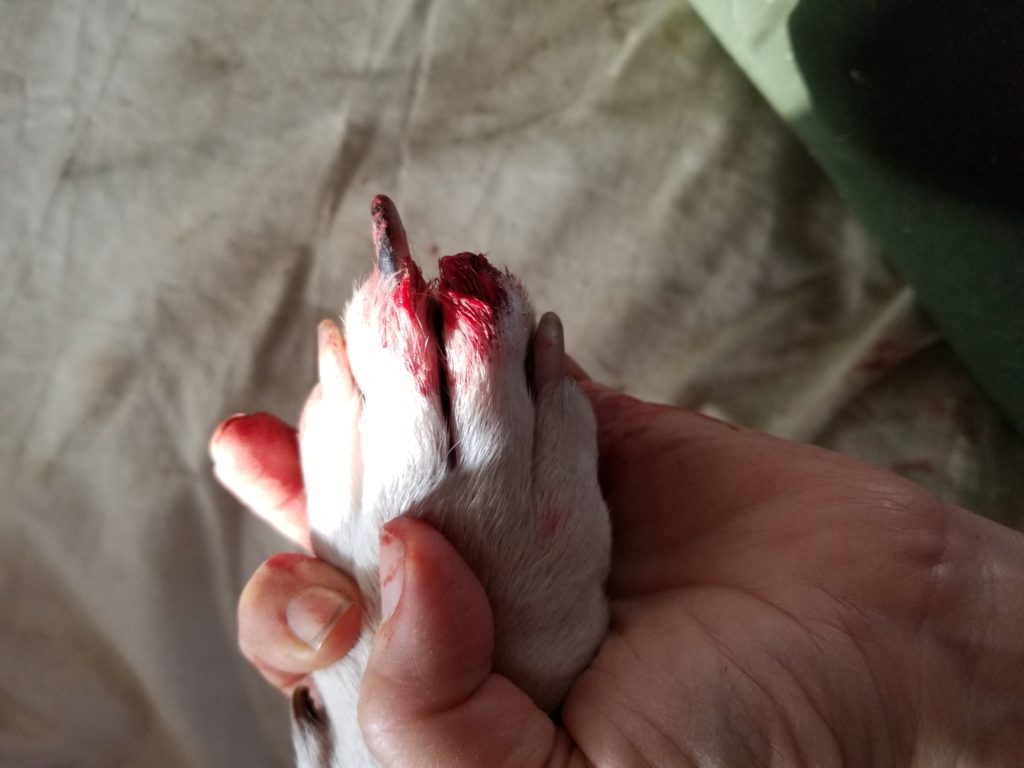 And now to try and keep this puppy bandaged while the wound scabs up. Yeah, my dog hates me now.
I still love you but there will always be that black tinge of mistrust now

Fortunately the nail healed up just fine after a week or so and Monty was back to roughing it with his pals. But just show him a pair of dog clippers and he gets PTSD and hides under the table. This is going to make nail-trimming day really interesting. I wonder how filing his nails would work?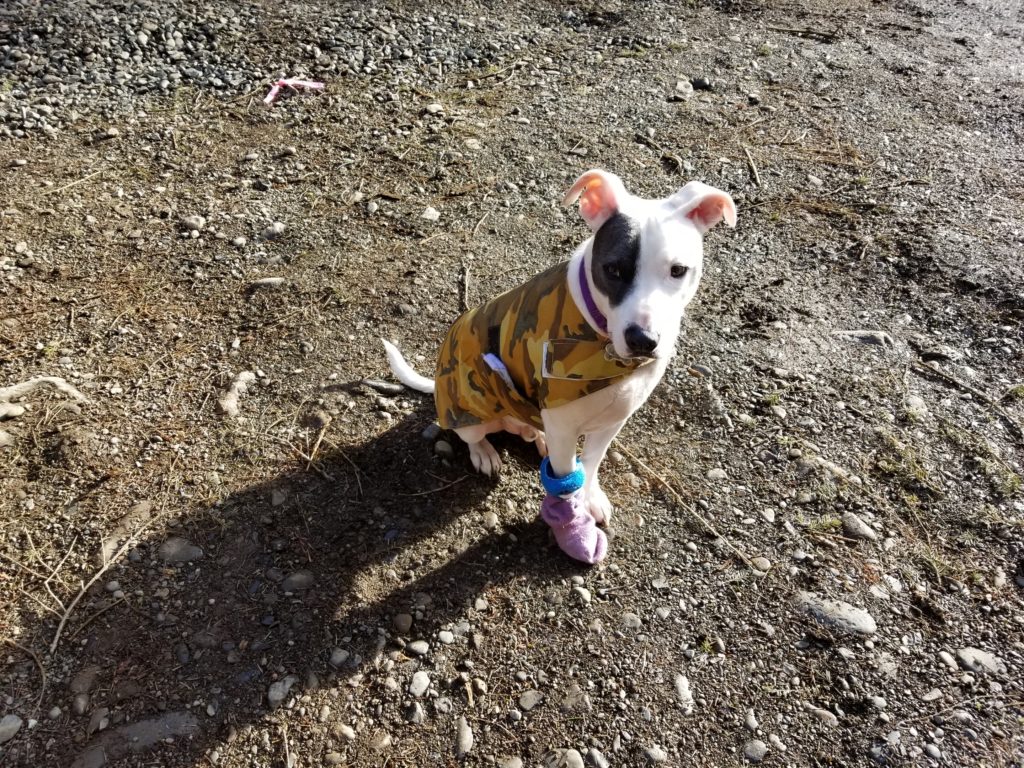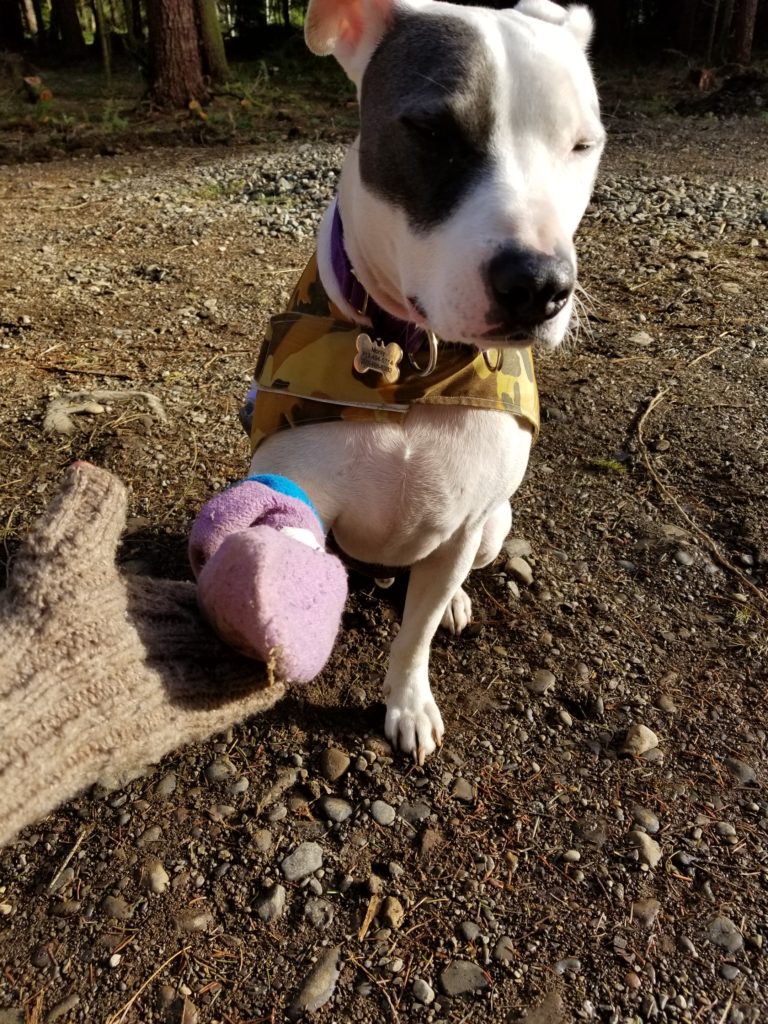 Do you think dogs think about the past? I wonder if Monty ever thinks back to his city days where he went to restaurants and shared furniture with a cat?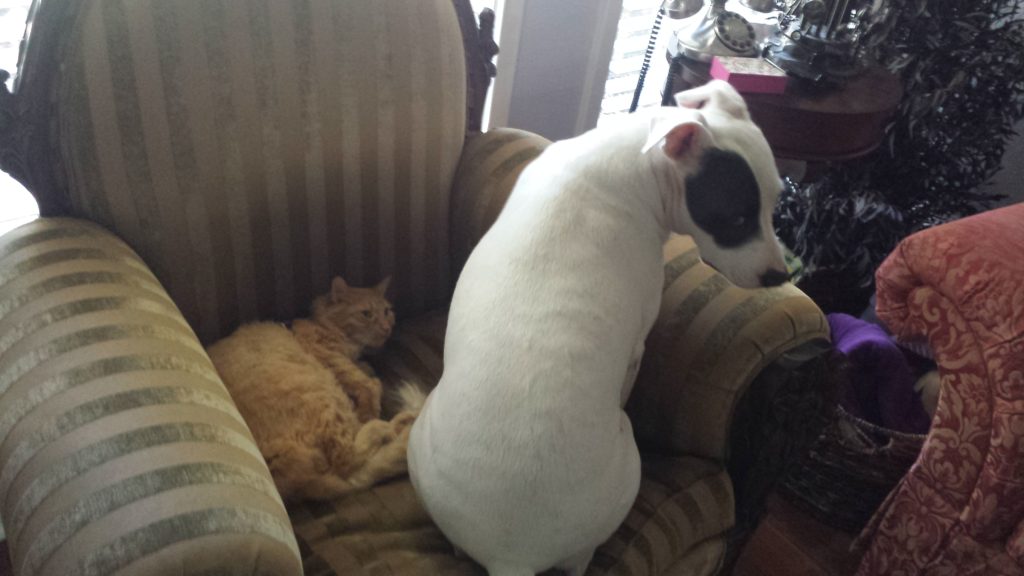 I would like to think that even though, or perhaps because, the days are no longer predictable and each moment brings a new experience, Monty is digging his new life. Certainly the freedom of going outside without a leash and having uncountable acres of trees and hills and creeks to explore bring a huge amount of interest and enrichment to his days. His personality has expanded and he surprises me sometimes with his actions and antics. Sometimes it can be nice to be predictable for a little while but, for some of us at least, too much predictability can be lethal to our creativity.
But it would still be nice to pay someone else to do the dirty work.