Training Day 2 (and then some)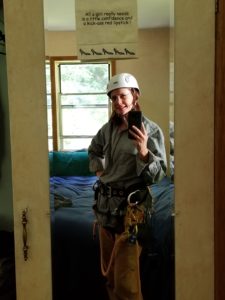 A brief rundown of the situation so far: in 2017 (and honestly, way before that) I was ready for something different and a chain of life-changing events had conspired to let me, if I was willing to risk it all, have a whole new life experience. I quit my work and tearfully and fearfully left my family and friends to take a job that was interesting to me in a location that I have long loved. The job was great but the hours long, no days off, and the owner of the place is a bit whacky. After a few months I finally took my earned time off and traveled to other parts of the beautiful northwest U.S.  Upon my return I found the owner had emptied the bank account and had not paid me as contractually agreed to. After some discussion, I took a hiatus from the work while awaiting payment and chose to follow my heart even further afield. The cool thing about no longer having anything is that there is nothing to lose and no excuses to not try something new. Since I have already left everything I loved, I am sure as hell not going to settle for a situation that is undesirable. My motto: If it isn't fabulous why bother?
I did get to meet some really cool people in the tiny town of Forks, Washington. While the town has a population that is smaller than the high school my kid went to, it only takes one person to make a good life even more bright and interesting and it is there that I met the don.
the don has led a pretty exciting-sounding life so far and enjoys the outdoors as much as I. However, it was his cooking that got my attention and, I suppose, broke the ice. He told me of his multi-week-long packing trips to go bow hunting in the fall and to collect antlers in the spring, of his winter months in the Olympics Steelhead fishing, time spent surfing on the lower Pacific coast and his recent retirement from regular work as a smokejumper. I was intrigued by the idea of hiking with mules and having a giant tent that is heated and especially having really good food; that is so very different from my experience as a backpacker. I love backpacking. I love getting away from civilization and walking the contours of the land and feeling the wildlife all around me. The thing about backpacking that is kind of hard is carrying all your own stuff and especially carrying food. For one or two days it isn't that big of a deal but for a couple of weeks it can be very, very heavy. Having a dog along means carrying dog food, too. I was intrigued by the idea of seeing the wild landscape of Hell's Canyon and having a mule carry all my stuff including some real creature comforts. When the don invited me to join one of his trips I jumped at the chance to enjoy some needed time away from working and that first experience in Hell's Canyon has already been shared.
After the trip and returning to the undesirable BnB situation, there was suddenly an opening in my work schedule. the don offered me a position in his company doing some contract work this summer, work that even a beginner like me can do. And so now you are up to date on how it is that I find myself literally fit to be tied and learning the ropes.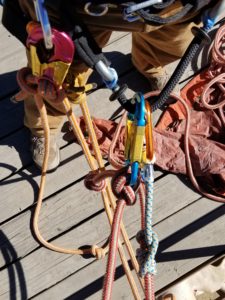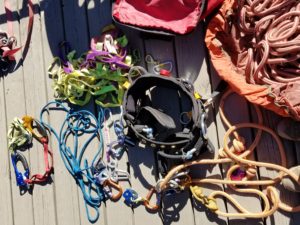 This project has to do with collecting pollen from specific trees that have been identified as able to fight off a disease called blister rust.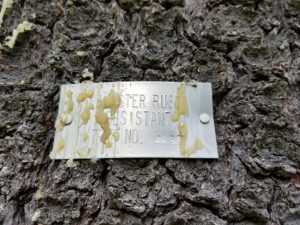 This pollen is collected and used to propagate new trees with this desirable quality. the don has been climbing trees and rock faces for decades so he can shimmy up as fast as a lemur. I am a bit more… sloth-like. I haven't quite gotten to the stage where I stop clutching but I am practicing every day so that I can get up and down a tree and not have my hands cramp into a claw-like thing. Plus, it is probably better not to leave dents in the tree from that death-grip I have been using.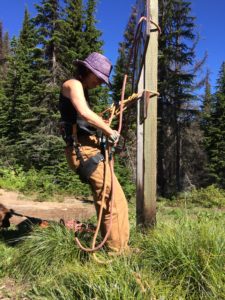 Here I am, all roped and tied up, practicing and testing my knots before heading out to do a real climb. While I did get almost as high up as the don, I did not do any collection because I wasn't quite ready to relinquish the aforementioned squeeze and three-points-of-contact attitude.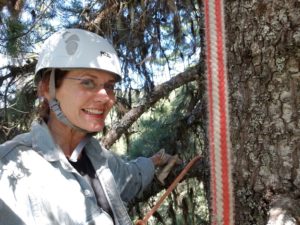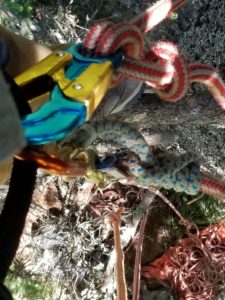 And here I am up in the tree with a view down at the ropes and the ground. I am only about 10 feet or so up here. I neglected to take a camera with a wrist strap and so this photo is taken with my phone. I wanted to take some photos when I was about 60 feet up but there was no way I was going to risk pulling my phone out when that high up. If I dropped the phone, even if it survived the fall, I'd never find it in the thick forest and there is no cell service available to try and locate the phone by calling it. I only take certain kinds of risks and that isn't one of them.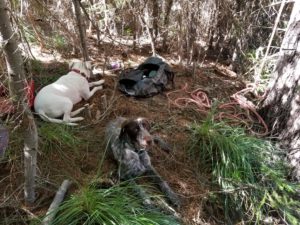 So we will have to make do with photos of the don in the tree. This is one of my favorites.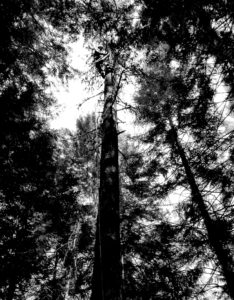 Okay. That is enough chatting for now. I need to get strapped up and get my practice climbing.
Big hug to you and please do tell me what risk you are going to take this week to brighten your life?
Oh, and here are some other photos from the past week and the White Pine Pollen collecting job.