Training Day 1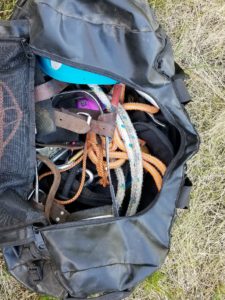 While I am on hiatus from the BnB consulting job awaiting payment for services rendered, I have taken a temporary position located in the northern Rockies. I had some preliminary training on the basics of my new job requirements last week and today was to be the first real training day. Some of the new skills I must master involve knots with different rope sizes, harnesses, and very important is tree identification.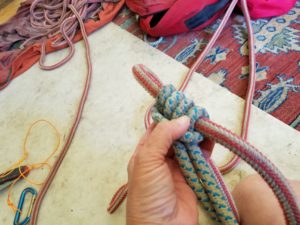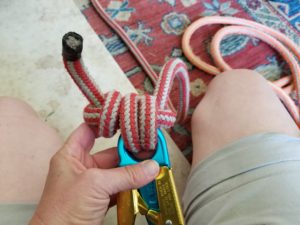 The project involves finding very specific trees using GPS and previous identification of these same trees and then climbing them (not a skill I have mastered but am learning) to harvest pollen right as it is ripe but before it has had a chance to be contaminated by the pollen from nearby trees. After the collection will come the cleaning and proper storage of the pollen using (relatively) clean methods to avoid cross-contamination by other trees or other pollen collected and then appropriate storage of the pollen until it can be turned in for use. I would like to think my many years of experience in the chemistry of haircolor as well as my time in university research labs will aid in the cleaning and packaging of the collected pollen since none of that aids me in climbing these 100 foot trees. I did once climb an 80 foot pole at Philmont using spikes and a rope and was tied in for protection using the classic belaying method of trusting your partner to hold the rope if you fell. That time i did not fall but it was slow going and i developed an appreciation for the trapezius muscle that had heretofor been absent in my experience. This time would be a little different, however. There would be no partner to belay me and catch me if I goof up and I will not be wearing spikes BUT I will have two ropes and only one will be moving at any given moment, with the other being my own personal belay. the don has done this type of work before and assures me that it is worthwhile having me as a part of the team. I am hopeful he is right and that it is not just that he wants me around because his dog has taken a shine to me.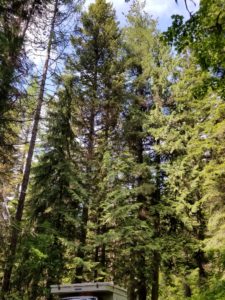 here the don is about 95 feet up in the white pine. soon I will be doing this!
Obvious as it may be since you are reading this, I did not fall to my death from a tree on this first jaunt. Sadly, the intel received from the contracting body (which I will not name) was incomplete. While the contract has specific about what measures are to be taken to reach a designated tree, these parameters were not considered when the don was tasked with accessing this tree that was to be my first foray in the training of my new job. While I am quite disappointed in not getting to learn more about this new job and whether I will get any monetary compensation for my time spent sitting in a truck wrangling dogs and snacking for SIX hours, I have to say the perks are not bad. See my current "office" view along the North Fork of the Clearwater River and, bless his heart, the don already bought salsa and chips and beer as well as dinner and breakfast items since we are having to camp near the trees location. So while I may or may not come out ahead monetarily, I am certainly not out where food comes in. If you know me, you know just how much salsa I can eat so the don might want to be careful how he bids these trees when I am along.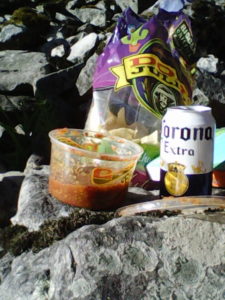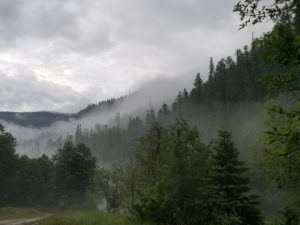 This post will be brief as I am heading out again in an hour to find and, hopefully, climb more trees. I did want to show you the place I am currently staying in Idaho. If you are my friend on Facebook or follow me on Instagram you will have already seen some of these photos. I have to admit I had no idea Idaho could be this lovely. I am quite taken by the cool spring and mesmerized by all the flowers. I love having a forest for a backyard and a creek running beside the house. I cannot tell you how it feels to have wild turkeys calling you to wake up, the sun is rising, and how it feels to slowly watch the sky turn from black to morning light through the window above the bed that does not have or need curtains. I cannot tell you how this feels because there are not words that can express what it feels like when your soul, after a long and arduous journey, comes home. Even when it is a home you never stepped foot in before, your soul just knows when it is home.
Big kiss to you all and may your soul be at home today.