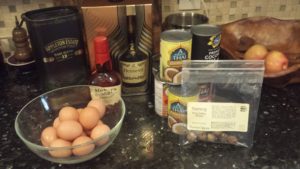 Eggnog, ahhhh, that delectable holiday beverage.
A friend posted on a social media site his preparation for eggnog using Alton Brown's  AGED eggnog recipe. I was intrigued by the recipe but, not being one who handles dairy well, I decided to make it dairy-free. It has been quite some time since I made eggnog and I didn't remember there being bourbon in it but Alton has never led me down the wrong path before so away I went to the liquor store to get the tremendous amount of liquor his recipe demands.
As an aside, Alton, you should totally invite Monty and me to your place for a throwdown on eggnog.
Having played with dairy-free eating recently, I decided to try coconut milk in place of the six (6!) cups of various forms of cow milk, each richer and fattier than the last. Alton uses milk, half-and-half, and heavy cream (sooooo, why not just use milk and cream, isn't that what half-and-half is?) but he must be a mutant to be able to digest that much cow milk at his age. For me, and most humans who are not meant to digest lactose as adults, this is a recipe for disaster, bloating, and other activities not meant for company unless you are the proverbial grandpa booming out, "pull my finger!"
However, I am not willing to sacrifice the thick and rich smoothness to get dairy-free. Truly, if your eggnog is watery and thin as tears, why bother? So I bought just about every can of coconut milk in my local grocer and chilled them. It took a little over 4 cans to get the thick cream that had solidified at the top of the can to the 2 cup level but, lucky me, the coconut milk was on sale! For the remaining 4 cups of milk-analog I used a mix of almond milk and the coconut milk remaining from the cream separation. Everything else is as Alton prescribes and I have to say, this eggnog is just what the doctor ordered.
Below is my adaptation of Alton Brown's recipe for aged eggnog. Both he and I use raw and unpasteurized egg yolks and we are still standing. The high alcohol content of this beverage pretty much sterilizes everything BUT if you are concerned or have immune system issues, by all means do what is right for you and use pasteurized egg yolks. You can also wash the eggs while in the shell to make sure no chicken poo gets into your eggs.
Chill 5 cans of coconut milk overnight, NOT the light version- this ain't diet time. After they have chilled, open the top and scrape the thick cream off and place into bowl, repeat with each can until you have 2 Cups of the thick cream to replace the heavy cream. Reserve the remaining milk for the 2 Cups of half-and-half that Alton uses. You can see in the photo below how the cream is thick enough to hold the spatula upright.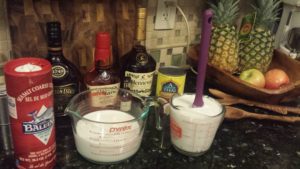 In a mixing bowl beat 12 egg yolks, 2 Cups of sugar, and 1 tsp of freshly grated nutmeg (yes, fresh does makes a difference). Beat until the egg mixture is pale and comes off the beater in ribbons like egg noodles. I spilled some sugar trying to get it into the mixing bowl. This is why we can't have nice things…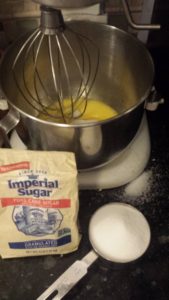 In a separate bowl combine 2 Cups almond milk + 2 Cups heavy coconut cream from above and 1 Cup remaining coconut milk from the separation of the cream (but don't toss the rest just yet because you might need more if the mix is very thick), 1 Cup EACH of Jamaican rum, bourbon, and cognac, plus about ¼ tsp of kosher salt.
Slowly stir in the milk mixture to the egg mixture. If it seems a little too thick, add more of the reserved coconut milk.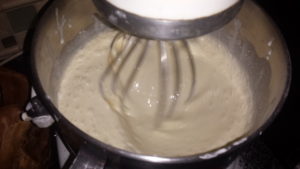 Pour into jars and place in refrigerator for 2 weeks or more. You can drink it right away but it does develop over time. I'm not a believer in the age for a year thing but a couple of weeks or a month is great, if you can wait that long. When ready to drink, shake the jar very well to reincorporate any separated coconut milk and cream, pour into desired tankard drinking glass and grate some more fresh nutmeg on the top. Truly, the nutmeg balances the flavors miraculously. Don't skip the fresh nutmeg.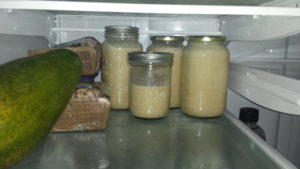 This recipe makes quite a bit of juice so I recommend taking a scientific attitude and tasting the 'nog every day or so, just an ounce or two, and see what you think about the change in flavor as it ages. I might also add some vanilla and/or almond extract to make this even more interesting, and probably replace some of the bourbon if planning to drink it right away.
Below is a link to video of the liquor tasting as well as a tasting of the freshly made eggnog. I've been handing out tastes to everyone I know so I'm not sure how much is going to actually make it to Christmas. Not a bad problem to have!